Dragon Maiden sends us soaring into the sky as we look upon a maiden and her dragon, living in a fantastical land where they are free to roam. The game lets players see the heroine and her dragon, as well as enjoy features such as free spins, expanding reels and Wilds.
This slot was released in 2018 by studio Play 'n GO, showing off their ability to create some interesting graphics and beautiful effects while staying close to the classic gameplay loop. Players will play a slot that starts off as a regular 5-reel, 3-row playing area before it adds features and elements that make it a rarer type of game. During the base game, Dragon Maiden has 243 paylines which can expand to 7,776 win lines.
The game is set somewhere in a mythical land, with the background of the game only showing us the tops of mountains. There are some subtle animations here with dragons flying through the air and particles lit up by the sun. The symbols in the game are not as animated but the high-paying symbols do move somewhat whenever they're part of a game.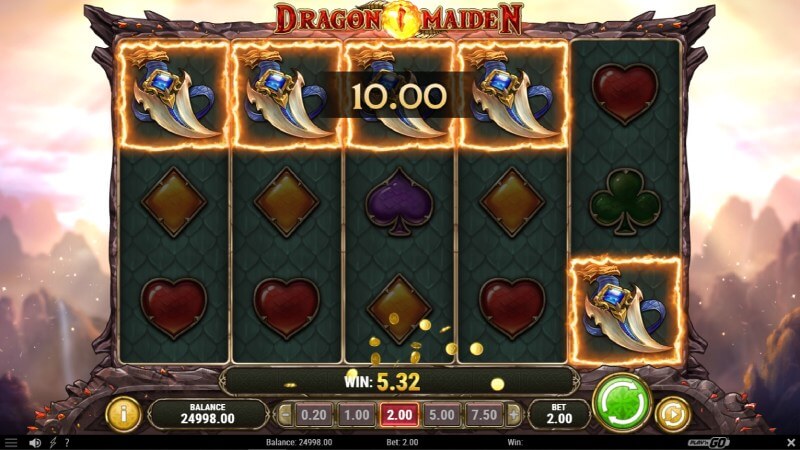 When it comes to the other graphics, everything looks great even though the creativity is somewhat lacking. The dragon and the maiden are clearly the ones that were put the most attention into, considering their style, the animations and the fact they can appear as Stacked Symbols. The other high-paying symbols are more generic, including a ring and a dagger.
Symbols
Dragon Maiden makes good use of the setting but does not go out of its way to introduce its own ideas. The gameplay stays rather simple even when the features and expanding reels are activated, which means that most players will be easily able to start playing. The symbols are colourful and it's possible to tell them apart at a glance.
The symbols in the game include:
Scatter: Get 2 scatters on the screen to trigger a re-spin. With 3 or more scatters on the screen the free spins mode is activated.
Wild: Wilds substitute all other symbols in the game except the Scatter symbol. Max. 125x your bet with five-of-a-kind on a winning bet line.
Medallion: Max. 100x your bet with five-of-a-kind on a winning bet line.
Ring: Max. 75x your bet with five-of-a-kind on a winning bet line.
Dagger: Max. 50x your bet with five-of-a-kind on a winning bet line.
Coin: Max. 25x your bet with five-of-a-kind on a winning bet line.
Spade: Max. 10x your bet with five-of-a-kind on a winning bet line.
Heart: Max. 10x your bet with five-of-a-kind on a winning bet line.
Diamond: Max. 5x your bet with five-of-a-kind on a winning bet line.
Club: Max. 5x your bet with five-of-a-kind on a winning bet line.
The game allows the free spins mode to activate regularly but the payouts are rather low and there are quite a number of symbols. This makes getting a big win rather hard and results in its High Volatility. Players who enjoy this type of slot can deal with the added risk by changing their bet, choosing one between $0.10 and $100 per spin.
Features
Dragon Maiden does not include a lot of features but they do activate regularly. The Scatter symbols are quite common and they can enable a feature with as little as 2 on the screen at the same time. Meanwhile, Wilds are not uncommon either and can double as both a Wild and a regular symbol so they will grant a payout when they appear on a win line.
The features in the game include:
Consecutive Wins: If a symbol appears on consecutive reels from left to right it will be counted as a win.
Wilds: Wilds substitute all regular symbols in the game.
Stacked Wilds: Wilds can randomly turn into Stacked Wilds, expanding to up to 3 rows high.
Re-Spin: When 2 scatter symbols appear on the screen a re-spin is activated.
Free Spins: With 3 scatter symbols on the screen the free spins mode is triggered.
Expanding Reels: Whenever there is a win during the free spins mode, an extra row is added to one of the reels.
Golden Free Spins: If during the free spins mode a reel reaches the maximum height of 6 rows, it will grant a Golden Free Spin. After the regular free spins are done, the Golden Free Spins mode starts. During this mode, the 5-reel, 6-row playing field is activated.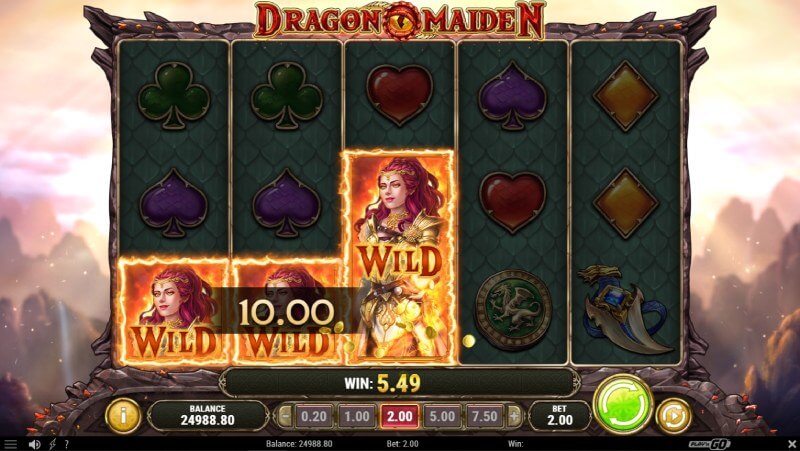 While most of the game takes place during the base game, both the re-spins and free spins are triggered rather easily. The game would often pause itself and wait for me to start spinning the free spins. The re-spins aren't as explicitly mentioned so it does help to pay attention to that since re-spins make it possible to get a bigger win.
During the free spins mode, any wilds will add to the height of the reels. Getting a reel to its maximum height will grant you a Golden Free Spin. The Golden Free Spins mode works exactly the same as the normal free spins but the playing field will be at its maximum size. Because of the way the game counts wins, this means you'll be playing with the massive 7,776 win lines.
In my time playing, I would usually only manage to get 1 or 2 Golden Free Spins but they were almost always responsible for a few wins. You won't necessarily get bigger wins from these free spins than you do from the regular free spins mode, however, since the normal free spins get more tries.
Conclusion
Dragon Maiden looks good even though it is a bit lacking when it comes to originality. I'm not quite sure what the storyline behind the game is supposed to be, even though the dragon and it's maiden imply there is something going on. Maybe adding additional characters or dragons instead of generic items might have been a way to make it seem more substantial.
The features activate often and can really help to create some bigger wins. The volatility does feel high and makes it seem like there is a lot of time between regular wins. That doesn't mean the game was bad for my funds as it stayed in the positives the entire time. It was never enough to retire from, but I did feel like I was given enough.
Players who enjoy high volatility slots with the ability to win a max. win of 5,000x their bet will likely have a good time playing this game. If you are someone who wants their features to activate regularly even if they don't have a huge impact, you'll also want to give this game a try.