Book of Shadows is a dark slot with some scary themes and visuals that is surely going to stick in some player's heads. The game was developed by Nolimit City and besides its scary setting also comes with expanding reels, locked reels and a free spins mode.
Released in 2020, this is one of the newest slots currently available but the presentation wouldn't immediately give that away. Not that the slot looks dated or bad, quite the contrary, but the symbols are also rather simple and this has been used in slots for almost five years now. Speaking of the symbols, we do see some interesting details like an eyeball floating in a flask or a pink cat with more than 2 eyes.
The game is built around its 5-reel, 3-row playing field that can expand upward to 5 rows, with between 10 and 20 paylines. In the background, we see the charred black stumps of trees that might have been ravaged by fire or by something more nefarious. The symbols in the slot all have a similarly sinister theme, although the low-paying symbols are based on generic card letters.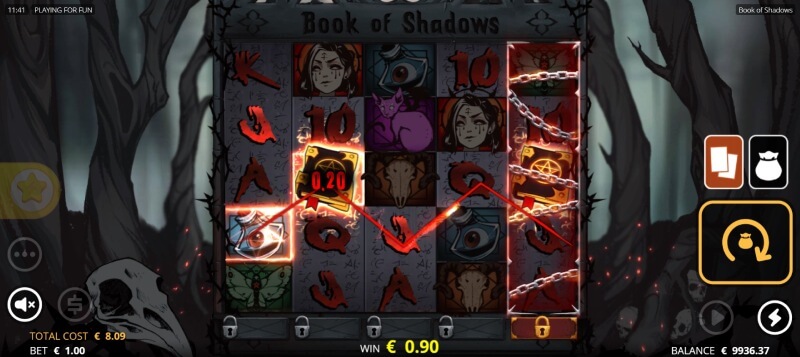 To drive it all home the game has some suitable music. I found the quality a bit lacking as it sounds very vague and distant. In contrast, the sound effects are loud and clear, overwhelming the music that's supposed to set the mood. These effects are also the usual jingles and bells, kind of ruining the dark mood.
Book of Shadows Highlights
Max. win: The maximum win of Book of Shadows is 30338 x your bet.
Freespins: You can get in-game free spins in Book of Shadows.
Re-spins: Re-spins make the reels spin again without having to place an additional bet.
Wilds: Wilds substitute any standard symbol and help create more winning combinations.
Stacked symbols: In Book of Shadows, the symbols come in tall stacks.
Symbols
Book of Shadows uses the titular book as its bonus symbol to trigger the free spins mode, but it doesn't play a big role in the rest of the game. Most of the time we'll be looking at the base game which holds a number of weird or even scary symbols. These are all beautifully drawn, slightly animated even when they're not part of a win, and clearly meant to create a sense of unease and dread with the player.
Players that enjoy a High Volatility slot will be right at home with this game. During my time with the slot I found that I would often go a good number of spins before getting a win, but these wins were often larger. I did notice a drop in my funds, but players can combat this somewhat by picking a lower bet between $0.10 and $100 per spin.
Another aspect of the game is the jackpot, which is a maximum win of 30,338x your bet. This is obviously a big number but I never had the idea that I was getting close to winning it. I imagine it will take the game to trigger the free spins mode in the perfect way for a player to be able to score this win, so don't count on it.
There is a wide selection of weird symbols in the game, including:
Book of Shadows (Bonus): Get 3 Bonus symbols on the screen to activate the free spins mode. Max. 500x your bet with five-of-a-kind on the screen. This symbol also acts as a Wild.
Demon Girl: Max. 500x your bet with five-of-a-kind on a win line.
Cat: Max. 150x your bet with five-of-a-kind on a win line.
Skull: Max. 100x your bet with five-of-a-kind on a win line.
Butterfly: Max. 75x your bet with five-of-a-kind on a win line.
Eyeball: Max. 50x your bet with five-of-a-kind on a win line.
Ace: Max. 25x your bet with five-of-a-kind on a win line.
King: Max. 20x your bet with five-of-a-kind on a win line.
Queen: Max. 15x your bet with five-of-a-kind on a win line.
Jack: Max. 12.5x your bet with five-of-a-kind on a win line.
10: Max. 10x your bet with five-of-a-kind on a win line.
Book of Shadows Features
Book of Shadows brings a series of features to the player that allows them a great deal of flexibility in how they want to play. Other than that, the game doesn't really do anything special or unique.
Wilds: Book of Shadows symbols act as wilds, substituting all other symbols in the game.
Expanding Reels: The player can choose to add 1 or 2 extra rows to the screen at a higher cost per spin.
Locked Reels: The player may decide to lock any reel for as long as they want, at an extra cost per spin.
Free Spins: With 3 or more Bonus symbols on the screen the free spins mode is activated.
Gamble: Anytime a player has a win, they can choose to either pocket it or use this feature to potentially double it. Players can either do this with a 50/50 split or use a bonus wheel to win free spins.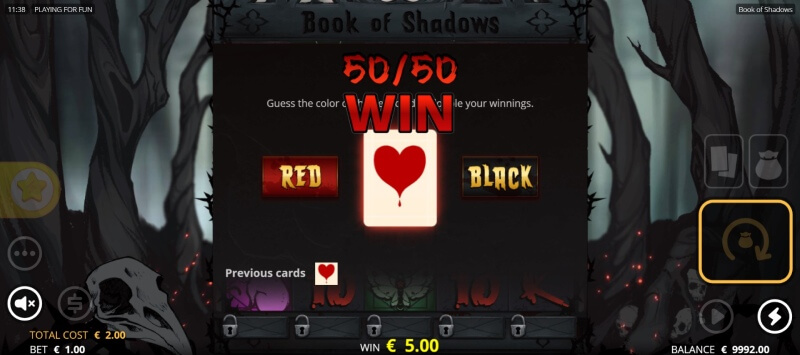 Most of the game will take place on the main screen as I found it rather hard to activate the free spins mode. It is possible to activate it through other means, which is the bonus wheel that becomes available whenever a player gets a win. At this point, they can pick either Collect or Gamble. Picking Gamble will let them choose between a simple 50/50 deal or they will be able to spin the bonus wheel.
As you can imagine, the slot isn't eager to give someone with a three-of-a-kind bet access to the free spins mode so the bonus wheel is definitely not favouring the player. Use at your own risk. Players can obviously also activate the free spins mode by getting three Bonus symbols on the screen. This wasn't impossible in my experience but it only happened two or three times while I played.
Conclusion
Book of Shadows is a nice-looking, gloomy slot that really commits to the horror-lite vibe. It won't actually scare anyone but it does have some suitably creepy symbols and animations. I would mostly applaud it for its creativity and attention to detail, and not for its ability to shock anyone.
The gameplay is quite interesting since the player is free to add up to 2 rows on the playing field, adding 5 paylines per row. They can also pick a reel to lock in place, keeping those symbols where they are as the rest of the game continues as normal. This can be a strategy, but obviously, it will cost more per spin if a player decides to use this.
If you're at all interested in something dark and gloomy, or if you're interested in using the extra rows and locked reels at your discretion I would certainly recommend it. The sizable jackpot is also nothing to scoff at so power players might want to try it out as well.