The level of the edginess of San Quentin, Nolimit City's 150,000x max win game, is in the red zone.
Playing this game puts you in the company of no-ordinary criminals and their obsession with making a break.
Symbols include makeshift shanks, lighters, TP, handcuffs, razor blades and Fight Club-like soap bars which is suggestive of an evergreen prison theme.
Basically, I can summarize the premise in a single word: gnarly!
And for that matter, I am very iffy about letting myself enjoy the game for what it is. I like the edginess, but I think Nolimit City has exhausted the theme with Punk Rocker and East Coast vs West Coast.
On the other hand, the technical setup is quite alright. The game starts you off on three reels and five rows and these spin across 243 xWays – that is, not the regular "ways".
In terms of gameplay, the payout system means the reel set is restless as it enables symbol expansion and multiplication. There is a kicker to these features – the Wild symbol can split into two or more symbols and enhance your chances for a bigger win.
From the get-go, San Quentin xWays is fun to play and comes with a set of features that is seen in other games by Nolimit City. Everything is in place for a good adventure, but I like to differ on that.
Theme and Graphics
There are no two ways about it – San Quentin wants to appeal to the roughnecks out there or players who fancy the edgier (or edgiest) end of street culture. Personally, I am not too interested.
The design looks cool but the theme is unsavoury. The high-paying symbols represent any of the notorious street gang members that are living it up while incarcerated across US prisons.
I am not immune to humour, but also I am not too eager to relive GTA as an online slot. If you are, you'll have some fun with the visual effects and the way in which the reel set is always in motion thanks to the xWays mechanic.
San Quentin Highlights
Volatility: This high volatility slot has big, less frequent wins.
Max. win: The maximum win of San Quentin is 150000 x your bet.
Max. lines: The 46656 paylines result in more possible winning combinations.
Freespins: You can get in-game free spins in San Quentin.
Expanding reels: Expanding reel feature copies the symbols to neighbouring reels or adds new places for symbols.
There are few actions that can go down during the base game. The same is also part of the free spins bonus, so there is no end to San Quentin's potential for delivering excitement.
These are represented by the two rows at the top and bottom of the 3×5 reel set. Each reel is 'confined' by a cell on both ends.
The cell can open up to reveal one of the standard paying symbols or one of the three extra symbols. These are:
Acts as standard Wild, but it can come as a Split Wild. The latter splits in two Wilds for a chance to link more matching symbols.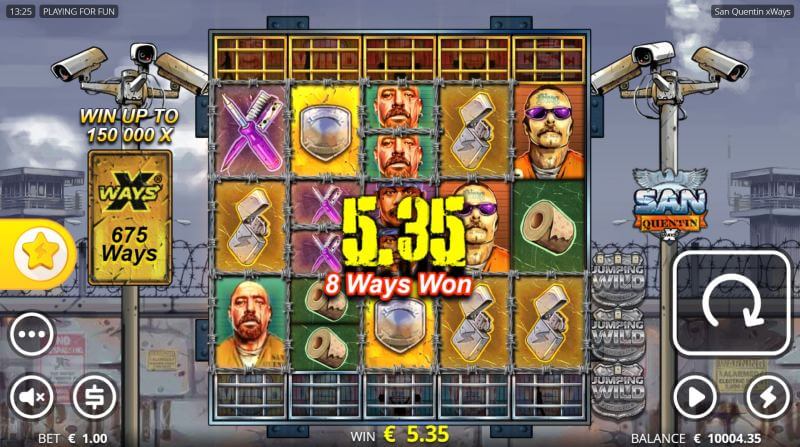 When this symbol appears in one or more enhancer cells, the affected symbols on that reel increase in number. This causes the number of xWays to increase in turn.
Simply said, it helps to improve the odds. The more matching symbols there are on a single reel, the better the paying outcome if there is a winning combination.
If I can call a favourite enhancer of the three, then xWays it is. When it lands in the cell, the particular reel casts the top or bottom symbol into a four-stack symbol of the same kind.
This enhancer works best when it occurs on reel one or two. That way it has a chance to link with matching symbols on adjacent reels or with the different kinds of Wild symbols.
This is another way to say free spins in San Quentinese. The bonus can trigger with three or more Bonus symbols, which can land on any of the five reels.
All of the enhancer cells can crop up during the bonus game, but there is also the added benefit of the Jumping Wilds.
Depending on the number of Bonus symbols triggering the feature, you can get one, two or three Jumping Wilds.
Another kicker is that San Quentin picks a special symbol and casts it on the reel set as a symbol multiplier.
There are two extra symbols during Lockdown Spins.
This is the feature that can give an amazing edge to the free spins bonus.
Each spin can include between one and three Jumping Wilds, depending on the number of bonus symbols.
The Wilds can post on any reel and interact with the standard symbols or the enhancers.
When a Jumping Wild posts on a reel with a Razor Split enhancer, it can get a win multiplier of up to 512x.
The bonus game comes with high-paying symbols that post in the cells above and below the reel set. Any of these symbols can appear with a counter that adds to the winning outcome.
Bets and Payouts
Nolimit City has the usual range of bets, between 20p and 32.00 dollars. The payout potential based on the paytable is actually quite decent.
I didn't expect anything better than 0.15x your bet for winning three low-paying symbols of the same kind but getting four of a kind makes for markedly better outcomes.
Considering the potential of the enhancers, especially during Lockdown Spins, San Quentin can cause a riot of winning outcomes.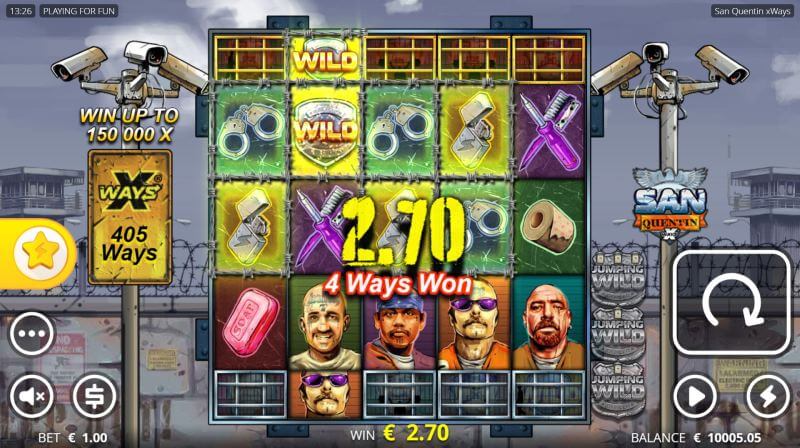 The paytable structure is as follows:
Toilet Paper: 0.15x, 0.6x, 1.5x
Handcuffs: 0.15x, 0.6x, 1.5x
Shanks: 0.15x, 0.6x, 1.5x
Lighter: 0.2x, 0.75x, 2x
Soap: 0.2x, 0.75x, 2x
Crazy Joe: 0.25x, 0.9x, 2.5x
Heinrich the 3rd: 0.3x, 1x, 3x
Loco Luis: 0.35x, 1.1x, 3.5x
Biker Bill: 0.4x, 1.25x, 4x
Beefy Dick: 0.5x, 1.5x, 5x
Conclusion
I played the game on three occasions and saw first-hand the effects of its ultra-high volatile model. You can get some decent winnings in the base game, but don't count on anything worth bragging about.
The true potential of San Quentin is in the free spins bonus and this outcome isn't easy to come by. I can't speak for the frequency of occurrence, but it's notably stretched.
That said, I didn't find the theme amusing but I did enjoy the idea behind the gameplay, the features which I find to be marvellous, and the fact that one extraordinary spin can shake out a huge amount.
Pros
High Win Potential: San Quentin slot offers a massive win potential, making it appealing for players who are seeking big rewards and exciting gameplay.
Engaging Theme: The game features a gritty prison theme with well-designed graphics and animations, providing a unique and immersive gaming experience.
Rich Bonus Features: San Quentin includes various bonus features such as free spins, multipliers, wilds, and split symbols, offering diverse ways to increase winnings and adding excitement to gameplay.
High Volatility and RTP: This slot offers high volatility gameplay and a competitive Return to Player (RTP) percentage, making it appealing for players seeking larger, less frequent payouts.
Cons
Controversial Theme: San Quentin's prison theme might be considered controversial or off-putting for some players, potentially limiting its overall appeal.
Complexity: The game has a more complex set of rules and features compared to traditional slots, which may be confusing or overwhelming for new players or those who prefer simpler gameplay.
Potential for Frustration: High volatility slots like San Quentin can lead to long dry spells between wins, which may be frustrating for players who prefer more frequent, smaller payouts.
Not Suitable for All Players: Due to its controversial theme and high volatility nature, San Quentin may not be suitable for all players, particularly those who are more risk-averse or prefer lighter-themed slots.