Temple Cats uses the traditional Egyptian setting as a backdrop but with a unique twist: to focus on their sacred cats instead. The slot features expanding reels and free spins to give the game its further personal touch as well as aiding players with their spins.
The slot was originally created and released by Endorphina, back in 2014. The game is built around a 5-reel, 3-row playing field that's filled with Egyptian imagery. The background shows what seems to be a wall filled with hieroglyphs flanked by two pillars. The symbols are mostly very unfitting card letters in bright colours and without an attempt to integrate them into the setting.
Meanwhile, the high-paying symbols are better made and look original, at least in terms of look. The theme is obviously a very popular one, but the focus on the cats does give the game some extra identity. The different cats all look sufficiently original and are animated when part of a win, when on one of the 10 paylines.
When we talk about the sound effects, there isn't much to say that people who have played other Endorphina slots don't already recognise. The game has a few basic electronic effects that play when the reels spin or there is a low-symbol win. Triggering the free spins mode has a more Egyptian tune but still nothing original.
Symbols
Temple Cats has the traditional elements that most slots have, and the game is also easily recognisable as an Endorphina slot. The high-paying symbols are original and created specifically for this game. Meanwhile, the low-paying symbols are simple card letters in garish colours that don't fit the theme at all. They were clearly just used to fill up the assortment and little thought was given to having them fit the setting.
The symbols in the game are, from most to least rewarding:
Scatter: Get 3 or more Scatter Symbols on the screen to activate the Free Spins mode. Max. 200x your bet with five-of-a-kind on the screen.
Woman: Max. 500x your bet with five-of-a-kind on a win line.
Black Cat: Max. 200x your bet with five-of-a-kind on a win line.
Winged Cat: Max. 75x your bet with five-of-a-kind on a win line.
Cat Hieroglyph: Max. 75x your bet with five-of-a-kind on a win line.
Ace: Max. 15x your bet with five-of-a-kind on a win line.
King: Max. 15x your bet with five-of-a-kind on a win line.
Queen: Max. 10x your bet with five-of-a-kind on a win line.
Jack: Max. 10x your bet with five-of-a-kind on a win line.
10: Max. 10x your bet with five-of-a-kind on a win line.
Whenever the symbols are part of a win they have a small animation for the high-paying symbols but none for the card letters. The game does not have a lot of movement in it other than that, unfortunately.
Features
The features that we can find in Temple Cats are rather simple but still offer some interesting changes to the basic gameplay. With my experience playing Endorphina slots the features aren't original but the free spins mode plays well and offers enough opportunity to get a big coin win out of it.
Speaking of wins, the game has a High Volatility which translated into spaced out larger wins. It also resembled my time playing Temple Cats, even though my funds did trend downwards. Players can pick a bet between $0.10 and $100 per spin to try and augment this, but I would caution any player to start off with low bets before deciding to increase them.
The features are:
Scatter: Get 3 or more Scatter symbols on the screen to activate the free spins mode. Scatter symbols also don't have to appear on consecutive reels to count for a win.
Free Spins: Players receive 10 free spins to play with during this mode.
Expanding Reels: During the free spins mode, a random symbol is selected. During the free spins, this symbol can appear on up to 3 reels and be expanded to fill the entire reel. This will only happen when it will result in a win.
The free spins mode is the only feature that's worth looking at since the scatter symbols are the way to activate it. The fact that the scatter symbols can also trigger a win themselves is more incidental than anything more.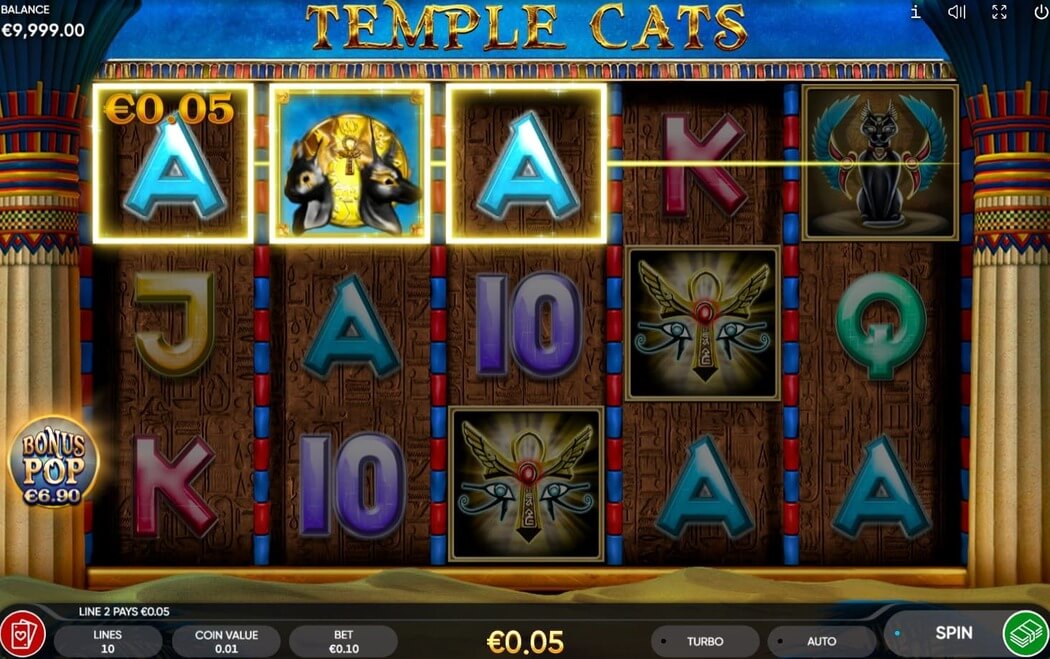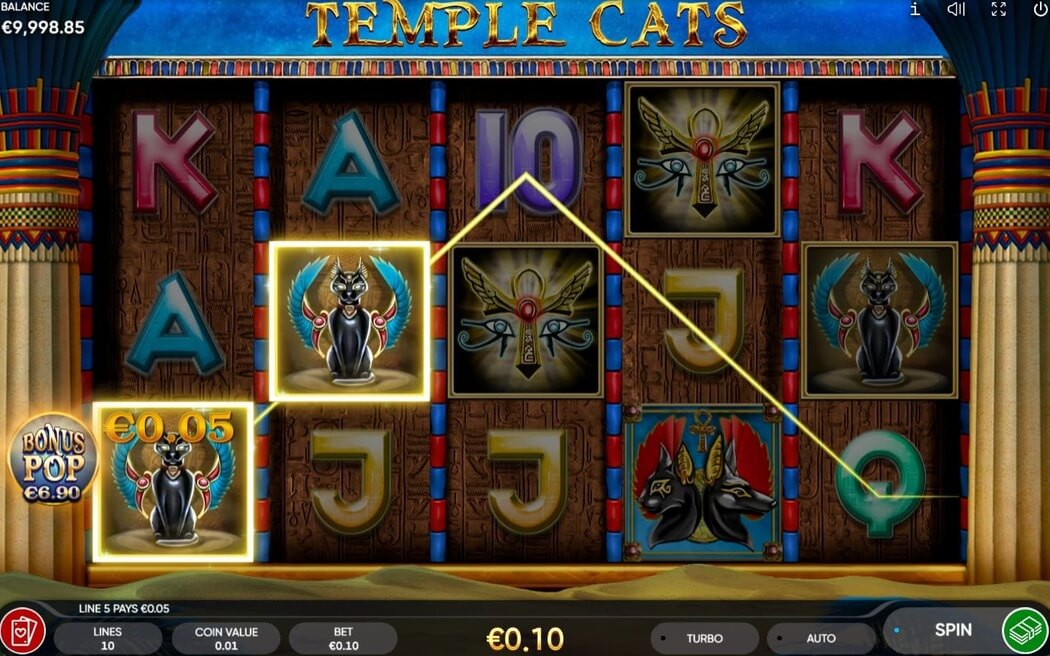 During the free spins mode, the player receives 10 free spins. The mode starts with the game picking a random symbol as a special symbol during the free spins mode. Whenever there's a possibility for a win the game can add up to 3 reels filled with the selected symbol.
To help facilitate wins during this mode, the special symbol does not need to appear on consecutive reels to count but they do have to appear on one of the paylines. I found this to help create wins and on average this made the free spins mode rather lucrative.
Conclusion
Temple Cats is a slightly original idea inside a very popular setting. The idea of the cats that were worshipped by ancient Egyptians was a good one, but I feel like the developers didn't do quite enough with it to really make it stand out. There are only 4 different symbols that actually have cats on them, and they aren't used in any clever ways either.
The game plays fine, as most Endorphina games do. It is clear it was designed for the mobile phone as the controls are awkward on the desktop computer. Meanwhile, the graphics also look a bit faded and pixelated when seen on a larger monitor. When seeing them on the phone they look sharp and detailed.
If you're a player that enjoys Endorphina's slots you will get a familiar experience when playing Temple Cats. The game has simple features, no real surprises and a quick turnover. My main complaints are with the lack of originality and the fact the high volatility was quite punishing.