In Wild Falls there's no need to grab a shovel because the gold is literally falling into your hands! This slot was released in 2019 by Play'n GO and it's got a huge maximum win of 10,000x your bet.
Accompanied by fun banjo music, Wild Falls places us beneath a giant waterfall. Apparently, someone has had a bit of an accident, and they've dropped all their belongings into the river – starting from pans and lamps to chests filled with gold.
The slot itself is pretty straightforward and very easy to play, but because it is a high-volatile slot, it can also very easily eat up your coins. With Wild Falls comes high risks, but it's up to you decide if the risks are worth taking. After all, the max winnings in this game are near phenomenal for a non-jackpot slot.
Other strengths of the game are the Wilds that also work as Scatters. They grant you re-spins as well as free spins if you manage to gather at least three of them on the reels. And, instead of just basic free spins, Wild Falls has two kinds of free spin features of which one of them has multiplier wilds!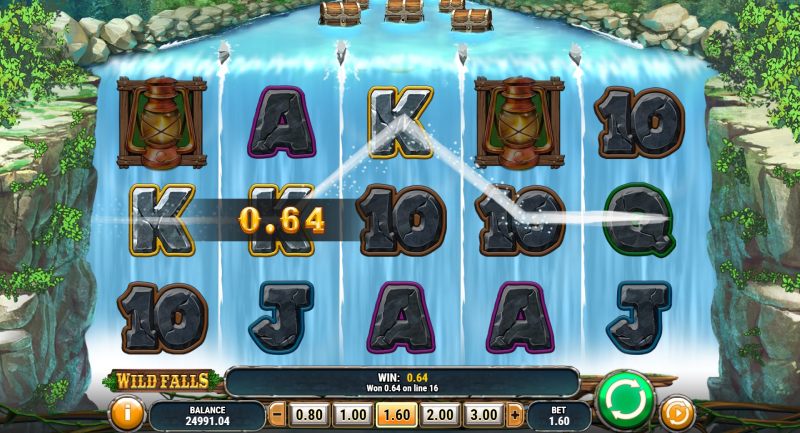 Graphics & sound
Wild Falls is set under a big waterfall, which may or may not be a surprise. The river flows rapidly and carries all sorts of stuff, which some poor gold digger has dropped in the water. You, the lucky one, have arrived below the waterfall just in the nick of time to catch the loot.
The slot has vivid colours and the theme, as simple as it is, is pretty entertaining. The banjo music fits the theme, but for me, it got a bit too noisy after a while.
Good graphics are very typical for Play'n GO slots, and Wild Falls is not an exception. But, for a 2019 slot, it has the feel of an older game. Maybe because of the simplicity of it? Anyway, the point being, Wild Falls doesn't really offer any visual spectacle, but there's no denying the high quality of the game, either.
Symbols & wins
Wild Falls has five reels, three rows and 20 fixed paylines going from left to right. In addition to the basic symbols, the game has chests that are both Wilds and Scatters. The Wilds can only appear on the reels 2, 3 and 4 – meaning, that they can not land on the first nor the last reel at all.
The free spins activate by landing either three regular or three gold chests on the reels.
High-value symbols:
5 x gold bag pay 25x your bet
5 x pan pay 20x your bet
5 x pickaxe and shovel pay 15x your bet
5 x lamp pay 10x your bet
Low-value symbols:
5 x A pay 6x your bet
5 x K pay 5x your bet
5 x Q pay 4x your bet
5 x J pay 3.5x your bet
5 x 10 pay 2x your bet
Special symbols:
Chest: Acts as a Wild and a Scatter. Substitutes any other symbol in the game.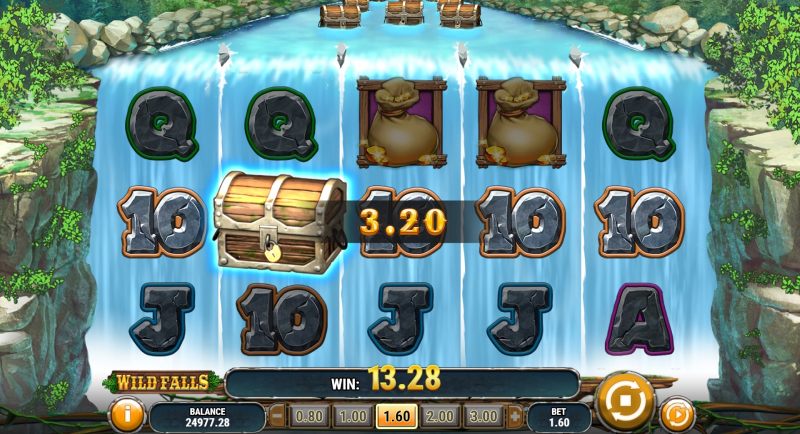 Features
Rapid respins: Every time one or more chests land on the reels you get a free respin, during which the chest(s) stick to their place.
Gold Rush: A randomly triggered feature which changes the chests to golden ones.
The gold chests also get a random multiplier (2x, 3x or 5x). The total sum of the multipliers can be as high as 125x your win.
River of Gold: River of Gold is the free spin feature of the game. The free spins can be triggered by landing three chests to the reels.
During the free spins, all chests that fall from the river stay on the reels instead of just passing by. After each spin, the landed chests walk down by one step, until they reach the bottom and fall down. The free spins keep rolling as long as there is at least one chest on the reels.
Super River of Gold: Like the River of Gold, but activated by collecting three golden chests during the Goldrush feature.
During the Super River of Gold, all the chests have multipliers on them. Otherwise, the free spins work the same as in the regular River of Gold.
Final Thoughts
Wild Falls is easy to play. However, because it feels like a simple and easy slot but has a high-volatility, it can also be a bit insidious. I do like the chests that can grant free re-spins and, on top of that, trigger the free spins – but what fun are the free spins, if I can't ever get them? In many occasions, I have played hundreds of spins and not once activated the free spin feature.
So, of course, the best way to win big is to trigger the Super River of Gold. Which isn't an easy task to do, when they need to be triggered during the Gold Rush.
While Wild Falls and its massive maximum wins may be tempting, I strongly advise being cautious. In my experience, this slot can be surprisingly effective draining your wallet and giving nothing in return.
If I would have to compare Wild Falls to some other game, I probably would say Book of Dead. No, they're not that similar in theme or features, but they are very close with each other in the level of volatility and RTP. So, if Book of Dead is familiar to you, then you might have a clue for what to expect with Wild Falls.