Big Win 777 offers a chance to experience a classic slot game with a twist! Re-live the golden days of Las Vegas and the excitement of nostalgic slot machines with this Play 'n GO's slot that was released in 2019.
Big Win 777 is laced with grandness, lights and plenty of shine. While it honours the old classic slots, it also holds some interesting and modern features. For example, you can win up to 777x your bet with one single spin or fill your pockets with free spins and stacked Wilds.
In comparison to other slots looking to modernise the old classics, Play 'n GO did a splendid job with Big Win 777. However, this is not the first time the provider has done something like this. There are plenty of others, like Fire Joker, Mystery Joker 6000, Multifruit 81 and Bell of Fortune. In my opinion, though, Big Win 777 is definitely better than any of these.
It's easy to sit down by this slot whether you're a seasoned player or a newbie. Big Win 777 is very straight-forward with the gameplay and the Chance Wheel brings out the excellence of modern-day features. And, with the amount of bling poured over this slot, it's total eye-candy for the lovers of classics.
Graphics and sound
If you are craving colourful lights, glowing reels, dazzling diamonds and some good beats to bring it all together, Big Win 777 is a game for you. Play 'n GO has gone all-in with this one and has spared no expense.
It's all very shiny and reminds me effectively of all of the classic slots which were built to attract players with their blinking colours and the sound of coins jingling. Every detail in those games was a conscious choice and meant to act as a Seiren call for people to try their luck.
Big Win 777 carries a bunch of your old and familiar slot game symbols from BARs to Sevens. I get why, but there's no denying they're a bit dull. However, if the provider would've chosen to "jazz" them up, too, it might have made the game look too hectic and distracting. But, the Chance Wheel shines in various colours and looks simply beautiful!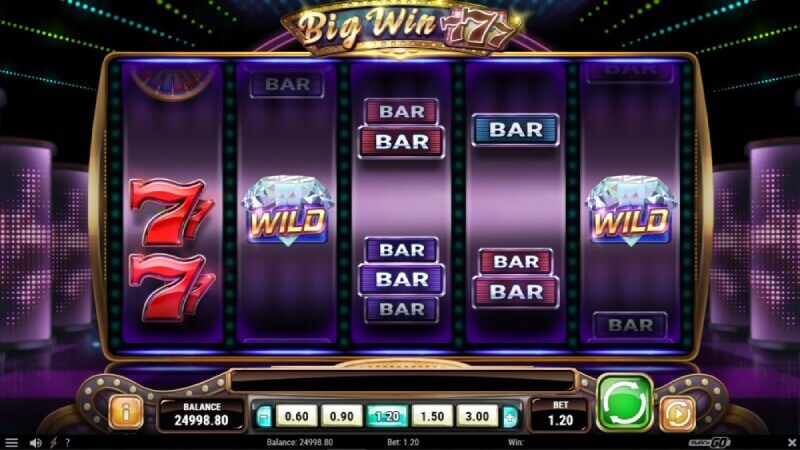 The game music is well-made and energetic but gets old a bit too quickly for my tastes. Too bad Play'n Go don't give the players any other options other than muting the music altogether.
Big Win 777 Highlights
Bonus game or special game: Big Win 777 has a separate bonus feature.
Freespins: You can get in-game free spins in Big Win 777.
Stacked wilds: Stacked wilds appear as a tall column and create winning combinations across the reel.
Wilds: Wilds substitute any standard symbol and help create more winning combinations.
Bonus symbols: Collect bonus symbols to launch the bonus round.
Symbols and wins
Big Win 777 has five reels, three rows and 15 paylines going from left to right. The diamonds are Wilds and substitute all other symbols except for Scatters. Wilds also pay winning son their own.
The Chance symbols are Scatters and only appear on reels 1, 3 and 5. By landing three Scatters you get to spin the Chance Wheel where every spin wins. You can win either cash prizes or free spins.
High-paying symbols:
5 x Diamond / Wild pay 66.66x your bet
5 x Triple Sevens pay 16.66x your bet
5 x Double Sevens pay 13.33x your bet
Low-paying symbols:
5 x 3BAR pay 6.66x your bet
5 x 2BAR pay 5.33x your bet
5 x BAR pay 3.33x your bet
Big Win 777 Features
Booster Spin: Increases your chances to land three Scatters.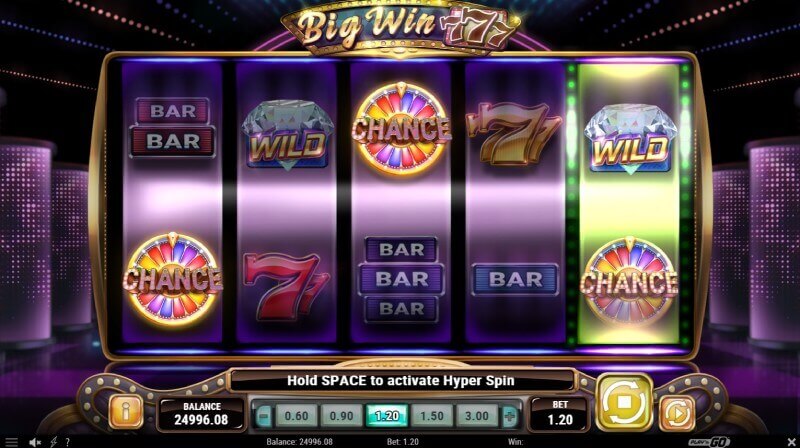 Chance Wheel: Trigger the wheel by landing 3 Scatter symbols.
The Chance Wheel has 27 sectors, of which each awards you with cash or free spins. The cash prizes vary from 5 to 777x your bet.
Free Spins: Free spins are triggered via Chance Wheel.
You get 12 free spins, during which all the Wilds are sticky and spreading.
Every time a Wild lands on a reel it sticks to its place. With the next two spins, it spreads either up or down by one spot. When the reel is filled with Wilds, they are sticky for one more spin after which they are removed.
Each Chance symbol grants you one extra free spin.
Double-up: After a winning spin, you can either collect your prize or try doubling it up.
Final Thoughts
Big Win 777 has its sides, its pros and cons. It's a fun and nice-looking slot with lights and colours inviting you in, but it's also a highly volatile game with high risks. Just the base game can get dull if the Chance Wheel doesn't get triggered and the player is left with just 15 paylines worth of entertainment. On top of this, the reels also have empty spaces in them, making it harder to form winning lines.
But, the Chance Wheel is an exciting (albeit very short) event. I myself hoped the wheel would stop on the free spins instead of the cash prizes, just so that the fun would last longer. Of course, the spreading Wilds also were a part of the reason as they have the potential to create the most delicious opportunities for massive wins.
In my opinion, Big Win 777 doesn't differ that much from other high volatile games. It can be generous, it can be stingy, or it can be just lukewarm. Most of the time I noticed it did manage to bite some big chomps out of my balance, but that's the reality of slot games for you. The best odds for winning big from this slot is to either hit the 777x mark on the Chance Wheel or land enough Wilds during the free spins. Both of them way easier said than done.