Geisha is a slot that is set in feudal Japan when the geisha was still a popular sight at many courts and events. The game uses this setting for a simple slot with free spins, wilds and multipliers to create a thrilling experience.
The game was released in 2014 by developer Endorphina, showing off their early abilities when it comes to design and animation. The game uses a 5-reel, 3-row playing field with a total of 25 paylines on which to place the wins. All of the symbols are unique and made specifically for this slot, perfectly fitting the theme and setting. They also come with some really interesting animations for the expanding wilds.
Players can get a max. win of 800x your bet which isn't very high when compared to other slots but still a nice incentive. I found the game to be relatively generous with its wins even though the game has a listed High Volatility. This meant that a lot of the time there weren't any wins until the free spins mode activated.
When it comes to the sound design, Geishauses simple sound effects that are common among their other slots with some original music. The wins are indicated by a short jingle either on a gong or a Japanese string instrument, which I thought sounded nice. On the other hand, some of the wins are electronic jingles which don't fit the setting at all. I couldn't really tell why those sounds sometimes played.
Geisha Highlights
Multiplier: In Geisha, the winnings can be multiplied by different multiplier mechanisms.
Freespins: You can get in-game free spins in Geisha.
Wilds: Wilds substitute any standard symbol and help create more winning combinations.
Scatter symbols: Collect scatter symbols to get free spins and/or cash prizes.
Volatility: This high volatility slot has big, less frequent wins.
Symbols
All of the symbols that are used in Geisha are unique and made exclusively for this slot. The higher paying symbols are animated when part of a win, with particularly the Geishas standing out. The low-paying symbols aren't animated at all, with the tile simply lighting up a bit.
I can't read Japanese so I can't be certain but every symbol also has some Japanese signs on it, which I assume is the name of the item in Japanese.
The symbols include:
Gazebo (Scatter): Max. 200x your bet with five-of-a-kind on the screen.
Karp (Wild): Max. 40x your bet with five-of-a-kind on a winning payline.
Yellow Geisha: Max. 32x your bet with five-of-a-kind on a winning payline.
Blue Geisha: Max. 24x your bet with five-of-a-kind on a winning payline.
Red Geisha: Max. 24x your bet with five-of-a-kind on a winning payline.
Umbrella: Max. 20x your bet with five-of-a-kind on a winning payline.
Fan: Max. 20x your bet with five-of-a-kind on a winning payline.
Calligraphy: Max. 8x your bet with five-of-a-kind on a winning payline.
Teapot: Max. 6x your bet with five-of-a-kind on a winning payline.
String Instrument: Max. 6x your bet with five-of-a-kind on a winning payline.
Sandals: Max. 4x your bet with five-of-a-kind on a winning payline.
Coins: Max. 4x your bet with five-of-a-kind on a winning payline.
The symbols look great and seemingly hand-drawn, and they all fit the theme as well. Some of the win sounds are even associated with the winning symbol. During the free spins game, the Wilds are stacked and fill the reel, playing yet another special animation.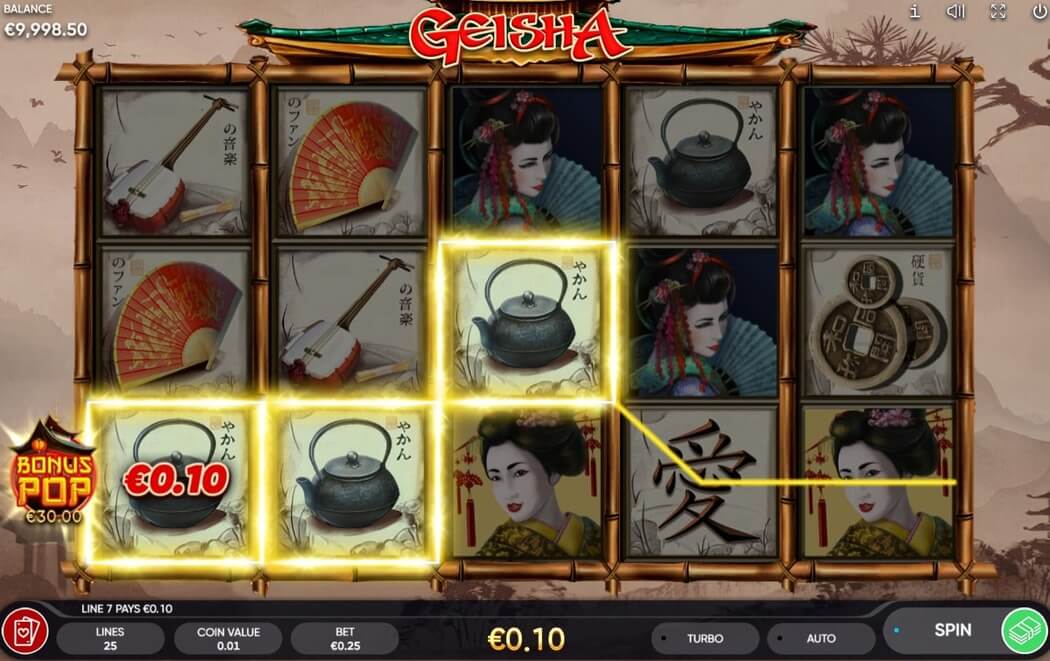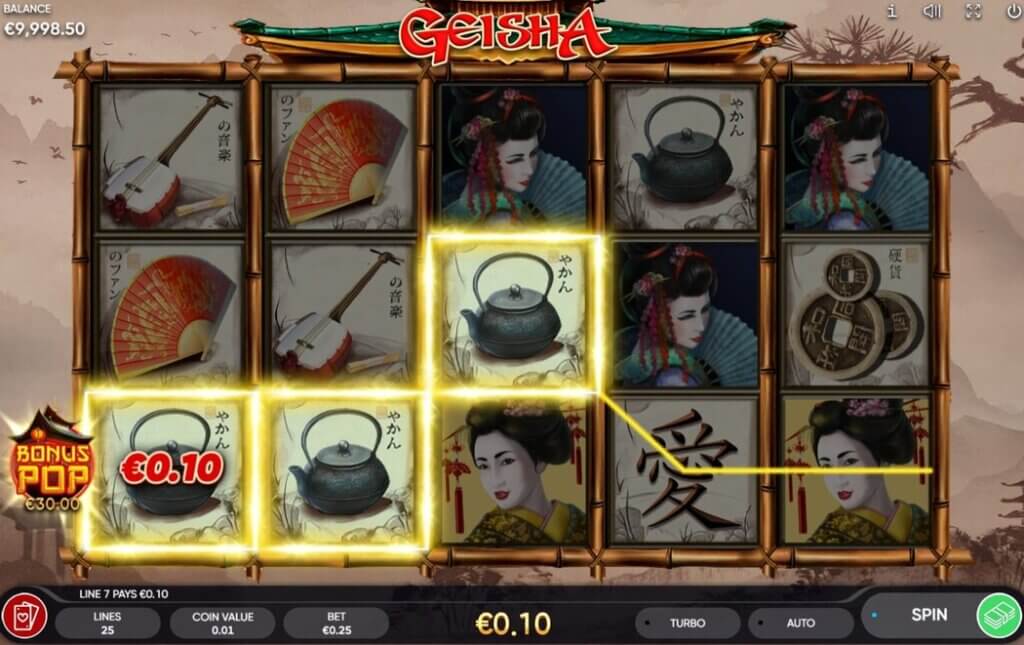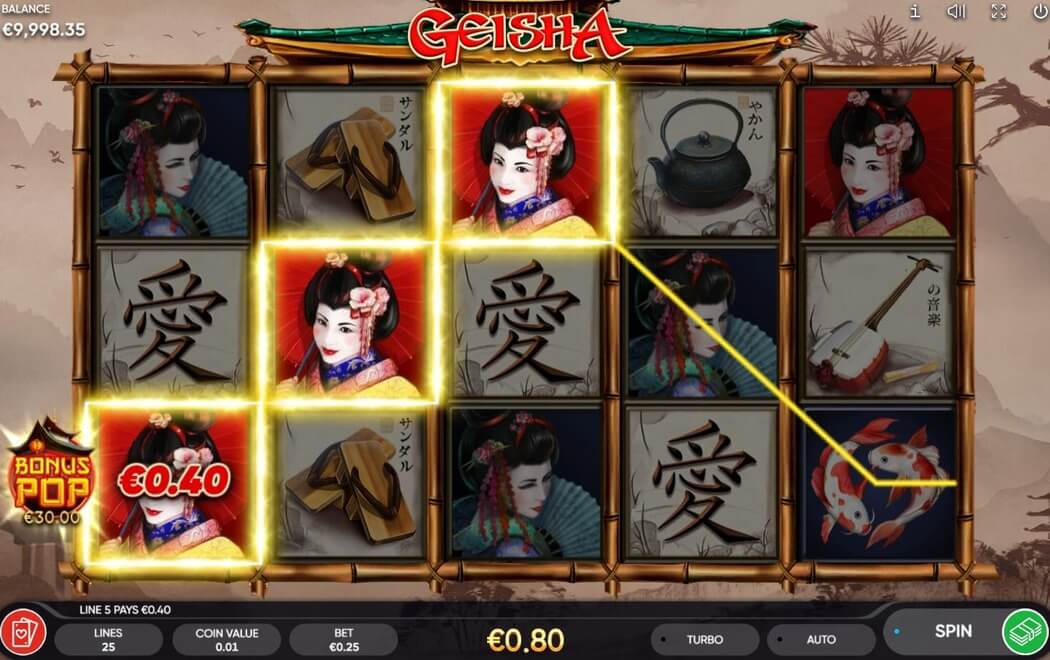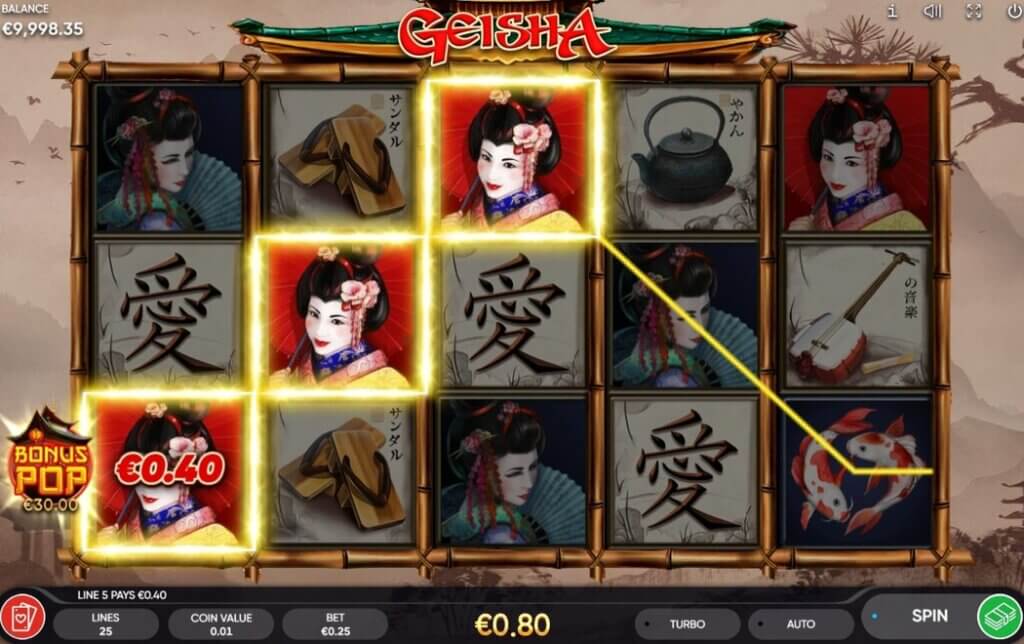 Features
Geisha doesn't do a lot of original things with the features that are included, but they all work well and add something to the gameplay. Most players will already be familiar with these features and their functionality, but for clarity's sake here's a short summary:
Wilds: Wilds substitute all other symbols in the game except the Scatter symbol.
Scatters: Scatter symbols count as a win regardless of their location on the screen. Scatters award a win with as few as 2 symbols on the screen.
Free Spins: Get 3 or more Scatter symbols on the screen to activate the free spins mode.
Multiplier: Jokers during the Free Spins mode will add a 2x or 3x multiplier to any wins they're part of.
Most of the game will take place in the base game as the free spins mode didn't trigger very often in my experience. During the base game, Wilds show up occasionally. I found the Scatters to be pretty rare and it didn't help that they weren't listed as being Scatters either. The only way I found out was by diving into the paytable.
The base game doesn't have a lot going on other than the Wilds. The Scatter symbols can net a very nice sum but that would require a lot of them to appear and that didn't happen in my experience. Of course, getting the Scatter symbols on the screen will also trigger the free spins mode which is where the game truly shines.
During the free spins mode, 3 jokers are activated. I'm not sure why they are referred to as Jokers as they look like the Geishas and act as Wilds. Either way, these jokers will occasionally come onto the screen and fill an entire reel. This is accompanied by a nice little animation when part of a win, which I found added to the atmosphere.
Getting a win with one or more of these jokers as part of it will apply a multiplier to the total win. When looking at the game's high volatility, this was for me the moment where I would get my funds back. In general, my funds stayed rather stable throughout with only the occasional hike before it would drop back down to the starting point.
All in all, the features are simple but effective. They're completely unremarkable to anyone who has any experience with slots at all but they do their job well in giving the slot some excitement. I was a fan of the Wilds and particularly the jokers during the Free Spins mode.
Conclusion
Geisha is a simple but well thought-out slot which gives players something interesting and unique to look at while they play. The gameplay is something that you will have seen before, but the use of original symbols and the associated features make for an enjoyable experience.
The art has kept up very well with newer slots and definitely exceeds some newer Endorphina slots. The payouts aren't very high and the max. win is slightly disappointing but I never felt like I was just throwing my coins away either. Players can pick a bet between $0.25 and $250 per spin to make the game more or less intense.
If you're looking for a slot with a strong theme and original symbols, but without experimental gameplay, Geisha might be the game for you. I thought it played well and was easy to understand without it feeling like all the other slots that are also set in Japan. A nice change of pace without venturing off the beaten path.
Pros
Geisha slot features a traditional Japanese theme that provides a unique and immersive gaming experience.
The game features high-quality graphics and sound effects that help bring the theme to life.
Geisha slot offers a high maximum payout of up to 9,000 times the bet, providing players with the potential for substantial winnings.
It has a low to medium volatility, which means that wins may come more frequently, making it a good choice for players who prefer a lower-risk slot.
Cons
The game's RTP (Return to Player) percentage of 96% is slightly lower than the average for online slots, which may not be as profitable for players.
Geisha has a limited number of bonus features, with only a free spins round available, which may not be as exciting for some players
Its theme may not appeal to all players, especially those who are not fans of Japanese culture or slots with an Asian theme.
The game has a low maximum bet limit, which may be a downside for players who prefer to bet higher amounts.