Crystal Sun is set somewhere deep in space where we're surrounded by nothing but vast blackness and barely visible planets. Now it's time to see what's hidden out there.
This slot was developed by Play 'n GO and released in 2019 which makes it one of their newer games. The 5-reel and 3-row playing field is filled with beautiful symbols that sparkle and shine, all of them unique in different ways. The game has only 10 paylines which is partly why it has a High Volatility. Luckily the game has some very interesting features to keep things engaging and to help with getting some wins.
The game is set in deep space, where we're treated to the sight of a beautiful night sky with gently rotating planets in the distance. It gives off a very soothing sense which is contrasting the rather colourful symbols.
The symbols in the game are mostly based on space, with different planet-looking orbs, diamonds and 777s. I thought the different symbols all looked suitable with especially the bright yellow suns especially appealing. There weren't many animations but they weren't really needed considering the slot's high speed.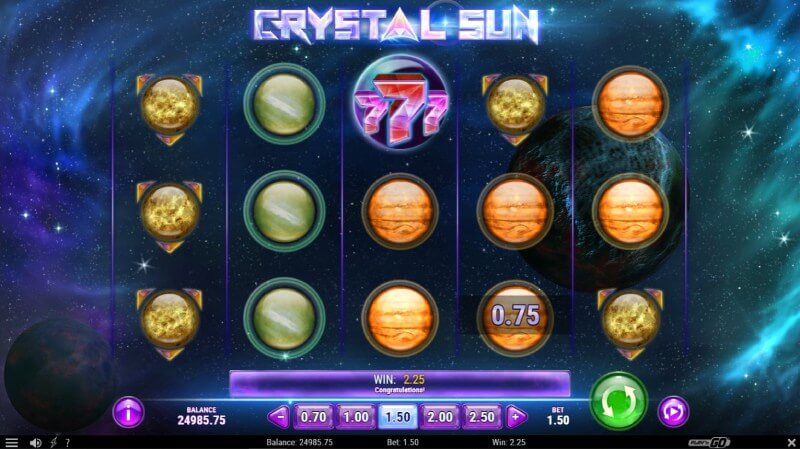 The soundtrack is a rather dark, electronic song that plays in the background while the reels spin. The different sound-effects are similarly fitting. When there's a re-spin you'll hear a man announce it, and wins are enhanced by more upbeat music.
Symbols
All the symbols in the game are more or less unique, with some creative liberties taken with some popular symbols like the 777 symbol. I found the selection of colours and textures effective at keeping them apart. Getting a winning payline was also done by highlighting them to great effect.
The symbols are from highest to lowest:
Wild: Wilds substitute all other symbols in the game.
Diamonds: Max. 16x your bet with five-of-a-kind on a winning betline.
777: Max. 8x your bet with five-of-a-kind on a winning betline.
Green Planet: Max. 4x your bet with five-of-a-kind on a winning betline.
Orange Planet: Max. 3x your bet with five-of-a-kind on a winning betline.
Red Planet: Max. 3x your bet with five-of-a-kind on a winning betline.
Yellow Planet: Max. 2x your bet with five-of-a-kind on a winning betline.
Purple Planet: Max. 2x your bet with five-of-a-kind on a winning betline.
The Wild symbol is a bright sun, standing out from the rest by shining and pulsing, especially when part of a Stacked Wild. Even though there is only a small selection of symbols, the low number of paylines gives the game its High Volatility.
Features
There are a few features in Crystal Sun, all of which are related to the base game. There are no free spins or a bonus game, everything happens on the basic reels. That doesn't mean there aren't some interesting twists, however!
Wilds: The Wilds in this game substitute all other symbols.
Stacked Wilds: Wilds on reels 2, 3 and 4 can be Stacked Wilds, filling the entire reel.
Sticky Re-Spins: For every Stacked Wild on the screen, there is a re-spin with the Wild staying in place. If another reel is filled with Stacked Wilds, it will add another re-spin. Players can get a maximum of 3 Re-Spins at a time.
Pays Both Ways: The paylines on Crystal Sun go from left to right and vice versa.
Multiplier: The Stacked Wilds can have different multipliers from 1x to 3x your win.
If you're at all familiar with normal slots you will have probably seen these features in some form or another before. They're not terribly original but they don't have to be. It's all about the combinations they make.
In the case of Crystal Sun, I think it does a good job. The main features are the Wilds and Stacked Wilds that sprout from them, as well as the sticky re-spins that are closely associated with them. Whenever you get a Wild on reels 2, 3 or 4 they turn into Stacked Wilds and immediately trigger a re-spin.
I've had times where multiple reels were filled with Stacked Wilds on the same spin, and moments where Stacked Wilds were added during the re-spins. Both worked well since the Stacked Wilds become sticky and so can help with creating multiple paylines.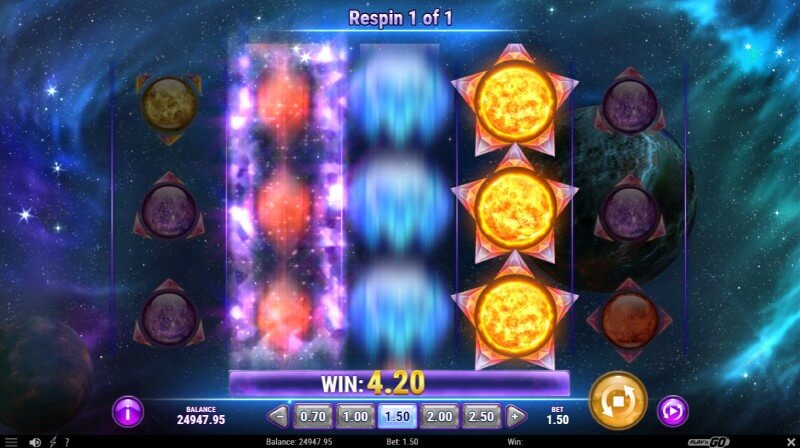 The different Stacked Wilds also get multipliers applied to them, which can go from 1x to 3x your bet. Your bet can be between $0.10 and $100. If the stars align, this combination of features can result in the max. win of 4,000x your bet which I found quite sizeable!
Finally, there is the Pays Both Ways feature, which is actually hidden. It's not listed anywhere in the paytable but just playing the game I noticed that some wins would start on the right. I'm not sure why it's not mentioned anywhere but it is still part of the game, doubling the number of ways you can win.
Conclusion
Crystal Sun is a very pretty looking slot with a distinctly otherworldly atmosphere. The background is a beautiful night sky with some slowly rotating planets and twinkling stars. The star symbols are not just simple orbs but actually have different cloud patterns on them that slowly rotate. There's a lot of love put into the design of this game.
The features might not be very extravagant in comparison but they do a good job at making the slot interesting to play. I had a great job watching the Wilds show up and turn into Stacked Wilds, always pleased to see the re-spins and what they would bring. I even had some big wins while playing this game.
Players that are looking for something very unique or, in contrast, something very traditional won't find this here. The game finds that comfortable middle between an original and classic experience to create something new.