Evil Goblins shows us a world in which there are a bunch of malicious creatures that live deep underground and enjoy creating mayhem. The game includes not only a group of these beings. It also features free spins, multipliers and cascading reels.
The game was developed by Nolimit City and released in 2021, adding a new title to their growing library. This slot definitely has a lot of character which becomes immediately obvious. Above the 6-reel, 3-row playing field are 4 different goblins who mess with the game in various ways. There are a total of 117,649 paylines thanks to the consecutive reels mechanic.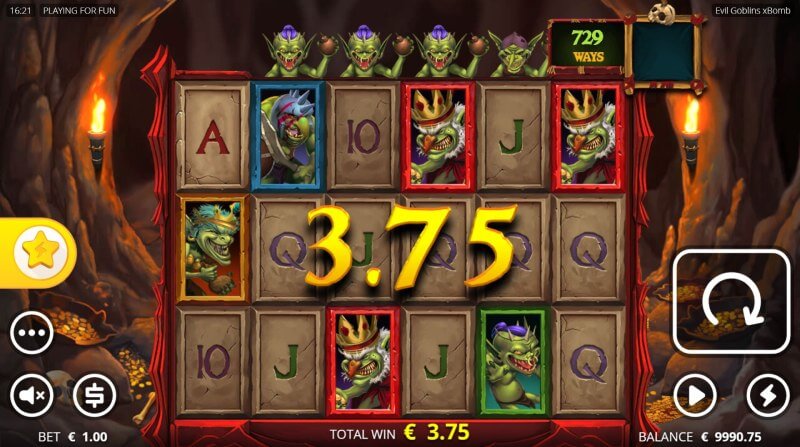 Behind the playing field we can see a dark cave filled with bags of gold. If we activate the free spins mode we can see that there's actually an entire underground city with walkways and caverns where these goblins live and dig for riches. The different goblins themselves come in a few varieties and can throw bombs and other things onto the playing field.
I thought the sound design was good although not as funny as I would have expected. Even though the game is based around evil goblins, it's clear that this has a tongue-in-cheek vibe. Because of that I expected a faster, more upbeat song. Instead, we hear something very slow and methodical. It's not bad quality, it's just not exactly what I expected.
Symbols
Evil Goblins includes a good mix of standard and original symbols. While the low-paying card letters are simple and derivative, I thought the high-paying symbols are realy nicely done. Most of them are a variety of different goblins. Even when they don't move, we can tell they have different characters because of the way they are portrayed.
The slot has High Volatility with an RTP of 96.14%. This is about average for a game like this, and I felt it came across in the gameplay. Although I never felt like the game was really awarding me big wins, my funds stayed very stable. This made it possible to play for a long time, which was a good thing since activating the free spins mode wasn't particularly easy.
Players can choose their bets as normal, with the available range between $0.20 and $100 per spin. This allows normal players to set their bets lower while high rollers can opt to increase the size. There is no real benefit to either in regards to the likelihood of a win. Smaller bets will simply drain your funds slower, and higher bets award higher wins. There is finally a maximum win of an impressive 31,969x your bet.
The symbols in the game are:
Wild: Wilds substitute the regular symbols in the game.
xBomb: The xBomb symbol destroys all tiles around itself to make room for new symbols.
Scatter: Get 3 or more scatters to activate the free spins mode.
Goblin King: Max. 3x your bet with six-of-a-kind on a win line.
Goblin Prince: Max. 1.5x your bet with six-of-a-kind on a win line.
Purple Goblin: Max. 1.2x your bet with six-of-a-kind on a win line.
Goblin Fighter: Max. 1.1x your bet with six-of-a-kind on a win line.
Goblin Shaman: Max. 1x your bet with six-of-a-kind on a win line.
Ace: Max. 0.9x your bet with six-of-a-kind on a win line.
King: Max. 0.8x your bet with six-of-a-kind on a win line.
Queen: Max. 0.7x your bet with six-of-a-kind on a win line.
Jack: Max. 0.5x your bet with six-of-a-kind on a win line.
10: Max. 0.4x your bet with six-of-a-kind on a win line.
Features
Evil Goblins has a number of different features that spice up the basic gameplay. It already has a slightly larger playing field than normal, but the more important features are presented below:
Wilds: Wilds substitute all regular symbols in the game.
Multiplier Wilds: Resurrection Wilds have a multiplier associated with them, as long as 3 or more are on the screen at the same time.
Random Wilds: When a goblin at the top matches a symbol on the reels, it will throw a bomb and turn that symbol into a wild.
Free Spins: With 3 or more scatters on the screen, the free spins mode is activated.
xBomb: The xBomb symbol will explode, destroying the symbols around it except for scatters and wilds.
Cascading Reels: Whenever a bomb explodes, the reels will cascade to fill up the space.
Expanding Rows: When the xBomb goes off, a new row is added to the screen. This can go up to 7 rows.
Consecutive Reels: Wins are calculated when the same symbol appears on consecutive reels from left to right.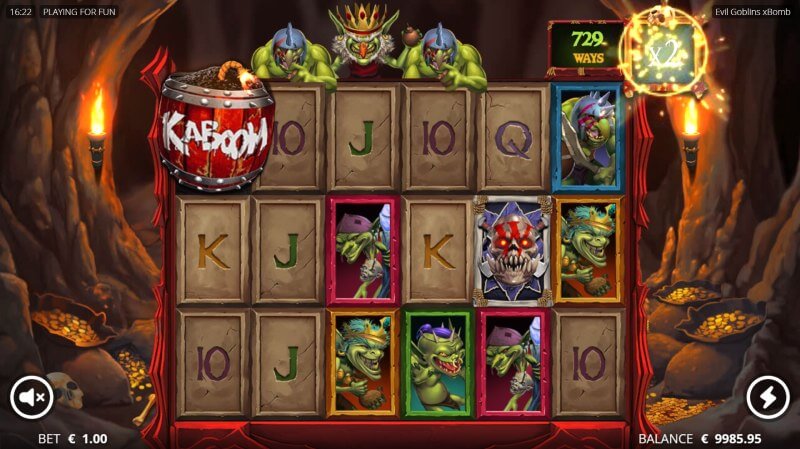 Most of the game takes place on the main screen, as can be expected. There is a free spins mode and I did manage to trigger it occasionally. Still, you won't see it as often as you might have liked. Thankfully, the main game offers enough entertainment. The main draw is the group of goblins at the top of the screen.
Every spin, 4 of them appear on the middle reels. If the goblin at the top matches a symbol below, they'll throw a bomb down to turn that symbol into a wild. This can result in some interesting wins. If there is a win, the symbols drop away and make room for new ones. The goblin at the top is replaced at the same time.
There are different types of wilds, with the multiplier wilds being the most interesting. Unfortunately, those don't activate until there are a least 3 of them on the screen. This proves to be extremely difficult. The only time I saw them was during the free spins mode.
Conclusion
Evil Goblins offers players a lot to look at and a lot to play with. The design is very good, creating that familiar style of dark but funny. The goblins are made to look creepy without inducing nightmares. I did expect the music to better fit this mood, instead of seemingly playing it straight.
There are a lot of different features present that can augment the gameplay in significant ways. However, the payouts are very low. This means that players need to either get a lot of matching symbols, a lot of wilds, or trigger the free spins mode. As I played, my funds stayed relatively stable so in terms of balance it does a good job.
I think players will enjoy this game if they like slots that aren't afraid to include a number of different features. These all work well together, creating a unique synergy that brings everything together. The design of the slot and the theme make it stand out from other slots set in dark caves.