Irish Gold brings us to the green fields of Ireland where we can see for ourselves if those help in getting good spins and big wins!
Released in 2012 by developer Play 'n GO, Irish Gold is firmly set in Irish surroundings. In the background, we see a stark blue sky, rainbows and a lush green field. Meanwhile, the reels are populated by the lucky clover and the Irish leprechaun.
I have to say, this slot did not age well. The graphics are bare, there are little animations, the music is lacklustre and there are barely any features. If you're a hardcore purist gamer that prefers 3-reel, 3-row slots with 5 paylines I think Irish Gold adjusts the base gameplay a bit too much to fit your preferences too!
Even though 2012 is quite some time ago in the video slot timeline, there are other slots that came out around or before that time that are superior to Irish Gold. What to think of NetEnt's Lucky Angler: A Snowy Catch that came out the same year? It was filled with features and incredible detail for such an older game. Play 'n GO itself released Troll Hunters only a year later, a slot filled with unique symbols, animations and a 5×5 playing field.
Whatever the reason, Irish Gold feels rather limited when compared to both newer and contemporary slots. The symbols are rather simple, with some short animations for the special symbols. Meanwhile, the soundtrack fits all the stereotypes you might expect from a game set in Ireland!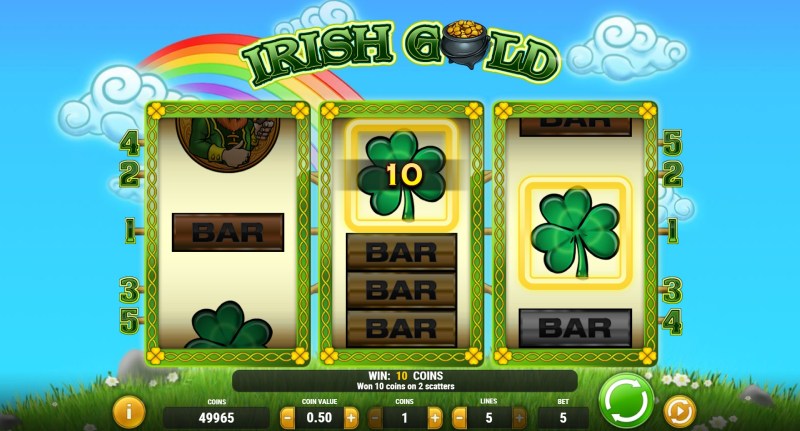 Symbols
Irish Gold is very light on symbols, but that still won't mean you'll get wins easily. The listed High Volatility fit my experience since so often the reels don't stop on a payline and thus don't count. There are some special symbols that should facilitate a win a little bit but in my experience, they hardly helped.
The symbols are from highest to lowest:
Pot of Gold (Wild): Substitutes all other symbols except Scatter. 1 Wild pays 5x the winning combination. 2 Wilds pay 25x the winning combination. Max. 5,000 coins with three-of-a-kind on 1 of the winning paylines.
Lucky Clover (Scatter): Counts anywhere on the screen. 2 Scatters on the screen is 2x the total bet. 3 Scatters on the screen is 25x the total bet.
Leprechaun: 50 coins with three-of-a-kind on a winning payline.
Triple Gold Bars: 30 coins with three-of-a-kind on a winning payline.
Double Silver Bars: 20 coins with three-of-a-kind on a winning payline.
Single Bronze Bar: 10 coins with three-of-a-kind on a winning payline.
Any combination of Bars: 5 coins with three-of-a-kind on a winning payline.
As you can tell, the awarded coins come in very low amounts with only 3 Wilds on a winning payline really making an impact. It's probably also why the max. win is only 1,000x your bet. Even though that's quite an amount, it didn't feel like it was reasonable to expect that to hit, especially considering the high volatility. The ability to choose a bet between $0.01 and $25 per spin does help in managing your spending.
The symbols are not very inspired. Most of the game is composed out of Bars, which are literally just bars with a colour gradient on them. The leprechaun looks alright and the clover is animated when it's part of a win but other than that it feels very stale.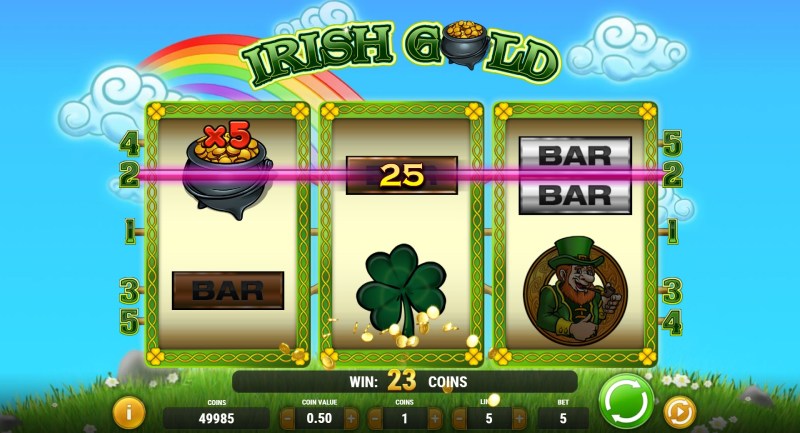 Features
Irish Gold doesn't have a lot of features and none of them takes you away from the base game. They only enhance the base experience a little bit. As I mentioned before, slot purists might not like the change but I found it to add some levity to the slot. They're not very common, however.
Wilds: The Treasure Chest counts as a Wild, which substitutes all other symbols in the game except the Scatter. They have their own value as well, awarding up to 5,000 coins with five-of-a-kind on 1 of the paylines.
Multiplier Wilds: The Treasure Chest has a 5x multiplier attached to it, applying the multiplier to the win its a part of. 2 wilds in the same winning combination will offer a 25x multiplier.
Scatter Symbols: The Clover counts as a Scatter symbol, triggering a win anywhere on the screen when there are 2 or 3 at the same time.
As you can see, this only slightly changes the functioning of the slot. The Scatter symbols probably helped me get a win most often, but with 2 Scatter symbols, you only get 2x your initial bet which is very low. I never saw 3 of them appear at the same time.
The Multiplier Wilds did help me out a little more, one time adding a 5x multiplier to a leprechaun payline. This was a big win but it was also one of the only times I saw that happen. Obviously, it might very well work out differently for you but it's something to keep in mind.
Conclusion
Looking on Play 'n GO's website Irish Gold seems to be one of the oldest slots the developer ever released and it shows. While big names like NetEnt had already been working on video slots for a few years at that point, this developer had only just started.
In that context, I can forgive them the basic template of Irish Gold and the small number of features and symbols. They just wanted to release a slot that got their name out there.
Over time, I think the developer has shown itself capable of producing creative, fun and engaging slots that sometimes stay close to the core concept and sometimes stray away from them. In that regard, we shouldn't hold their earliest attempts against them.
That said, I can't really find anything about Irish Gold other slots don't do better. If you're looking for classic slot machines with a twist, Play 'n GO's own Fire Joker or Inferno Star might fit your bill. If you're looking for something more extravagant I'd suggest the Hugo series or Eye of the Kraken.
If you're curious what a developer's first slot looks like, then you should definitely try out Irish Gold.