Open the spellbook of the legendary wizard in Play'n GO's magical slot, Rise of Merlin! But wait, the letters and pictures seem oddly scattered… Better find the mysterious crystal ball and let it show us our fate – and hopefully riches, too!
Play'n GO released Rise of Merlin in 2019. Those who have played the earlier games of the provider might notice many similarities with the 2016 slot Book of Dead. Indeed, the mechanism is very identical to the Egyptian-themed game. Rise of Merlin is based on the famous lore of King Arthur. The story includes a powerful wizard called Merlin, who helps Arthur rise to the throne. In some versions, Merlin is later described as the mentor of the king. Even though Merlin manages to acquire fame through his position and powers, sadly, he doesn't get a happy ending while falling madly in love with the Lady of the Lake.
Lucky for us, the Lady of the Lake only seemed to have an interest in medieval characters. So we're free to step inside Merlin's hall and try to conjure the riches!
Graphics & sound
Rise of Merlin's music is a blast to anyone who has played RPG games. The intensive, fantasy-like composition would be nice to listen to as it is if only the fade-out would be better. Now the music loops poorly, and the audio starts from the top very abruptly, breaking the atmosphere.
The game opens with a scroll briefly explaining the free spins and the expanding symbols with a short animation. After that, we see the title, and then the game area shows up. The background picture has us set inside Merlin's house, and before us is a peculiar magic circle with glass orbs surrounding it.
There's not that much animation in the game, except the glittering and shining specs hovering behind the reels. The symbols stay more or less immobile until you spin a winning combination. In such cases, the illustrated symbols react shortly by moving. At first, I did want to see more movement and action. Later, though, I came to the conclusion that having more moving parts might make the slot seem too hectic.
Game mechanics
Rise of Merlin is quick to learn and easy to play, so don't worry about the difficulty level of this one, even if you're still just a wizard-in-training.
The slot has five reels, three rows, and ten paylines. Before spinning the reels, you're able to adjust your bet by selecting the value and amount of the coins you're using per payline. You can also decide whether you want to keep all ten paylines activated or play only with one, three, or maybe five lines (select freely between 1-10). But I strongly recommend always playing with all ten paylines since that way, you get the best chances of winning.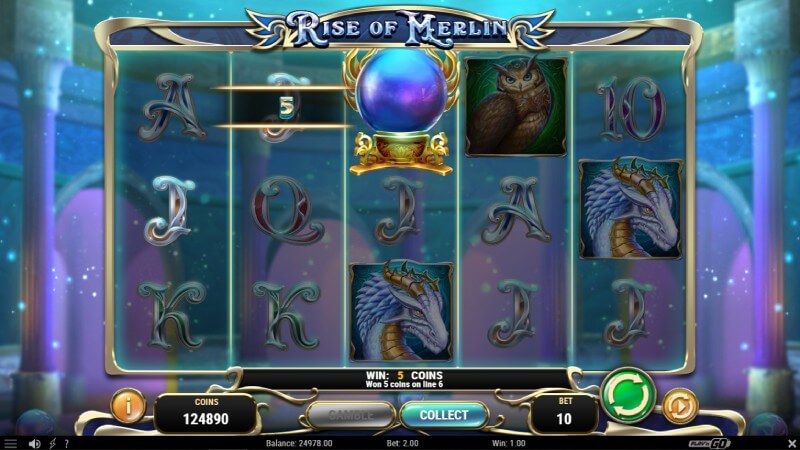 After you've decided on your desired bet, all there's left to do is spin, spin and spin! The winning combinations go from left to right, and you need at least two picture symbols or three letters or numbers on the same payline. They also need to be on adjacent reels. The crystal ball or orb is both the Wild and the Scatter in Rise of Merlin. As a Wild, it substitutes any other symbol on the line, and as a Scatter, you need at least three to activate the free spins. You can read more about the free spins below in the features.
Rise of Merlin Highlights
Expanding reels: Expanding reel feature copies the symbols to neighboring reels or adds new places for symbols.
Free spins: You can get in-game free spins in Rise of Merlin.
Scatter symbols: Collect scatter symbols to get free spins and/or cash prizes.
Wilds: Wilds substitute any standard symbol and help create more winning combinations.
RTP: With an RTP of 96.58%, Rise of Merlin is great for wagering your bonus.
Symbols & wins
Rise of Merlin has beautifully drawn valuable symbols and the usual A, K, Q, J, and 10. Naturally, the great wizard himself is the highest value symbol, paying 5,000 coins if you get five of them on the same payline. The next valuable symbols are the red dragon, paying 1,600 coins, and the white dragon and the owl, which both pay 600 coins. A and K pay 120 coins, and Q, J, and 10 pay 80 coins.
On top of the basic symbols, Rise of Merlin has combined Wilds and Scatters into a single symbol, a magical orb.
Features
Free Spins: You can activate 8 free spins by collecting at least three orbs. Before the free spins begin, you'll see the symbols of the slot switching places inside the orb. Whichever symbol stops in its place is the symbol that has been chosen as a special expanding symbol. Free spins can be re-triggered, and an additional expanding symbol gets randomly picked before the next free spins.
Expanding Symbols: The expanding symbols are used only during the free spins. The randomly selected symbol expands, covering the whole reel if it's a part of a winning combination. You need at least two of the same illustrated symbol or a minimum of three pieces of letter symbols. Unlike the main game, the winning symbols don't have to be in adjacent reels. Instead, they're treated as scatter wins.
Gamble: After each winning spin, you have the option of gambling your win or collecting the money. If you choose to gamble, the game presents you with a face-down card. Guess the color of it (black or red) right, and you get 2x your win back. Guess the right suit, and you get 4x your win. But make a wrong guess, and you lose everything from that spin. It's possible to gamble the winnings up to 5 times, or up to 2,500 coins.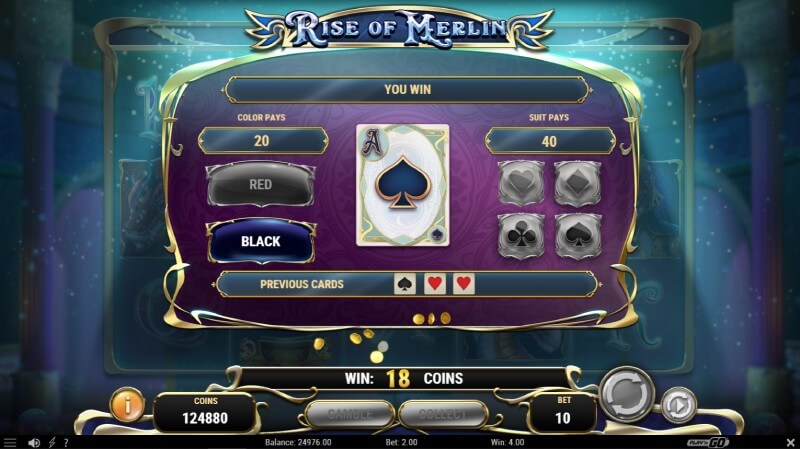 Final Thoughts
I have to be honest; I love Play'n GO's games. I think there's something in the detailed way they design their slots that keeps me hooked. Not only are they usually highly invested in the graphics, but they're also aiming for a nicely streamlined gameplay. So it might not be a surprise that I immediately enjoyed playing Rise of Merlin. Even if it is a highly volatile slot, it feels nicely balanced. Of course, as is the case with most slots with high volatility, the player is more prone to land on big wins on a long run rather than short sprints.
Conclusion
My guess is that Book of Dead was (and still is!) so popular that Play'n GO wanted to try recreating their success story. And did they do it? I definitely think so. Even though Rise of Merlin does carry a heavy resemblance to its predecessor and in multiple ways, no less, this Arthurian lore themed slot stands strong on its own. Rise of Merlin might not be much more than a slightly tweaked copy of Book of Dead, but Play'n GO did an excellent job with it anyway.
Pros
Engaging Theme: Rise of Merlin is based on the famous lore of King Arthur and the powerful wizard Merlin, offering an interesting and immersive gaming experience.
Expanding Symbols: The game features expanding symbols during the free spins round, providing more opportunities for winning combinations.
Combined Wilds and Scatters: Rise of Merlin has combined Wilds and Scatters into a single symbol, simplifying gameplay and increasing the chances of triggering free spins.
High Volatility: The slot is highly volatile, which can lead to bigger wins for players who enjoy taking risks.
Cons
Audio Loop Issues: The music in Rise of Merlin has a poor fade-out, resulting in abrupt restarts that can break the atmosphere.
Limited Animations: The game has minimal animations, which might make the slot feel less engaging for some players.
Similarity to Other Games: Rise of Merlin shares many similarities with Play'n GO's earlier game, Book of Dead, which might make it feel less original.
High Volatility: The high volatility nature of the game may not be suitable for players who prefer frequent, smaller wins.