Brush the cobwebs from your face and cue the spooky organ music – it's House of Doom from Play'n GO. This 5×3 grid is creepy enough to give Bram Stoker nightmares with this precursor to the inventively titled House of Doom II.
Will this slot make the back of your hair stand up or be buried six feet under? Let judgement commence.
Gruesome Graphics
If you're a heavy metal fan, die-hard goth or ever lazily doodled a skull on the back of your hand, this could be just the slot for you.
Set atop a heap of violet skulls, House of Doom immediately sucks you in with sinister, seriously dark graphics. Each and every spin is supercharged by heavy-metal power chords and punctuated with more lightning effects than an AC/DC concert. This slot is ghoulishly gorgeous and not for the faint of heart. No, really. It's kinda scary.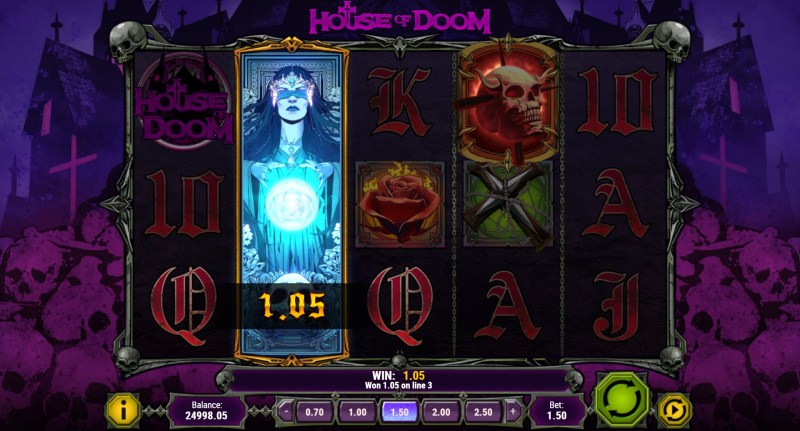 The attention to detail here is mind-blowing. Play'n GO has really hit the visual nail on the head and sunk it deep into the coffin. Standing head and shoulders above most slots, the symbol design here really stands out, giving each its own terrifying nuance. House of Doom is your full-service fear package.
Attentively lit and expertly executed graphics are fused with audio that begins with the eerie chime of a distant church bell and slowly builds to crashing metal riffs. Here's a slot that gives you an experience that you won't soon forget, even though you might want to.
A Features Freak
As if the sinister, moodily illustrated slot wasn't enough, House of Doom also serves you up a full platter of extras:
Expanding reels
Stacked symbols
Bonus Game
Free Spins
Scatters
Wilds
The House of Doom mini-game comes in the form of the Skulls of Abyss Bonus Round. Here you have the dubious delight of selecting from a choice of skulls complete with dog ears, and hopefully earning yourself a ghostly gift in the form of cold, hard cash winnings.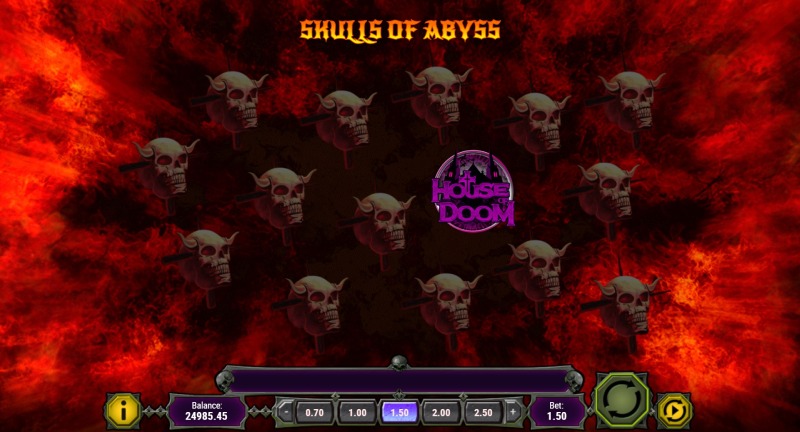 The Free Spins round duly dumps you in what looks like a damp basement, deep within the bowels of our title residence. Here you have the chance to win up to 10 Free Spins, all by landing three House of Doom logo scatter symbols.
Here, as is standard with all Play'n GO titles, autoplay is available. Be warned though, the reels spin at an alarmingly speedy rate.
Once Doom Spins are activated, between two to five reels are highlighted giving players the chance to take down more wins from expanding wilds. It's a journey to the depths of Free Spin delight.
Pay your Dues
With a not-too-terrifying RTP of 96.11% and a maximum win value of 2,500x, high volatility House of Doom is a title to delight fans of the horror slot genre. Minimum bets start at $0.10 and bottom out at $100.
The delightfully dour symbols come in the form of a Baphomet skull, a withering rose, a crucifix, an impaled skull and a blindfolded seer. Here, the royals are given a gothic makeover that wouldn't look out of place on a gang member's neck.
From lowest to highest, slot symbols go like this:
10, J, Q, K, A
Pentacle
Crucifix
Rose
Baphomet skull
Seer (wild)
In House of Doom, the second wild takes the form of an impaled skull of flames. Charming. To access the bonus game AKA Skulls of Abyss Bonus Round, you need to land three impaled flaming skulls and be allowed to invoke a 'flip 'em and see' chance to take down a cash prize.
Thrills, Chills and Bloody Spills
House of Doom is bloody good. Not only is this one of the most well-designed games out there, the macabre theme is set deep in the slot's DNA.
What some slots lack in visuals and music, others will make up for with gameplay. It sometimes feels like a bit of a trade-off when playing a slot; you can have either great graphics or gameplay, but not both. Giving players a frighteningly full gaming experience while not scrimping on the visuals and soundtrack is what makes House of Doom the real deal.
Not just a slot to be enjoyed once a year after carving pumpkins, House of Doom is a slot for all seasons.
Do you want to play a game? Well, you could do much worse than this one. Just don't blame us if you have nightmares.