4 of a King is a slot that uses playing cards as its symbols. With a collection of kings that are only shown when they're part of a win, could we be given the perfect combination of slot and card game?
Developed by Endorphina and subsequently released in 2014, this slot is getting a little older but it doesn't show in the graphics. The characters are drawn in a highly detailed classic style while the cards are based on original cards. Most of the time we're looking at the back of these cards and only when there's a win on one of the 10 bet lines do they turn around.
The background is a simple wallpaper which resembles the felt used on casino card tables. The different high-paying symbols are characters dressed as if they're working in a casino in the 50s, which seems to also be the general theme of the slot. There aren't a lot of animations but the ones that are there look good.
I thought the sound-design was an obvious but good choice, playing an upbeat jazzy track in the background that fit the 50s theme. Wins are celebrated with a quick trumpet song. The 5-reel, 4-row playing field also has some special features that can activate, also accentuated with a short musical riff.
Symbols
The symbols in the slot are all made to fit both the theme and the setting. The characters count as high-paying symbols and they really resemble the style you would see on posters and in magazines from the time period the game is set in.
The cards are a little simpler but they do really look like card sets people might have used back in the day. The art is distinctly different from the characters, which makes sense. Even though there are only a few different symbols the game rests comfortably in its High Volatility because of the impact the features have.
You'll find the following symbols:
Wild: Wilds substitute all other symbols in the game.
Couple: Max. 100x your bet with five-of-a-kind on a winning payline.
Dealer: Max. 50x your bet with five-of-a-kind on a winning payline.
Croupier: Max. 50x your bet with five-of-a-kind on a winning payline.
Red Card: Max. 20x your bet with five-of-a-kind on a winning payline.
Yellow Card: Max. 20x your bet with five-of-a-kind on a winning payline.
Green Card: Max. 10x your bet with five-of-a-kind on a winning payline.
Blue Card: Max. 10x your bet with five-of-a-kind on a winning payline.
Players can pick a bet between $0.01 and $100 while the max. win is 1,000x your bet. This makes it seem rather simple but I guess that's also the appeal.
Features
4 of a King combines card games and slots but decided it wasn't quite done and added some features in there, although there aren't as many as you would expect. I found them to be alright but only had a big impact on wins occasionally.
Adjacent Symbols: Wins are counted when the same symbol appears on adjacent tiles on a win line, regardless of their starting position.
Wilds: Wilds can substitute all other symbols in the game.
Stacked Wilds: Wilds can appear stacked, filling an entire reel.
Colossal Symbols: Wilds can become colossal, up to 3×3 in size.
The Wilds are really the only important feature in the game and as such have a big importance in getting wins. Unfortunately, they are also pretty rare and don't show up often. When they do show up the game frequently awards a bigger win.
A big help is the colossal symbols, which only applies to the Wilds. When it appears it can be as big as a 3×3 although it rarely stopped on the screen to be completely visible. This can quickly help in creating longer win lines.
I was also pleased by the adjacent symbols feature, which basically does what it says on the tin. Where normally wins are only counted when they start on reel 1 and go left to right, this slot will count wins even if they start on reel 2 or 3. This makes it obviously more likely to get a win, and it happened quite often. I think without this the reel would have almost impossible volatility.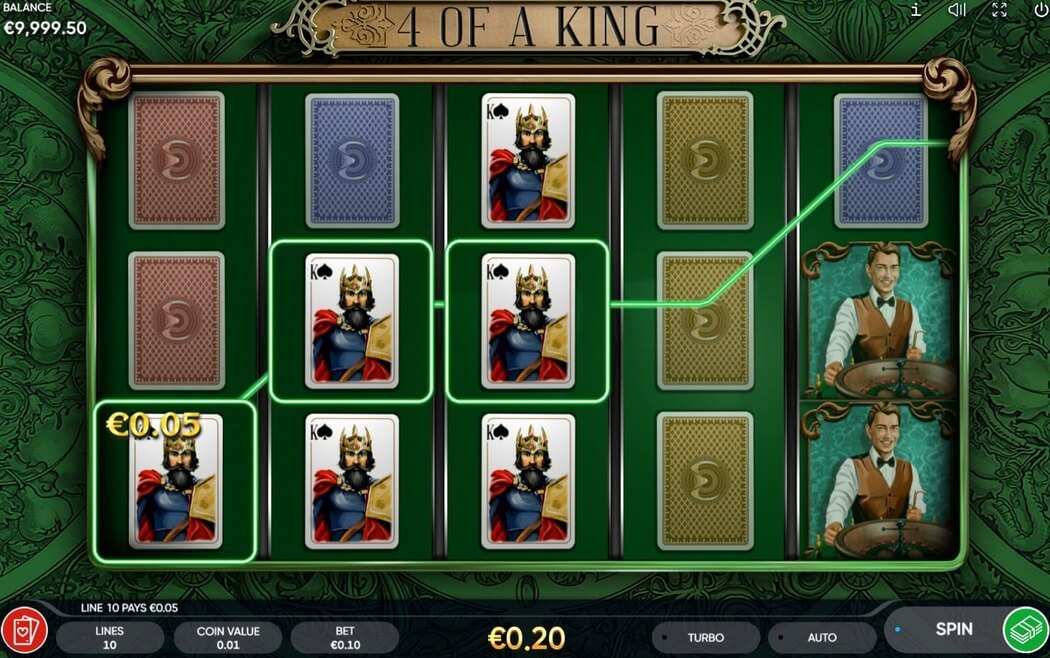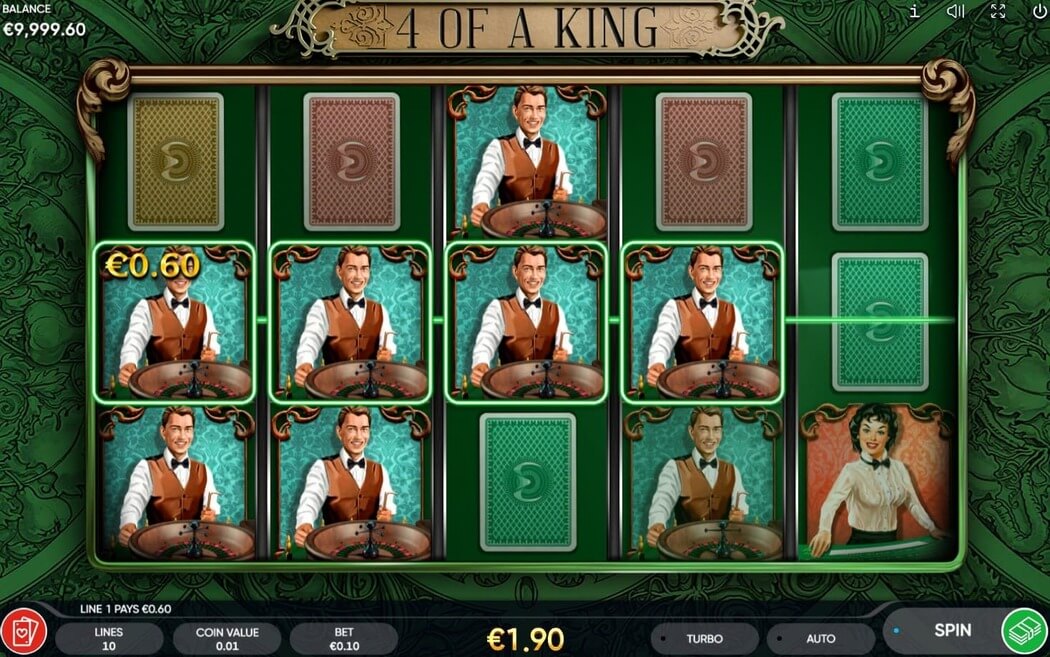 In general, I found the game to keep up the tension by only granting the occasional bigger win and paying out almost nothing in between. You'll have to keep a close eye on your funds the entire time because it can very quickly take a downward turn. Given the flexibility players get with their chosen bet I do think that's a manageable issue.
Conclusion
4 of a King is an odd concept slot with some strange ideas on the setting and theme but the developers did a good job at implementing a coherent slot. There aren't a lot of features which I thought was too bad but the slot looks good and plays like a regular game.
If you're a player that enjoys the idea of a classic card game in a slot format then this is probably not a slot to miss. People who like classic slots will also have a good time with this game. What 4 of a King won't do is completely reinvent the wheel, giving people a completely new experience.
The simplicity of the graphics and animations means that it still looks fine even though its a few years old by now. Compared to other Endorphina slots I would rate it about average. Do keep an eye on your funds as the game is very quick to drain your funds if you don't watch out.