Crusader is a video slot that lets you put on a knight's suit and slash your way to discovering the holy grail – which can be worth as much as 2,500x your bet.
My first impression of Crusader was that I am playing just a regular 4×6 slot game but this, in fact, turned out to be a raging crusade across expanding rows and towering Wild symbols.
As I got into the game I realized ELK Studios has done a marvellous job in enhancing the standard Expanding Wild feature.
That said, the Crusader Wild, when unleashed in the best of its iterations, can lead to supersized winning outcomes and an increased number of paylines – up to 98.
The game has a low-key appearance, but thanks to the feature above, the prizes and the gameplay can get super exciting.
When the Wild symbol lands on the first reel in full view, your chances of getting a winning outcome get a serious boost.
When both Crusader Wilds coincide on the opposite ends of the reel set, the game takes you to Free Spins mode and this is where things can get rather unpredictable – in the positive sense.
Theme and Design
Both the title and the choice of iconography point to a story that puts you in the role of a knight. The background is seemingly a Middle Eastern setting so let's just say, considering the max pay potential of this game and everything else about it, you may well be in pursuit of the holy grail.
ELK Studios' graphic designers hadn't outdone themselves in terms of the game art and the design. Crusader doesn't have too many visual niceties that entail events on the reel set but the most exciting element to it has been covered rather well. Getting two expanded Wilds duly invites intense visuals and the best part of the soundtrack.
Features
The Wilds make the game and the lack thereof can also break the game if you will. But first things first.
Regular Wilds can land anywhere in the space between reels one and five as opposed to the Crusader Wilds.
These can land in full or partial view to either help create or boost a winning outcome, or trigger the bonus game.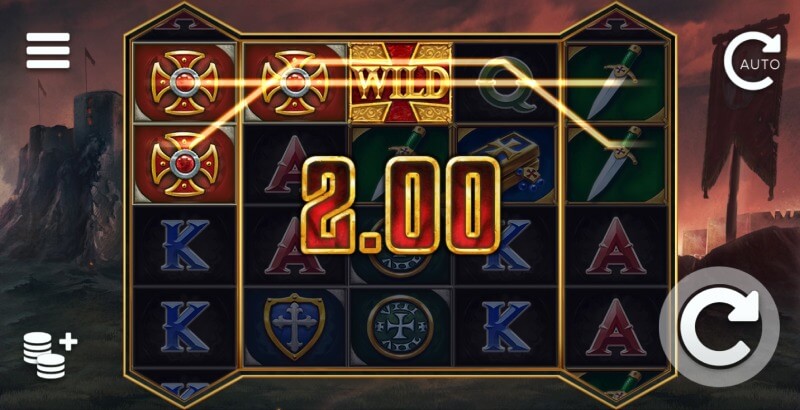 Crusader can award you with eight free spins with the possibility of extending their run when fully expanded Wilds land simultaneously on reels one and five. While in bonus mode, the Crusader image remains in place, which means you get the benefit of locked expanded Wilds. In the meantime, regular Wilds can appear in the middle and help the outcomes.
The main kicker in this game comes with the additional bonus symbol. Getting a +1/expand symbol adds one spin to the tally but also expands the reel set for one row. Each extra spin adds one extra row.
The best part about the bonus feature is that the expanded Wilds' coverage expands along with the reel set. With this paradigm in place, all you'd need is some extra Wilds and a few matching symbols in the right positions.
In my run with this game, I've some really interesting outcomes featuring regular Wild stacks of two and three.
This hints at the possibility for a really big win – I just wish the feature was marked by a two-way-pay upgrade because that would have made Crusader really appealing with casino players, regardless of its steep volatility.
Bets and Payouts
You can play this game for as little as 20p per spin. $1 and $2 spins will reflect winning outcomes that are more appetizing but the risk of losing these amounts in a single spin is also greater.
That said, you can try to shift between small and medium bets to get a sense of the expanded Wilds' frequency of appearance. My strategy, if I can call it that, has been to change between small and medium bets following every five winless spins.
In terms of its payout potential, Crusader didn't succeed in surprising me with any notable wins during the base game. Having fun while playing doesn't altogether depend on winning the bonus feature, but it does have a major say in it.
In terms of symbol values, the paytable starts off rather low, with 0.25x your bet for three matching symbols from the low-paying category. This is expected in view of the Crusader Wild symbols because of their potential to offset the low values with the help of multiple payline wins.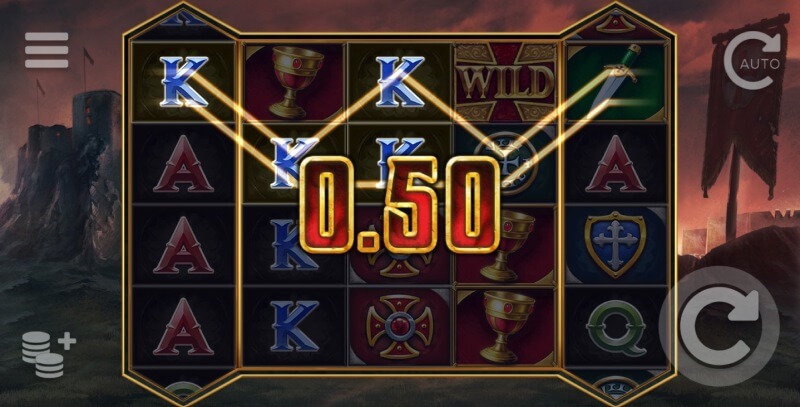 Symbol values, multiplied by your total bet, are as follows:
Queen: 0.25x, 0.5x, 1x
King: 0.25x, 0.75x, 1.5x
Ace: 0.25x, 1x, 2x
King: 0.25x, 1x, 2x
Green cross: 0.5x, 1.25x, 2.25x
Blue cross: 0.75x, 1.5x, 2.5x
Red cross: 1x, 2x, 3x
Dagger: 1.25x, 2.25x, 4x
Golden box: 1.5x, 2.5x, 5x
Grail: 2x, 4x, 10x
Conclusion
Video slot players who prefer high volatility affairs can look to Crusader for big potential hits. I've stated the caveat above, but I'll underscore it here: the base game doesn't seem eager to award big wins. You can make decent wins, between 2x and up to 10x your bet, as these are not exceedingly rare, but for something more you'd have to bide your time for the free spins bonus.
I think the game can be worth checking out. The game comes with ELK Studios' original Betting Strategies which is a way to randomize your bet amounts through the game's random number generator.
Overall, Crusader will hold your attention if it awards you with the free spins bonus within a reasonable number of spins – I'd say before the 50-spin mark. Otherwise, your balance will largely depend on how well the single Crusader Wilds pan out.