Doubles takes the old-school fruit machine concept and gives it a modern, minimalistic twist. A simple idea executed with clever design, this slot game is both engaging and easy to read.
Yggdrasil released Doubles in 2015, offering an intriguing blend of traditional fruit machines and contemporary mobile-friendly slots. The game takes the base mechanics from classic machines and adapts them for modern times.
A significant selling point of Doubles is its visual appeal. The game boasts an amazing design with a unique feel, embracing modern digital minimalism while remaining distinct. Once you've seen this game, you won't forget it.
Under the hood, Doubles is a relatively standard slot with five reels full of fruit and the capacity to fit ten symbols on a payline. This is made possible by the game's ability to double up any symbol, allowing up to ten of them to fit on a single payline.
Doubles is a visually stunning game that takes a classic look and makes it its own. Featuring minimalistic, polygon-based visuals, it's a style you won't see every day.
The game's atmosphere is upbeat and energetic, with pumping music that will make you instinctively nod your head to the beat. Doubles is a feel-good game with a distinctive appearance, providing a unique and memorable experience.
Doubles Highlights
Free Spins: In-game free spins are available in Doubles.
Scatter Symbols: Collect scatter symbols for free spins and/or cash prizes.
Volatility: This medium volatility slot offers a well-balanced mix of win sizes and hit frequency.
Max Win: The maximum win in Doubles is 1000x your bet.
Max Lines: With 243 paylines, there are more potential winning combinations.
Symbols and wins
Doubles is a straightforward game with simple gameplay. As a fruit machine at heart, it features plums, lemons, oranges, melons, cherries, stars, horseshoes, sevens, and diamonds.
The game sets itself apart from classic machines through its double squares. Any normal symbol can have two of them in one square, making the game similar to a Megaways slot but horizontally. In Doubles, you can get up to ten symbols on a single payline.
There is only one special symbol, the Double D scatter symbol, which can activate the free spin feature. To activate the free spins, you need three or more Double D symbols, with more symbols granting additional spins.
Doubles has a whopping 243 paylines, essentially allowing any combination from left to right to win. The pay structure is interesting, as the slot has only one special feature and no real jackpot. Wins are volatile but balanced, offering the possibility of good wins in the base game.
Players may find their bankrolls fluctuating, but the game's excitement keeps them engaged. Although you might need to cut your losses eventually, the game remains exhilarating.
Features
Doubles is a simple game with just one special feature: free spins. Fortunately, these spins aren't too rare, so you can activate them fairly often.
Free Spins: Collect three or more Double D symbols to unlock free spins.
Three Double D symbols grant ten free spins, four symbols grant twenty, and five symbols grant forty. Free spins can be re-activated during the feature for even more spins.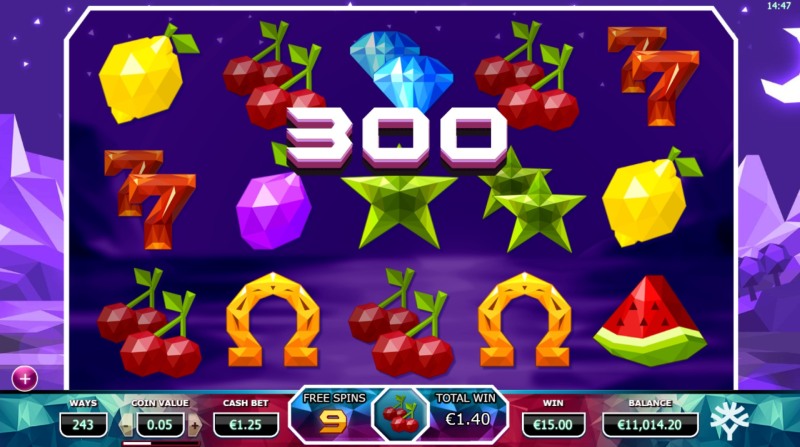 When the free spins start, you can choose one symbol that will always be doubled. Symbols are listed in order from "most wins" to "big wins." Choose the volatility that suits your play style and spin away.
The option to choose your preferred volatility adds a layer of personalization to the game. You can adjust your play according to your mood or your remaining bankroll, deciding whether to play it safe or go all in.
Final Thoughts
Doubles successfully takes the old format and transforms it into something completely new. The game's simplicity and well-executed concept make it an enjoyable slot experience.
While Doubles may not be a timeless hit that players will enjoy for years to come, it offers fast-paced fun with a great design that is sure to entertain for a while. It may not reach the status of games like Gonzo's Quest, but Doubles is still worth a try.
A special shout-out goes to the mobile version of Doubles. Yggdrasil optimized the mobile version to provide a seamless playing experience on any device. If you're looking for a solid mobile-friendly slot, Doubles is an excellent choice.