Doubles takes the old-school fruit machine and gives it a modern minimalistic twist. A simple idea with a clever design.
Yggdrasil released Doubles in 2015. This game is an interesting mix of old-fashioned fruit machines and modern mobile-friendly slots. It takes the base mechanics from the old games and brings it to modern times.
The visual side of the game is a big selling point. The game looks amazing and it has a unique feel. It is built on modern digital minimalism and looks like nothing else. If you have seen this game, you will remember it.
Under the hood, Doubles is a fairly standard slot. It has five reels full of fruit and can fit 10 symbols on a payline. Wait, did I count that right? Yeah, I did. You see, Doubles can double up any symbol and fit up to 10 of them on a single payline.
Doubles is a stunning-looking game. There is just something special about a game that took a classic look and made it its own. Doubles is a minimalistic slot with polygon-based visuals. This is something you won't see every day.
Everything here is upbeat. The game is energetic and the music is pumping. No matter how rotten a day you have, you just instinctively start to nod your head to the beat. This is a feel-good game that sure made me smile. What struck me the most, was the uniqueness of it all. There just aren't many games that share this look. It felt like a distinct experience.
Doubles Highlights
Freespins: You can get in-game free spins in Doubles.
Scatter symbols: Collect scatter symbols to get free spins and/or cash prizes.
Volatility: This medium volatility slot has well-balanced win size and hit frequency.
Max. win: The maximum win of Doubles is 1000 x your bet.
Max. lines: The 243 paylines result in more possible winning combinations.
Symbols and wins
Doubles is a straightforward game that has a simple gameplay. It is at heart a fruit machine, so we have plums, lemons, oranges, melons, cherries, stars, horseshoes, sevens and diamonds.
What separates this from the classic machines, are the double squares. It is possible that any normal symbol can have two of them in one square. This game is like a Megaways slot, but horizontally. In Doubles, you can get up to ten symbols on a single payline.
There is a single special symbol, which, of course, is not a single symbol. The Double D is a scatter symbol that can activate the free spin feature. You need three of them to activate the free spins, and the more you get, the more spins you receive.
Doubles has a whopping 243 paylines, which just basically means that any combination from left to right can win. And speaking of wins, the pay structure is quite interesting. As the slot only has one special feature and no real jackpot, the wins are somewhat balanced. They are volatile, don't get me wrong there, but you can get good wins in the base game.
I felt that my bankroll was going up and down all the time. Between all the dry spells and good hits, my coins didn't know which way they were going. It was exhilarating, even though I eventually needed to cut my losses and take out roughly half of what I put in.
Features
Doubles is a simple game and it has only one special feature. Luckily, the free spins aren't that rare, so you get to actually activate it every once in a while.
Free Spins: Turn those Double Ds into free spins
To activate the free spins, you need to get at least three Double D symbols. Three will get you 10 spins, four gets you 20 spins and with five you get 40 free spins. You can re-activate the free spins during them for even more spins.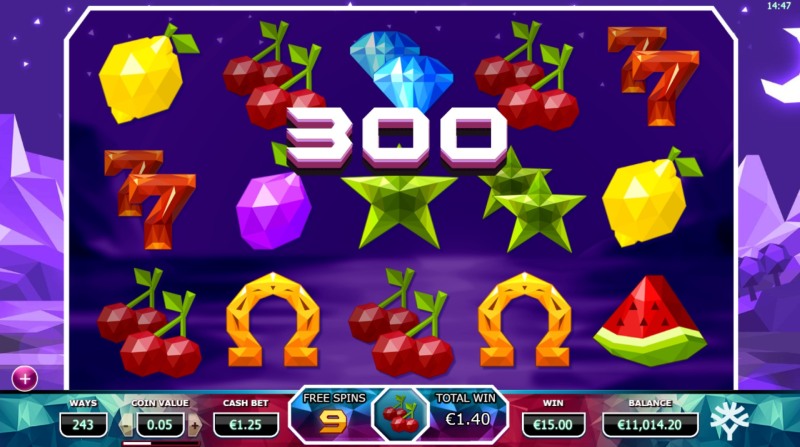 When the free spins start, you get to choose one symbol that is always doubled. They are listed in order from 'most wins' to 'big wins'. Choose which volatility is best for you and start up the spins.
Personally, I really like the option here. I can choose what kind of a game I want to play depending on my mood and how much I have left in the bank. Do I just need to get a little more, or can I play for all the marbles?
Final Thoughts
Doubles takes the old format and makes something completely new from it. I liked this concept, as oversimplified is always better for me than overcomplicated. A simple idea with good execution is basically what you need for a good slot.
I can't say that Doubles is an ageless hit, that we will still enjoy years and years from now. It's fast-paced fun with a good design, which may or may not last. I wouldn't put my money on this being anything like Gonzo's Quest, but I bet people will get a kick out of Doubles for a while.
I do have to give a special shout-out to the mobile version. Yggdrasil optimised the Doubles mobile version, so it would be easier to play no matter what device you have. If you just need a solid mobile-friendly slot, then this is it.