The Wilde family is back in Egypt and ready to uncover the secrets of the ancient Pharaos! Doom of Dead was released by Play 'n GO in 2020, but this time we get to follow Cat Wilde instead of Rich.
Cat Wilde has acquired a rather interesting object – something resembling a golden compass. But, instead of pointing North as one should, it seems to point towards something else. Packing her bags and lighting her torch, Cat Wilde fearlessly steps inside the mysterious pyramid. Soon it's obvious that she isn't walking the dark, narrow corridors alone. Something is following her, trying to make sure she doesn't find the carefully hidden treasures… Or, the way back out.
Doom of Dead is yet another sequel to Play 'n GO's superstar, Book of Dead, which arrived at online casinos in 2016. Since then, Play 'n GO has tried to recreate their perhaps most popular slot several times. For that, we have games such as Tome of Madness, Legacy of Dead and Shield of Athena – games, that are set in Egypt and/or are occupied by either Rich or Cat Wilde.
Much like Book of Dead, Doom of Dead is a highly volatile game and their RTP is also very alike. But, in comparison, Doom of Dead does have a larger maximum payout.
Graphics and sound
Doom of Dead follows the lead of Book of Dead in many ways, starting from the symbols. In fact, they're almost identical with just some adjustments and updates; for instance, instead of Rich Wilde, the most valuable symbol is now Cat Wilde. Also, the Scatter is now the compass and the Wilds are separate, showing the powerful members of the ancient rulers of Egypt.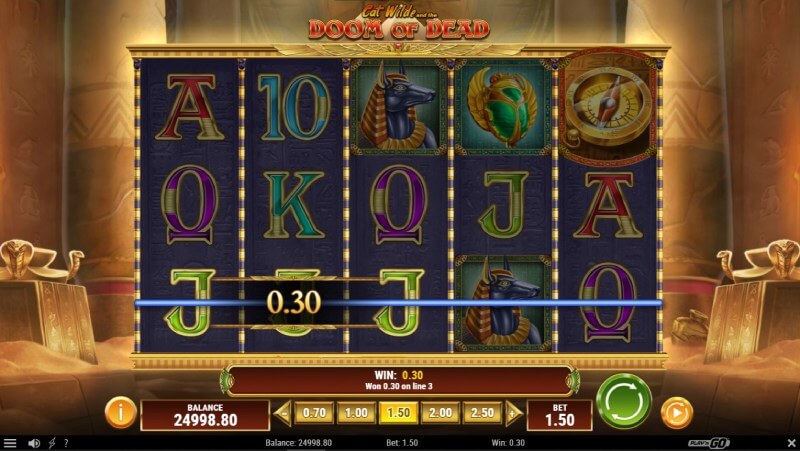 I must say it makes the game look quite handsome when the Wilds expand and the glaring mummies are staring you down. It kinda gives the exact ominous vibe that I think was missing in Book of Dead.
Everything in this slot is laced with gold and I think it looks very grand. The music is, as one might expect, very fitting for an adventure and could well work in some '80s or early '90s action movie. It's a shame, though, that the music and the effect sounds can't be muted separately or even adjust the volume in the game itself other than just having it on or off.
Symbols and wins
Doom of Dead has five reels, three rows and 10 paylines, which makes the main game a tad boring. But, it does have the feature of growing Wilds which fill up entire reels and create opportunities for bigger wins.
The game also has free spins, which can be triggered by landing three Scatters. They can also be retriggered.
High-value symbols:
5 x Cat Wilde pay 100x your bet
5 x sphinx pay 25x your bet
5 x Anubis pay 10x your bet
5 x scarab pay 7.5x your bet
Low-value symbols:
5 x A or K pay 3x your bet
5 x Q, J or 10 pay 2x your bet
Special symbols:
5 x Wild pay 100x your bet
3 x Scatter pay 2x your bet and triggers the free spins
Features
The Wilds of the game are always expanding, in both base game and during free spins. This means that every time a Wild lands on a reel it grows to cover the full reel.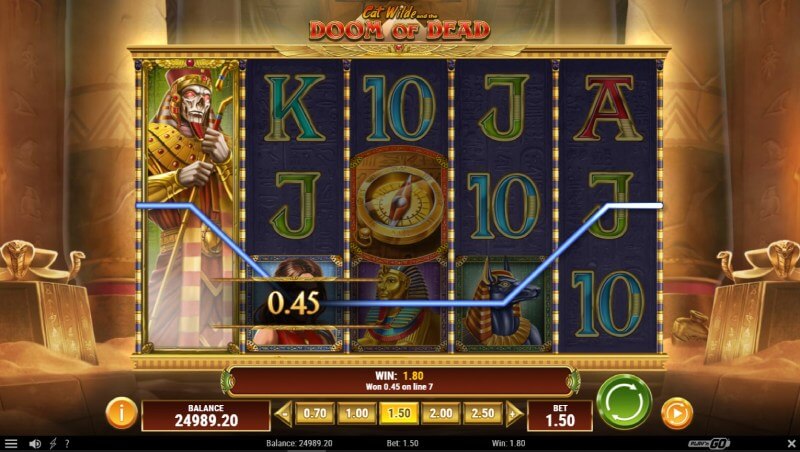 Free spins: If you land three Scatters on reels 1, 3 and 5, it will trigger 10 free spins.
Before the free spins start the game will choose one symbol on random. This symbol becomes special during the spins and it will expand like the Wilds if enough of the special symbols are present.
The free spins can be retriggered by landing a new set of Scatters.
Special expanding symbol:
The special symbol is active only during the free spins. The special symbol does not only expand to fill the reel, but it also pays in every position. So, the special symbol can land on any reel, but there has to be enough of them to win.
For illustrated symbols, this means at least two (or one and one Wild), and for low-value symbols, this means at least three (or one and two Wilds).
Final Thoughts
I love Play 'n GO's slots and Book of Dead has a special place in my heart, despite it being a highly volatile game. So, naturally, I expected the same sort of experience out of Doom of Dead and was quite excited to see how the story would go with Cat Wilde.
After spinning Doom of Dead some hundreds of times, I felt almost cheated. I really do like how the slot looks and with the updated graphics it succeeds conjuring the same charm as its predecessor. But, the visuals can't make up for the slot being a disappointment to me.
When the reels get filled with Wilds and everything points to a big win, it's only natural to feel dumbfounded when the payout turns out to be only a few times your bet. This is what happened with Doom of Dead, several times. Even the free spins didn't surprise me, and I managed to retrigger the spins twice at one point.
I am very familiar with high-volatile games. I know how they work and how their winnings can vary from measly few coins to sky-high. But, I still feel something is very off with Doom of Dead and I probably will not return to play this one.
Pros
High volatility with the potential for big wins.
Beautiful graphics with an ancient Egypt theme.
Growing Wilds feature that can fill entire reels and increase chances for big wins.
Free spins feature that can be retriggered.
Cons
Only 10 paylines, which can make the main game feel a bit dull.
Similar to Play 'n GO's previous slot, Book of Dead, which may be unappealing to some players.
Music and sound effects cannot be adjusted separately, which may be bothersome for some players.