Hop on your motorcycle and ride through the neon city towards the big jackpots in this beautiful retro-futuristic slot.
Style is everything in Neon Rush – Splitz. This slot is a cool experience, where you are not in any kind of a rush. Just enjoy the scenery, listen to the chill tunes and try to score some big jackpots while you are at it.
Yggdrasil released Neon Rush – Splitz in the spring of 2020. It was a moderate hit when it came out and people were delighted about the visual style. This slot does have more to offer than just a beautiful shell.
The game features only five regular symbols, six jackpots, high volatility and an RTP of 96.3%, which means that you are in for a ride.
Graphics and sound
This slot is pure eye-candy. The 1980s retro-futuristic city basking in neon lights is the backdrop for this game. You are driving through the vast metropolis on your motorcycle and enjoying the chill beats. Like driving on a lit highway at night, this slot is a relaxing experience.
The game has the same visual style as NetEnt's Neon Staxx. Both share the same neon-coloured futuristic look that is also seen in films like the Tron series.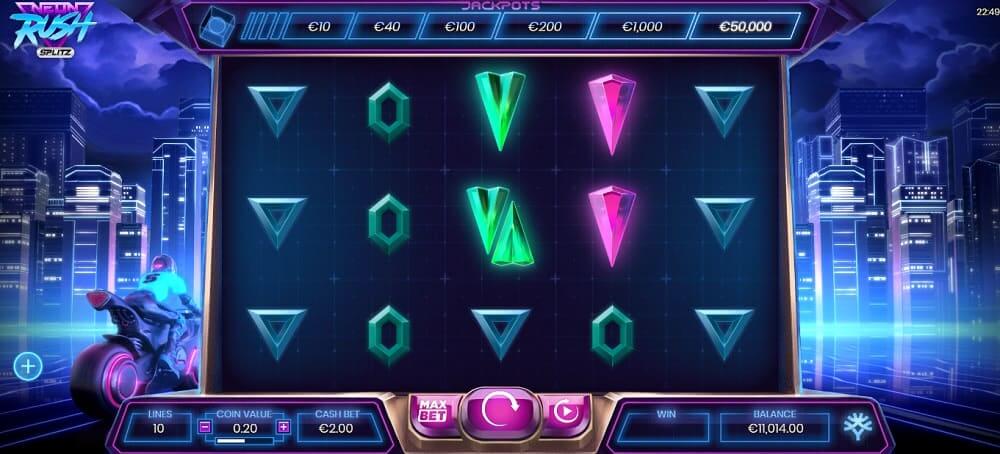 And what would great visuals be without an equally great sound? The background music is some relaxed futurewave that sets the mood and plays on. This song won't get your heart pumping, but it will let you relax and enjoy the ride.
As a kid from the 80s, this slot is just plain perfect. This is the exact same futuristic world that I thought would be a reality when I grew up. Oh, how innocent times we lived in.
Symbols and wins
The first thing you will notice is that there are only five regular symbols in the game. They are abstract symbols that fit the theme and you can tell their value by looking at how complex the objects are.
The strange appearance and number isn't the only odd thing about the symbols. If you check the pay structure, you will notice that they go up to 15 copies of the same symbol, even though there are only 5 reels. You can get more by opening up the Splitz symbols, which can hide up to five copies of the same symbol.
Splitzes are the big thing about this slot. They are a special symbol that has other symbols under it. When the reels stop, all the Splitzes open up and reveal the same type of symbol. It can be a regular one, a wild or even a jackpot symbol. The cool thing is that there can be between 1 and 5 copies in that single square.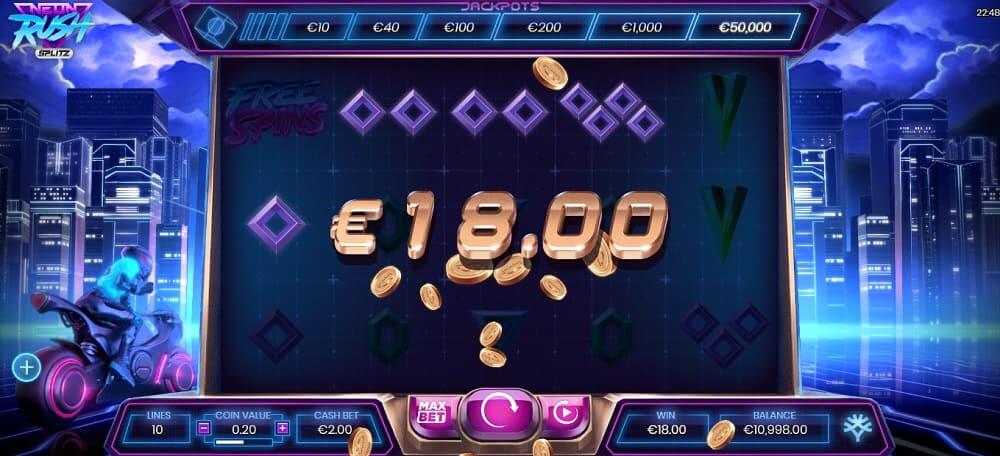 The game has six jackpots and a Free Spin feature. Jackpot symbols can be found in the Splitzes and the free spin symbol is a scatter that can be found normally on the reels. You need a minimum of five jackpots to win a jackpot and at least three scatters to activate the free spins.
This slot has high volatility, but it didn't feel that bad to me. I was able to get a good amount of smaller wins in the base game to hold me steady. The Free Spin feature is where you can get the big wins, but I didn't find it that necessary.
Features
Splitz symbols: Hidden treats under the symbols
Splitz symbols are an interesting mechanic that brings a ton of excitement to the game. After the reels have stopped spinning, all the Splitz symbols are revealed. They all have the same type of symbol under them, but the amount can vary.
You can find normal symbols, wilds or jackpot under the Splitzes and each can have 1-5 copies of the same. This is how you can get over 15 symbols on a single payline.
Personally, I like this feature. Having both Splitz symbols and a low amount of symbols in total is a great combination. I felt like I was able to hit the correct symbols more often than, say, in the Motörhead slot.
Jackpots: Six fixed jackpots to hit
Neon Rush – Splitz has six jackpots for you to hit. They are all fixed and are relative to your wager. You can win 5x, 20x, 50x, 100x, 500x or 25,000x your bet if you get enough jackpot symbols.
Jackpot symbols are hidden under the Splitzes and can appear in multiples like every other symbol. You need five jackpot symbols to get the first jackpot, six to get the second and so on up to ten for the highest.
Free Spins: Find the scatters and go for the big wins
Free Spin feature is activated by getting at least three Free Spin scatter symbols. Three will give you 10 spins, four will get you 20 spins and five scatters is worth 30 free spins.
When you get to the feature, you get to enjoy better Splitz symbols. There are a lot more of them and they only have wilds and jackpots in them.
Final Thoughts
Simply put, I love this slot. The visual aspect is right up my alley and the music is perfect. I even kept it playing in the background when I wrote this review. I bet some of you even clicked this slot just because of its retro-futuristic style.
A great theme and beautiful outside is nothing without a good game. Neon Rush – Splitz delivers on that front as well. The slot has taken a couple of great ideas that we've seen before and improved them. There are enough interesting features to keep the player interested and the chance for big wins is sure to draw some people's attention.
I can easily say that I will be playing this slot again. I had a good time playing it and ended up with basically the same amount of money in my account that I started with. Had fun, got to spend time playing and didn't lose money. I'd call that a good day.