Diamond Vortex takes place deep in outer space where we find a strange spiral hole in the fabric of time and space. This slot gives us non-standard reels, Wilds, Free Spins and Cascading Reels as we attempt to find out what is hidden behind this vortex!
Developed by Play 'n GO and released in 2020, Diamond Vortex is one of their newest slots. The game has a non-standard playing field that consists of roughly 36 tiles in a circle shape, divided into 3 coloured rings with a multiplier at the centre. The graphics look colourful and sharp but because of the size of the playing field, the individual symbols are rather small and difficult to identify.
The theme of the game does not play a very big role in the design of the slot. There is a multiplier in the centre that also acts as a sort of black hole, sucking Wilds in occasionally to increase the multiplier. The background only shows a massive field of stars slowly spinning around the slot, but offers no real addition to the gameplay. I would describe the design of this game as functional more than anything.
Symbols
Diamond Vortex features an acceptable variation of slots. Obviously, a black hole in space is difficult to associate with certain symbols and the choice to go for alien looking rocks and gems were as plausible as any other. I mostly appreciate that all the symbols are original and made exclusively for this slot. Some of them share the same colour which makes them harder to tell apart, but the game does a good job at highlighting winning clusters.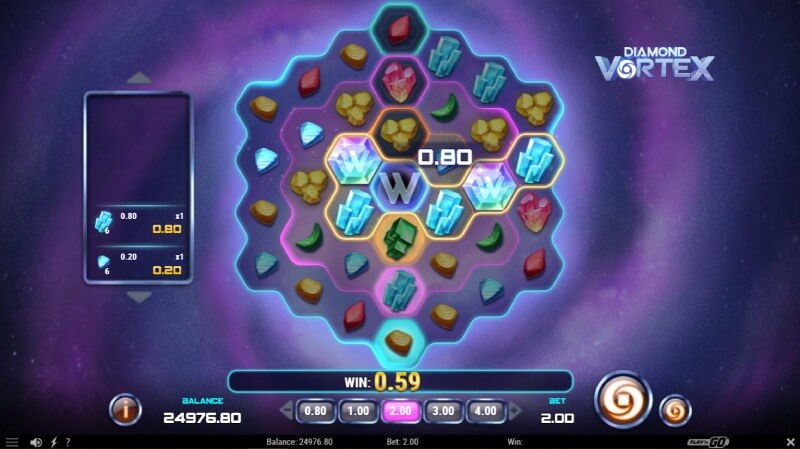 The symbols are:
Bonus: Get several Bonus symbols on the screen at the same time to activate the Free Spins mode.
Wilds: Wilds substitute all other symbols in the game except the Bonus symbol.
Red Gem: Max. 100x your bet with 35-or-more in a cluster.
Green Gem: Max. 60x your bet with 35-or-more in a cluster.
Blue Gem: Max. 40x your bet with 35-or-more in a cluster.
Yellow Gem: Max. 20x your bet with 35-or-more in a cluster.
Red Ore: Max. 10x your bet with 35-or-more in a cluster.
Green Ore: Max. 10x your bet with 35-or-more in a cluster.
Blue Ore: Max. 10x your bet with 35-or-more in a cluster.
Yellow Ore: Max. 10x your bet with 35-or-more in a cluster.
The game is listed at having High Volatility which fit my experience as well. The game doesn't hand out wins very often but the cascading reels can suddenly result in a single big win. This is amplified during the Free Spins mode. Players can augment their bets by picking one between $0.20 and $100 per spin. It's possible to get a hand on the max. win of 5,000x your bet.
Features
Diamond Vortex comes across as a slot filled with features. It doesn't really have that many when compared to some of the more extreme examples, but all the features are extremely present while playing so that makes them feel more important.
Non-Standard Reels: There are about 36 tiles on the screen, divided into 3 rings.
Cluster Pays: Wins are calculated by the same symbol touching at least 6 or more times. Symbols can touch horizontally, diagonally and vertically.
Cascading Reels: Whenever a winning cluster is created, the tiles involved disappear and all other symbols drop down, adding new symbols to the screen. This can happen as long as new clusters are created.
Wilds: Wilds substitute all other symbols in the game except the Bonus symbol. When a Wild is part of a win it will move one circle closer towards the centre. If the Wild reaches the centre, it will increase the Multiplier by 1x for the rest of the spin.
Multiplier: The Wild in the centre can become a multiplier every time a Wild makes its way there. This can go up to a 20x multiplier.
Free Spins: When a Bonus symbol appears on lit-up tiles, this activates the Free Spins mode. Every Bonus symbol activated this way adds 5 free spins.
Most of these features will be either activated or at least present every spin of the game. The Wilds are extremely common, with a standard Wild at the centre that is always activated. The Cluster Pays mechanic obviously only activates whenever there is an actual cluster, but if there is one it also means the Cascading Reels feature jumps to life.
This creates an effect where things are constantly moving and activating. The slot has a lot of movement as every circle spins either clockwise or counterclockwise whenever there is a winning cluster, which can either frustrate or help create additional wins.
The free spins mode is the rarest part of the game but it still activates relatively often. I would say during my time playing that I'd get it to activate about every 10 minutes. Obviously, this is just a rough estimate and it can be more or less frequent for other players.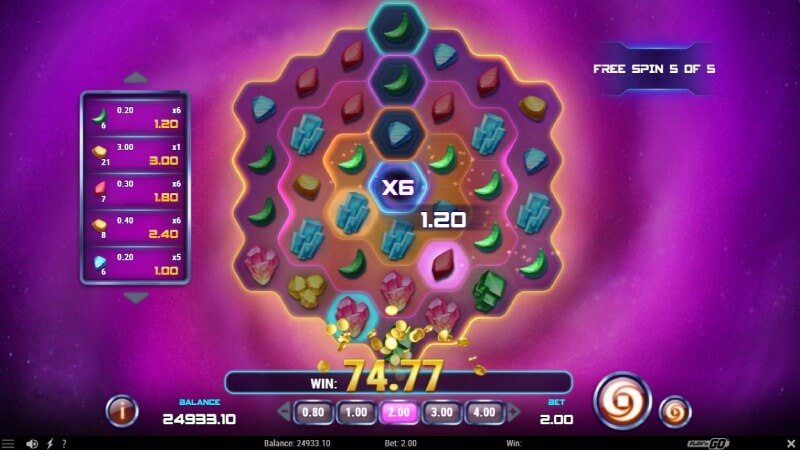 The Free Spins mode is very similar to the base game but has a harder growing multiplier, jumping up by 3 instead of by 1. There are also set spots on the playing field that can help with creating extra Wilds or free spins.
In my experience, the Free Spins mode is extremely volatile. Once I had 1 free spin win me 200x my bet, and the other 4 free spins won nothing. It's impossible to predict how it will end up, and it can easily not be worth your time. Luckily, I didn't feel like the free spins are mandatory to come out on top as the base game can also offer the same type of big wins. It's just a little harder.
Conclusion
Diamond Vortex is a nice adaptation of the non-standard reels game that has also become a bit more standard lately. Instead of a simple square field, the game features a round slot with different rotating circles. It all looks different and offers enough innovation in the gameplay without going overboard.
Players who are looking for a change of pace will probably get a good time out of this game. If you're new to the non-standard reels it might be a bit much but I feel like the game does a good enough job at explaining its mechanics.
The high volatility should be a draw for players that enjoy that kind of gameplay. I really felt like I was always at the cusp of getting a big win, which is something not a lot of high volatility slots can do.