Suncatcher Gigablox brings us a set of colourful gems and jewels with which to play around in this pitch-black slot. The game doesn't waste any time or effort on frills but instead plunges the player into stacked wilds, colossal symbols and sticky re-spins.
This interesting game was developed by Yggdrasil Gaming and released in 2021. The slot features a 5-reel, 3-row playing field that is constantly filled with a variety of different coloured gems. There isn't much I can say about the presentation of the game as it only has the gems to see: the background is pitch-black and the information on the screen is rather bare-bones.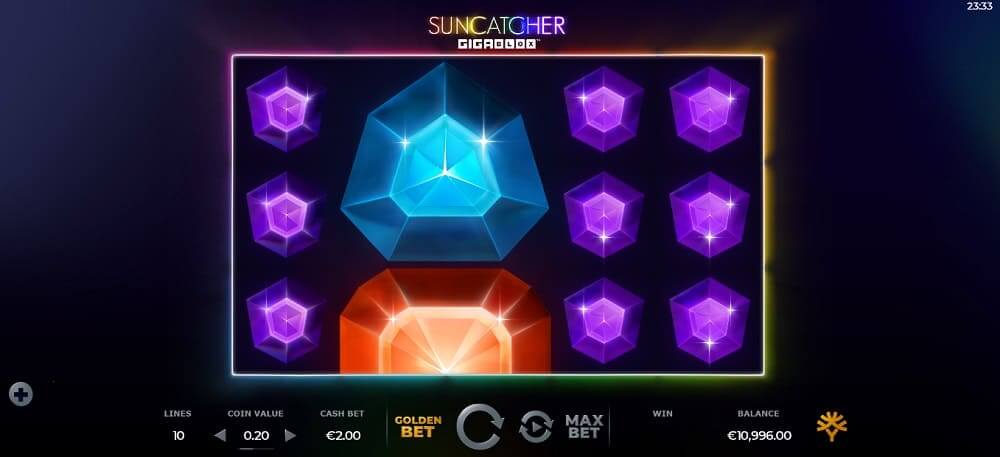 With only 10 paylines, getting a win might seem somewhat tricky. However, this is balanced out by the way the game grants players access to different features. I'll talk about that later on in the review, but suffice it to say most spins will have something get triggered or activated. Because of this, I felt the pace of the game was very high.
If the game is very slim with regards to the visuals, the music picks up the slack somewhat. I was pleased to hear a calm and aetherial soundtrack play in the background. Whenever there's a win, it won't interrupt this serene soundscape with a loud buzz or a bell, but plays a gentle jingle that fits the theme excellently.
Symbols
Suncatcher Gigablox uses a simple selection of symbols to fill the reels. There is no distinction here that can be made between high- and low-paying symbols. Everything looks like a colourful jewel or gem that has its own value. Only when there's a win do players get to see how much the coin value actually is. If you get a win, the game also shows you the win line it fell on.
The slot has Medium Volatility which in this case means that wins are frequent but the payouts aren't always enough to make back your spins. This results in a very slow decline of your funds with the occasional larger win that brings you back to the starting point. The RTP is 96% which is about average for a slot with this volatility.
Players that are looking for a game that offers a massive jackpot will likely be disappointed by this game. It has a maximum win of 1,430x your bet which is considerably less than we've seen recently. Considering the volatility, it's also below average when compared to similar slots. There is an opportunity for players to pick a bet between $0.10 and a whopping $500 per spin, which might turn something into a massive win anyway.
The symbols you'll find in the game are:
Wild: Max. 25x your bet with five-of-a-kind on a win line.
Red Gem: Max. 10x your bet with five-of-a-kind on a win line.
Yellow Gem: Max. 6x your bet with five-of-a-kind on a win line.
Green Gem: Max. 4x your bet with five-of-a-kind on a win line.
Azure Gem: Max. 1.4x your bet with five-of-a-kind on a win line.
Blue Gem: Max. 1.4x your bet with five-of-a-kind on a win line.
Purple Gem: Max. 1x your bet with five-of-a-kind on a win line.
Pink Gem: Max. 1x your bet with five-of-a-kind on a win line.
Features
Suncatcher Gigablox is a slot that keeps all the action on the main screen. There is no bonus game or free spins mode to be found here. To keep things interesting, most spins will have one or more features appear that can significantly change the outcome.
The features that you'll find here are:
Paylines Both Ways: Wins are counted from left to right and vice versa.
Wilds: Wilds substitute all other symbols in the game. If the Wild would be the most valuable symbol in a payline, it will count as itself.
Stacked Wilds: Any Wild that appears on the screen will expand to fill the reel it is on.
Sticky Re-Spins: If a Stacked Wild is on the screen, a re-spin is triggered. The Stacked Wilds become sticky and stay on the screen. If another Wild appears, there will be another re-spin. This continues as long as Wilds are added.
Colossal Symbols: Symbols that are 2×2 or 3×3 in size will appear on the screen. If they're part of a win they will split into normal-sized symbols of the same colour.
Golden Bet: The player has the option to enable Golden Bet at any time. For an extra cost per spin, there is a 3x higher possibility of getting Wilds on the screen.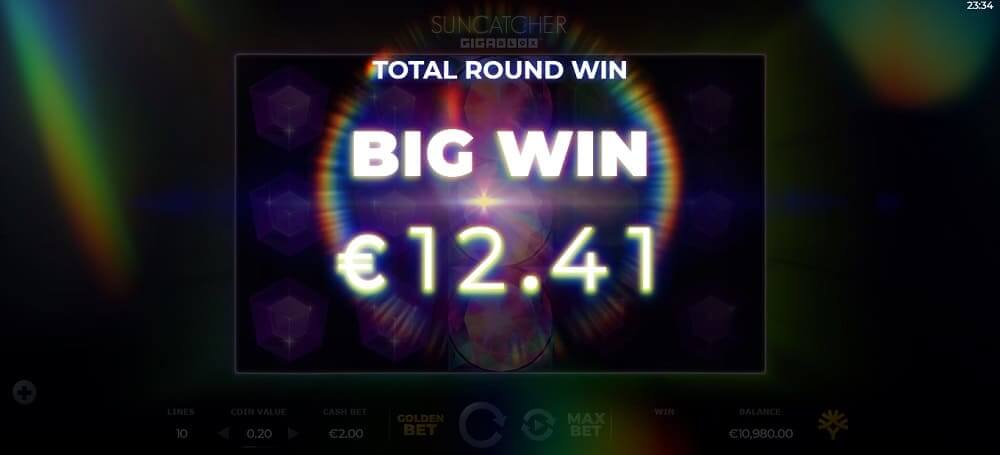 Although the game seems to hinge around Wilds a lot, I found that the Colossal Symbols can also play a huge part in getting wins. Players will get a Colossal Symbol on the screen every spin, although they won't always be part of a win.
When they do trigger a win, they can instantly help create multiple wins. This works especially well in combination with the Wilds since these become stacked whenever they're on the screen. Getting a colossal symbol next to stacked Wilds is guaranteed to create a win. Especially since the game counts paylines from both ways: both left to right and vice versa.
Another element here is the fact that any time Stacked Wilds appear on the screen, a re-spin is triggered. The Wilds become sticky and any new Wilds will also become sticky. As a result, it's possible to get the entire screen filled with both Wilds and colossal symbols. This also explains the rather low payouts for the different symbols since you're unlikely to get only 1 win line to payout at a time.
A final thing to note here is that the jackpot is triggered whenever the player manages to get the entire playing field filled with stacked wilds.
Conclusion
Suncatcher Gigablox is somewhat lacking in presentation. The game looks fine but the gems are rather uninspired and there is no background at all. I thought that might have been a good way to help it differentiate itself a bit but no such luck.
The gameplay does help to keep the game interesting. It's excellent for people who are looking for something simple but involved. The features are easy to understand and the pace is very high. You won't need to do any research before you can start playing.
For some people, the size of the jackpot might be disappointing but I found the rate at which I got wins, even smaller ones, to be sufficiently high to still keep me interested. With the Golden Bet feature, power players might be able to squeeze a bit more out of it.