Lady of Fortune places us on the shore of a beautiful lake under a pagoda lit with dozens of candles. The lady of fortune makes an appearance on the reels, which was a pleasant surprise for me.
The game was developed and released by Play 'n GO in 2014, although the graphics don't give that away. Everything looks incredibly crisp and detailed, and most of the symbols are slightly animated. As always, seeing that all the symbols in the game are original I consider being a big positive. The slot uses the standard 5-reel, 3-row playing field and an impressive 243 paylines.
The setting of the slot is a little vague, considering the name and the location. I presume it's about a wealthy lady that has gotten her riches through chance, considering the large number of symbols that are related to lucky charms in some way. Either way, it all looks very good, with a deep rich purple background to give it a royal atmosphere.
The soundtrack is made to fit the theme, with a very calm and floaty soundtrack while the sound-effects are short but celebratory jingles. It helped create a relaxing mood that I think belongs to the setting of the game.
Symbols
The game has a collection of original symbols, most of them related to chance in some way. They are all animated a little when part of a win, which creates some much-needed movement. Getting a win will show the winning payline and highlight the tiles that are involved.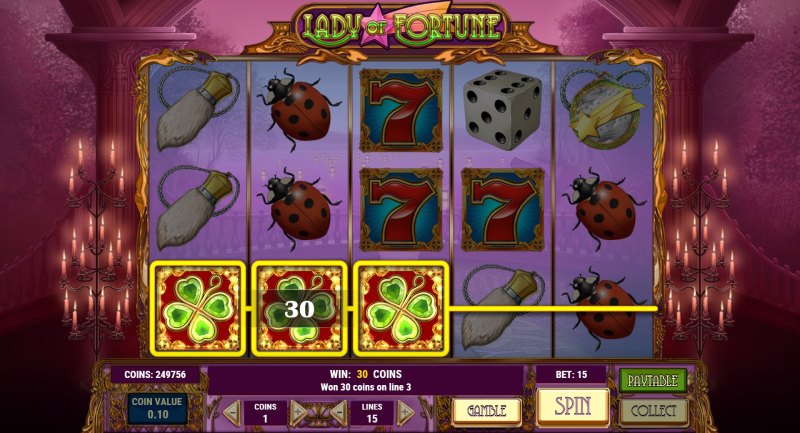 The symbols are from highest to lowest:
Bonus: 3 Bonus Symbols trigger the Bonus Game.
Wild: Wilds substitute all other symbols in the game except the Bonus symbol.
7: Max. 2,500x your bet with five-of-a-kind on a winning betline.
Lucky Clover: Max. 1,000x your bet with five-of-a-kind on a winning betline.
Horseshoe: Max. 500x your bet with five-of-a-kind on a winning betline.
Shooting Star: Max. 250x your bet with five-of-a-kind on a winning betline.
Rabbit's Foot: Max. 125x your bet with five-of-a-kind on a winning betline.
Ladybug: Max. 100x your bet with five-of-a-kind on a winning betline.
Dice: Max. 75x your bet with five-of-a-kind on a winning betline.
The game only has a few symbols which resulted in a Medium Volatility, providing me with a steady but spaced-out series of wins that kept my funds relatively steady. I did see a slight decline when I played for a longer time. The opportunity of getting a max. win of 10,000x your bet is quite appealing though.
Features
The features on Lady Of Fortune are rather simple, which I found fit the tone well, while also not very frequent. The different features are:
243 Paylines: The game counts a win whenever the same symbol appears on consecutive reels.
Wilds: Wilds substitute all other symbols in the game except the Bonus symbol.
Multiplier Wilds: All Wilds have a multiplier associated with them, which can be between 2x and 5x the win value.
Pays Both Ways: The game counts wins both from left to right and the other way.
Bonus Game: Whenever there are 3 bonus symbols on the screen, the Bonus Game is triggered. The player chooses 1 of the 3 crystal balls to immediately receive a coin win, up to 150x the total bet.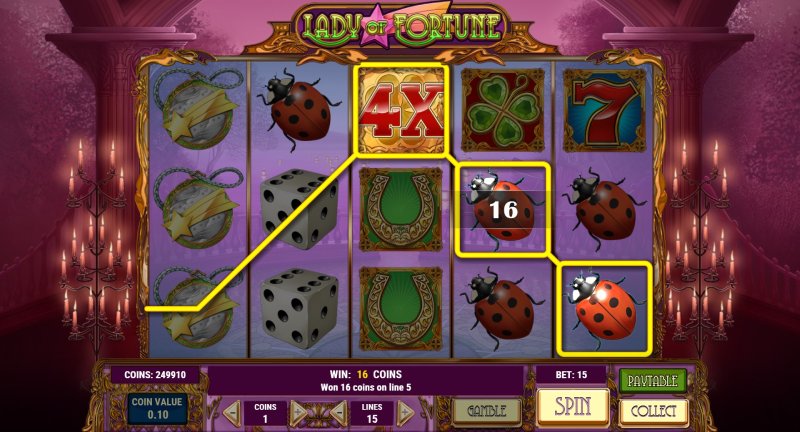 I found the features in Lady of Fortune to be simple but effective. The most important, and the one that appears most often, are the 243 paylines. These mean that any time a symbol appears on 3 or more consecutive reels it will trigger a win. This can be both from left to right or vice versa, increasing the odds of getting a win. I found this to happen pretty often, considering the low number of different symbols.
The Wilds all have multipliers associated with them which meant they didn't appear quite as often as they do in other slots. The wins that come out of the right betline with 1 or 2 wilds with a 5x multiplier on them is quite hefty, after all. Unfortunately, I didn't find that to happen very frequently either.
Finally, there is the Bonus Game. During my time playing it was painfully difficult to have it activate and even after playing for more than an hour I only saw it appear for a handful of times. When it does appear the game is interrupted and we're presented with the lady of fortune offering us 3 different crystal balls.
We simply pick one of the crystal balls and are granted a coin win, up to 150x your total bet. I thought this was a nice extra but not enough to be particularly interesting. The extremely low number of times I saw it appear also didn't help!
Conclusion
Lady of Fortune is a very pretty albeit toned-down slot. The classic slot experience is clearly at the base of this game while the features make it feel a bit more modern. There aren't a lot of distractions from the base game but the bonus game can feel like an interruption once it finally shows up.
The symbols are all beautiful and very easy to tell apart. The game feels like a slow, relaxed experience where the joy of spinning the reels seems more important than big wins and flashy celebrations. Not that there are no wins, but even those are celebrated in a timid way.
Players that like slots with only a few features that enhance the base game but don't distract too much will like Lady of Fortune. Fans of something visually appealing will also get their money's worth! Choose a bet between $0.01 and $18.75 per spin and start spinning.