Hong Kong Tower takes place in Hong Kong, where an enormous tower is used to project an intriguing slot game. This game features simple mechanics, including a special wheel for coin wins. The game was produced and released by Elk Studios in 2017. It resembles the similar Ho Ho Tower in more ways than just the name. In fact, I would consider them the same game, except for the theme. While Ho Ho Tower is set during Christmas and has symbols that fit the setting, Hong Kong Tower takes a more generic approach. Both slots make use of a 5-reel, 3-row playing field.
While the different symbols are all unique and look detailed, the game does not stand out in terms of creativity. At least with Ho Ho Tower, there was some sense of style, while in this game, it feels very generic. There are some symbols that give off an Asian vibe relating to the location, but the background is a simple skyscraper. There are also barely any animations except for a win on one of the 99 paylines being illuminated and the wheels in the special feature spinning.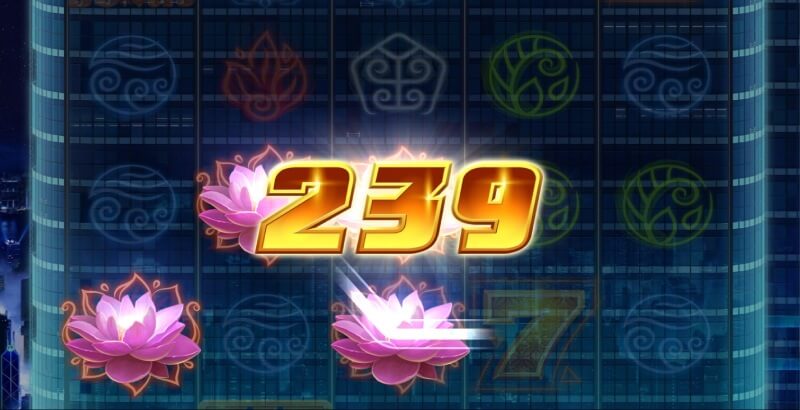 The sound in this slot is very toned down, with barely any music to speak of. There are bloops when the reels spin, and you'll hear generic jingles when there's a win. Almost triggering the bonus mode starts up a sound of increasing intensity, but when you don't get enough symbols, this cuts off immediately.
Hong Kong Tower Highlights
Bonus game or special game: Hong Kong Tower has a separate bonus feature.
Bonus symbols: Collect bonus symbols to launch the bonus round.
Volatility: This high volatility slot has big, less frequent wins.
Max. win: The maximum win of Hong Kong Tower is 3,016x your bet.
Max. lines: The 99 paylines result in more possible winning combinations.
Symbols
Hong Kong Tower doesn't have a huge collection of symbols, but they do look good and distinct. Even with the high number of paylines and the low number of symbols, it's still difficult to get a meaningful win, resulting in the slot's high volatility. Players should be aware of this and use the option to pick a bet between $0.20 and $100 per spin.
Bonus: Bonus symbols are required to activate the special wheel. Get 3 or more to start this mode.
Hong Kong Tower: The Hong Kong Tower symbol can randomly take the appearance of any other symbol in the game, including the Bonus symbol.
7: Max. 15x your bet with five-of-a-kind on a winning bet line.
Diamond: Max. 10x your bet with five-of-a-kind on a winning bet line.
Lotus: Max. 5x your bet with five-of-a-kind on a winning bet line.
Tree: Max. 2x your bet with five-of-a-kind on a winning bet line.
Fire: Max. 0.8x your bet with five-of-a-kind on a winning bet line.
Earth: Max. 0.8x your bet with five-of-a-kind on a winning bet line.
Water: Max. 0.8x your bet with five-of-a-kind on a winning bet line.
Nature: Max. 0.8x your bet with five-of-a-kind on a winning bet line.
Air: Max. 0.8x your bet with five-of-a-kind on a winning bet line.
As you can see, the payouts for every win, even with five-of-a-kind, are very low. This further contributes to its high volatility. It is meant to even out with the use of the Bonus game, which is a special feature.
Features
Just like Ho Ho Tower, Hong Kong Tower does not have many features. The ones it does have are mostly centered around the special Wheel that is enabled when the Bonus symbols appear on the screen.
99 Ways To Win: Whenever a symbol appears on consecutive reels from left to right, they will count as a win.
Bonus Wheel: Get 3 or more Bonus symbols on the screen to activate the Bonus Wheel. This will award you coin wins.
The base game plays like any standard video slot, with a lot of waiting around to see if something hits. The 99 Ways To Win never felt like a substantial part of the game to me, and as a result, wins were about as sparse as they would have been with regular paylines.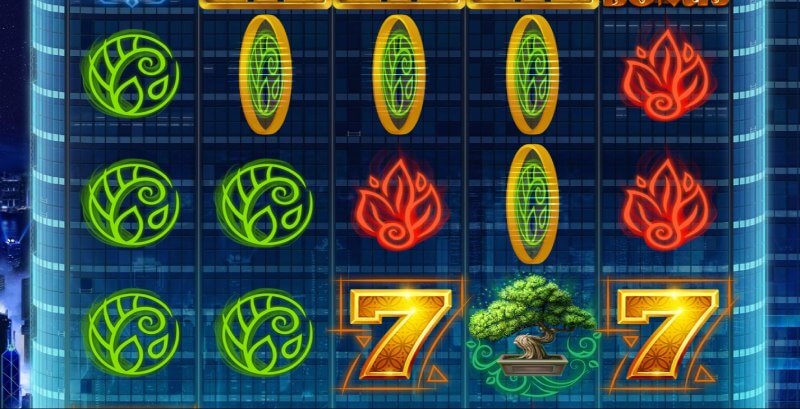 The game gets marginally more interesting during the Bonus Game, which activates when the player has 3 or more Bonus symbols on the screen. The camera shifts up to the top of the skyscraper, where we are shown three different wheels. The Bonus game starts on one wheel, divided into about 10 sections. Each of these sections has a coin value associated with it, except two.
The coin values are awarded whenever the wheel lands on it. If the same section is selected twice in a row, the bonus game ends, and all the coins that are won are awarded. There are 2 sections on the first wheel that have the Bonus symbol on them. If the wheel lands on that, the player moves to the next wheel.
The second wheel has higher coin values associated with it and 1 Bonus symbol on it. This wheel works the same way. If the wheel lands on the last remaining Bonus symbol, it will move to the third wheel with the highest coin values.
If the player gets 4 or 5 Bonus symbols during the base game, that means they get, respectively, 1 or 2 extra spins when the wheel lands on a coin value that was already selected.
Although this part of the slot is fun and often very good for the total funds, it did not trigger very often. It's also a direct copy of Ho Ho Tower, although I think this slot technically came out first. They are completely interchangeable, down to the coin values on each of the wheels.
Conclusion
If you've played Ho Ho Tower before Hong Kong Tower, you won't notice many differences. If this is your first of the two, you'll probably consider it a nice-looking but ultimately straightforward classic slot. That's not necessarily a bad thing, and I consider the Bonus game a highlight of this game, but it's also not a glowing recommendation.
I think this game is best suited for people who enjoy the direct coin wins that the Bonus game offers. The only trouble is getting there without running out of funds. I found it to take quite a while to trigger the wheels, and when it did, it could just as easily end after only a few spins. In my time playing, I found that I did not make up the funds I needed to get to the Bonus game.
Players can balance their risk a bit by choosing a bet between $0.20 and $100 per spin. The max. win of 3,016x your bet is nice but may not be high enough to make the risk worth it. Try it with a close eye on your funds, and you might get something out of Hong Kong Tower.
Pros
Stunning Visuals: Hong Kong Tower Slot offers impressive graphics and animations, providing a visually appealing gaming experience inspired by the vibrant city of Hong Kong.
Unique Bonus Feature: The game includes a unique "Wheels of the Sky" bonus feature, offering players the chance to win substantial prizes by climbing a series of skyscrapers and spinning wheels.
Wide Betting Range: Hong Kong Tower caters to both low and high rollers, offering a broad range of betting options to suit different budgets and preferences.
High Volatility and RTP: This slot offers high volatility gameplay and a competitive Return to Player (RTP) percentage, making it appealing for players seeking larger, less frequent payouts.
Pros
Limited Bonus Features: While the game offers the unique "Wheels of the Sky" bonus feature, it lacks other common bonus features such as free spins, wilds, or multipliers, which some players might miss.
Complexity: Hong Kong Tower Slot has a more complex set of rules and features compared to traditional slots, which may be confusing or overwhelming for new players or those who prefer simpler gameplay.
Potential for Frustration: High volatility slots like Hong Kong Tower can lead to long dry spells between wins, which may be frustrating for players who prefer more frequent, smaller payouts.
No Progressive Jackpot: Hong Kong Tower Slot does not feature a progressive jackpot, which might be disappointing for players who enjoy the thrill of chasing potentially life-changing wins.