It's time to go digging up some gems! When Gemix was first released, I have to admit, it blew my mind. At the time it came out, this reel setup wasn't common. Because it exhibits a Candy Crush-style, it is less of a slot game and more of a fun game to play, albeit with real money. In fact, it also comes with its fun video-game tune in the background belting along as you dig up the gems. The point of the game? It's for you to get clusters of gems next to each other to create winning combos. I must warn you, there are no reels in the conventional sense here. Powered by software provider Play 'N Go, this game is spread over a seven by seven reel setup, with bets starting from as low as 50p.
Round up the most precious gemstones, and you can walk away with up to 1,000 times your bet per spin. What I especially love about this game is that it doesn't feel like you are betting your money away. Instead, it has kicked up the gamification levels up a notch, so it's more gameplay than betting away.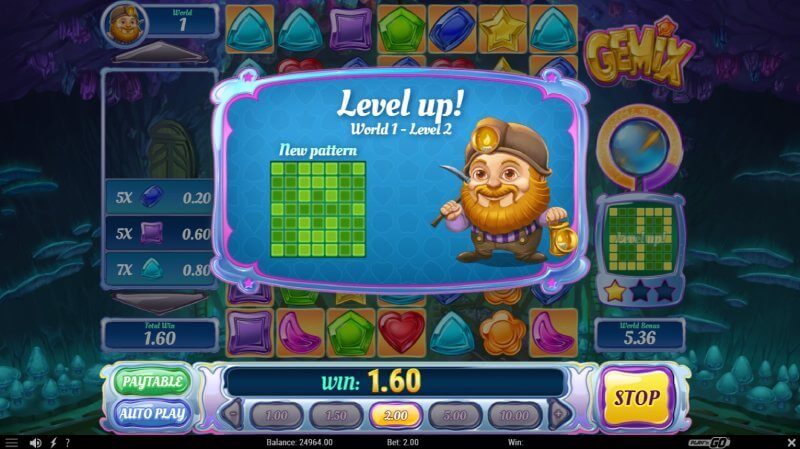 Featuring a range of exciting characters, including princesses, miners, and wizards, this slot game is a feast for your eyes. Along with the playful yet comical soundtrack, I was itching to get started. And once I started "spinning" the reels, it became quite apparent that there's more to this game than meets the eyes. Don't let the reel setup confuse you. The game company behind this game has gone all out to ensure that the game is simple enough to follow yet accessible across a range of devices.
But here's where it really took me by surprise. As already mentioned, there is a gamification touch added to this game, so you can actually step up across levels and worlds to make this game super entertaining.
In terms of graphics, there is not much here to discuss. There are no special effects. The game exhibits a simple videogame makeover, so there's nothing that is over-the-top here. It is quite apparent that the creators wanted to focus on the videogame concept behind this slot game, and less about complicating visuals, which is fair enough.
GEMiX Highlights
Re-spins:

Re-spins make the reels spin again without having to place an additional bet.

Cascading reels:

Cascading reels explode the winning symbols and drop down more to fill the gaps.

Multiplier:

In GEMiX, the winnings can be multiplied by different multiplier mechanisms.

Non standard reels:

Non-standard layout can feature varying reels/rows or a different winning mechanism.

Wilds:

Wilds substitute any standard symbol and help create more winning combinations.
Symbols and Features
There are no pay lines in this game. Instead, you must hope to land gems of the same kind in a cluster to achieve wins. You can get symbols in groups of between five and 15. By far, the highest paying gem is the star, which can land you 1000x your bet for 15 of a kind, or 200x for 12 of a kind.
Hearts are the next highest paying symbol, rewarding you with 500 for a cluster of 15, while the purple crescent and the orange flower are worth 100. The darker blue gems are the lowest paying symbols, so you can't expect much in return.
Bear in mind that each and every winning combo provides you with the golden chance of landing more cascading wins. I was mightily impressed with this since it all added up, and I succeeded in making a neat profit in return.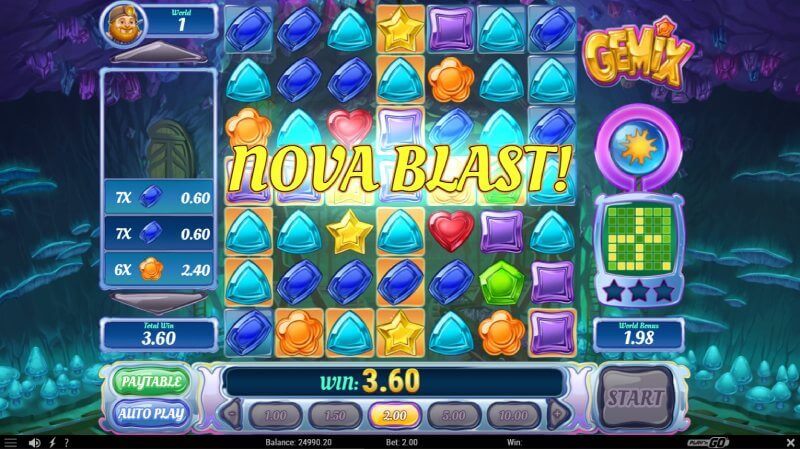 When it comes to special features in the game, there aren't as many, but since the patterns and worlds keep the game exhilarating, we can forgive the software provider. For starters, there is the "Crystal Charge" feature. You can spot this in the upper right-hand side above the display. Each gem that contributes towards a win spurs the meter forward. Once you have collected 20 or more symbols in one go, you get access to four unique behaviors as follows:
Nova Blast:

This triggers an explosion that wipes out numerous symbols, allowing new ones to fall from above and potentially creating more wins.

Crystal Warm:

One symbol is picked along with other matching symbols and transformed into other symbols.

Light Beam:

One symbol shoots out light beams with all hit symbols transforming into other symbols.

Chain Lightning:

Two symbols in the corner are connected with chain lightning with all hit symbols transforming into one of the corner symbols.
If you succeed in forming a cluster of 40 or more symbols, the Crystal Charge becomes Super Charge. This means that all wins from the four extras benefit from a 3x multiplier.
The World Pattern feature was my favorite by far. There are three worlds to play, and you can level up by clearing patterns as you play along. Because this feature feels less like gambling and more like gaming, I found it to be bewildering.
When there is no winning combo generated, the World Wilds come into play. These wilds come with their own unique powers and kick up the game factor up a notch:
Princess' World:

The princess' lollipop can spread from one edge to the other.

Miner's World:

Up to a humongous ten miner's lamp wilds can pop up on the grid.

Wizard's World:

Up to eight spell book sticky wilds can crop up on the grid.
At first glance, Gemix can appear to be slightly complicated. I'm the first to admit that when I first played this game, I wasn't completely enamored by it, but once I started playing a few mobile games (which I'm guilty of playing late at night), Gemix suddenly became a thrilling slot. Because there are plenty of wilds, winning combos, and extras, it all adds up and eventually helps you make a neat sum.
Conclusion
I was wildly impressed by this game. As you know by now, I'm a big fan of NetEnt and Yggdrasil productions, which are conventionally visually stunning. This game threw me off a little and took me by surprise.
There are no impressive visuals here, but the engagement level is incredibly high. Since I found myself moving progressively through different worlds in a bid to collect bonuses and wilds, it kept my less-than-impressive attention span captivated and my interest levels high.
I guess what I'm trying to say here is that because there is a progressive element and not just hitting the "spin" button ad infinitum, the game doesn't feel as repetitive. Of course, the numerous wilds and elements of this game leading to potentially significant wins have also helped seal the deal.
Pros:
GEMiX differs from traditional slot games with its 7×7 grid and cluster pays mechanics, providing a unique experience.
The game has a level progression feature, with different 'worlds' offering unique wilds and gameplay mechanics, increasing player engagement and keeping the game exciting.
This feature can be triggered after getting enough symbols in a cluster, offering various types of bonus effects like extra wilds, transforming symbols, or destroying certain symbols.
A World Bonus is accumulated while playing, providing a substantial reward when the player progresses to a new world.
Cons:
Because of its unique gameplay mechanics, GEMiX might be a bit confusing for beginners who are used to traditional slot games.
GEMiX is known to be a high volatility game, which means that there might be longer periods without winning. This could be a disadvantage for players who prefer more frequent smaller wins.
Unlike many other slot games, GEMiX does not offer a traditional free spins feature, which some players might miss.