Immortal Fruits is a classical fruit slot with a modern twist that comes with three instant jackpots and a max win potential of 2,787x your bet.
Essentially, this game is everything that a classical fruit slot isn't. Thanks to its expanded reel set of four rows and five reels, slot players get 50 always-active paylines and a chance for multiple payline wins.
This kind of setup can arrange for a dynamic adventure that you can embark upon with as little as 20p per spin. Although Immortal Fruits has one extra feature, I've enjoyed playing for it because it is the way to one of the jackpots.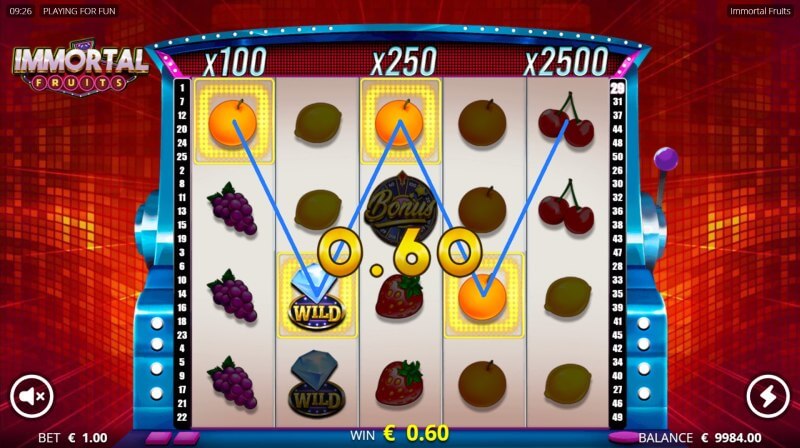 Even if the classical theme isn't appealing to you, the game comes from Nolimit City and was released in 2020 which means this is a full-blown, dynamic and fun to play video slot – high volatility included.
Theme and Design
The part of the graphic design that won me over was the metallic casing of a classical slot machine, complete with a lever and a digital display on top. I think grasping the hallmark of the land casino era was a clever move on the part of Nolimit City.
On the other hand, there are many moving parts. The animated symbols, the digital display on top and the TV game show background leave no room for downtime. I didn't find the soundtrack too engaging but you can feel its presence – it fits the style of the gameplay perfectly.
In addition to the Wild symbol which does the usual substituting for all standard paying symbols, Immortal Fruits comes with a unique gamble feature.
Following any winning outcome, you can decide if you'd like to play a 50/50 game to double your winnings or stake your money on the Gamble Wheel of Bonus.
The first option is quite usual in games that have a gamble feature, but the second isn't. This makes Immortal Fruits unique.
Essentially, this is a sort of a "Bonus Buy Feature" because it is an alternative way to the main feature of the game – the xWheel.
The xWheel enables you to gamble your winnings for a chance to go straight to the main bonus without waiting for the game to award you three Bonus symbols.
Note that this option, along with the standard Bonus Buy option, may not be available in some jurisdictions.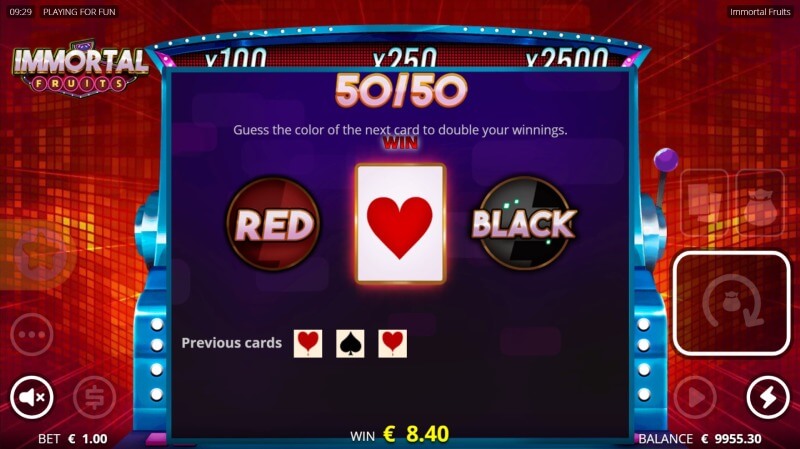 You need three Bonus symbols to trigger the "Wheel of Fortune" that can lead to one of the three jackpot prizes: 100x, 250x and 2,500x your bet.
The wheel has three circles. The two outside circles have a field marked "Up" that brings you to the next circle where the prizes are more lucrative.
If you take a closer look at the prizes on each of the circles, you'll come to the same conclusion as me: Immortal Fruits lets you win big even if you don't advance to the next ring over.
Bets and Payouts
I have to say that one of my main takeaways from Immortal Fruits is the 50 payline reel set.
Even though this splits the return value of your bet per stake (40p per spin bet equals less than 1p per payline), it comes with a major advantage – the possibility of landing multiple payline wins from the same spin.
Another characteristic that fits in this picture is Immortal Fruits' tendency of posting double and triple stacks of any of the paying symbols.
I've hand tree and four-high stacks of sevens on two reels and making decent winning outcomes thereof, but the best thing to get is stacks of the diamond Wild symbol.
It goes without saying that if a stack of Wilds lands on the second reel, the odds of landing multiple payline wins are shortened indeed.
In terms of symbol values, the payout structure is as follows:
Grapes: 0.3x, 0.5x, 1x
Orange: 0.35x, 0.6x, 1.2x
Plum: 0.4x, 0.8x, 1.5x
Lemon: 0.45x, 1x, 2x
Cherries: 0.5x, 1.2x, 3x
Watermelon: 0.6x, 1.5x, 4x
Strawberry: 0.8x, 1.8x, 5x
Seven: 1x, 2.5x, 10x
Conclusion
All the crucial details about the game point to high volatility and this is exactly how Immortal Fruits behaves.
Landing a winning outcome on one or two paylines usually doesn't bring a full return on your bet but these outcomes aren't as common.
They aren't as common because most of the spins that you'd make won't likely bring a return. On the other hand, those that do will tend to cover multiple paylines and land a positive sum in your balance.
In conclusion, Immortal Fruits is all about the xWheel. In my experience, it takes between 70 and 100 spins to win the bonus. As I said, the alternative is to gamble your winnings for a chance to land the arrow on the dot and jump to the fortune wheel.
If you enjoy playing a low stakes game of hide and seek, for a chance to win the small, 100x your bet jackpot, then Immortal Fruits is the game you should try.