Hugo is a unique troll who roams the forests and finds himself in all sorts of misadventures. He also happens to have a gold mine that might be hiding a considerable amount of treasure! This game was developed by Play'n GO and released in 2016. The slot is based on the popular Hugo troll, known from various video games and a 1990s game show. I found him to be an interesting character, even though he has a relatively simple design. Nevertheless, it fits the theme well, and he's been brought to life by a voice actor and plenty of animations.
Apparently, Play'n GO also loved Hugo because they created three more slots with him as the lead character: Hugo 2, Hugo's Adventure, and Hugo Goal. Meanwhile, some of the game elements reminded me of Enchanted Crystals, especially regarding the bonus game.
The game looks fantastic and features a ton of special art and animations. Both the bonus game and the free spins mode have been adapted to the style of the slot, including special animations and unique features.
Hugo is set deep within a forest. In the base game, we see the opening of a mine behind the 5-reel, 3-row playing field. The lower-paying symbols are static, but the higher-paying symbols and characters are animated, adding life to the game. The slot has a total of 10 paylines.
The music is somewhat what I expected, with a fairly innocuous, cheery song playing throughout most of the game. What is unique is that Hugo has been given a real voice, which he uses quite frequently to talk to you. He'll provide encouragement or spur you on when you're hesitating to make a choice.
Hugo Highlights
Bonus game or special game: Hugo has a separate bonus feature.
Multiplier wilds: Multiplier wilds multiply the winnings in their winning combos.
Wilds: Wilds substitute any standard symbol and help create more winning combinations.
Free spins: You can earn in-game free spins in Hugo.
Scatter symbols: Collect scatter symbols to get free spins and/or cash prizes.
Symbols
As usual with most slots, the game is divided into two sets of symbols: high-paying and low-paying. The low-paying symbols are regular card names, while the high-paying symbols are based on Hugo and the gold mine he operates.
They are, from highest to lowest:
Hugo (Wild): Substitutes all other symbols in the game except Scatter and Bonus Symbols. Max. 2,000 coins with five-of-a-kind on a winning payline.
Afskylia (Scatter): Get 3 Scatter Symbols on the screen simultaneously to trigger the Free Spins mode. Max. 150 coins with five-of-a-kind on a winning payline.
Treasure Chest (Bonus): Get 3 Bonus Symbols on the screen at the same time to trigger the Bonus Game. Win up to 500x the total bet.
Gold Nugget: Max. 750 coins with five-of-a-kind on a winning payline.
Bag of Gold: Max. 500 coins with five-of-a-kind on a winning payline.
Dynamite: Max. 250 coins with five-of-a-kind on a winning payline.
Pickaxe: Max. 250 coins with five-of-a-kind on a winning payline.
Ace: Max. 150 coins with five-of-a-kind on a winning payline.
King: Max. 150 coins with five-of-a-kind on a winning payline.
Queen: Max. 100 coins with five-of-a-kind on a winning payline.
Jack: Max. 100 coins with five-of-a-kind on a winning payline.
10: Max. 100 coins with five-of-a-kind on a winning payline.
Hugoline: Only active during the Free Spins mode, worth between 50 and 150 coins per symbol depending on the number of free spins chosen.
I like how all the special symbols are animated, and ones like the dynamite even have their own sound effect! This demonstrates the thought and effort put into this slot, which I definitely appreciated.
Features
Hugo is a slot with quite a few features, each of them offering a rather new experience when playing!
The features are:
Multiplier Wilds: The Hugo symbol counts as a wild, substituting all other symbols except the Scatter and Bonus symbol. When part of a win, it adds a 2x multiplier.
Free Spins: When you get 3 Scatter Symbols on the screen at the same time, it will trigger the Free Spins mode. You choose between 5, 10, and 15 free spins to play with, depending on the number of coins you get for getting a Hugoline symbol on the screen.
Bonus Game: The Bonus Game triggers when there are 3 Bonus Symbols on the screen. The goal is to go down into the gold mine and try to get to the treasure by choosing between a diminishing number of doors each time.
The base game is mostly aimed at getting Hugo wilds because they act as multipliers. The more Wilds there are, the bigger the win. Other than that, the base game is relatively simple but feels very lively thanks to the animated reels.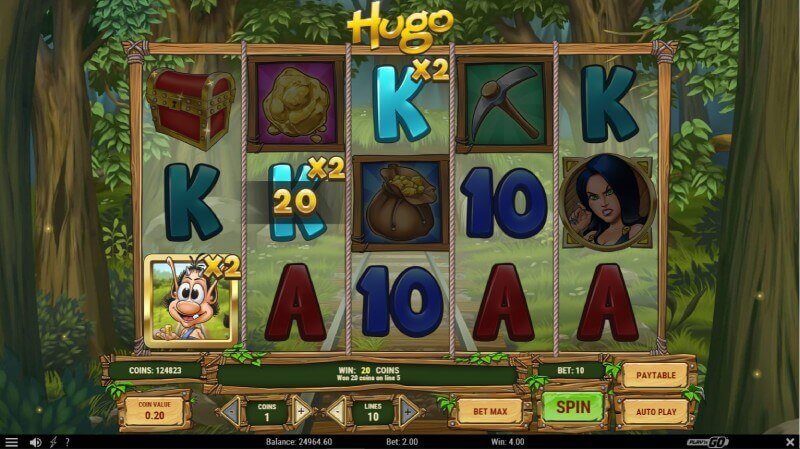 The Free Spins mode sees Hugo try to save Hugoline from the evil witch Afskylia. To do this, we choose to use either 5, 10, or 15 free spins. During the free spins, every time Hugoline shows up on the reels, she will award a number of coins, depending on the number of free spins we chose. With 5 free spins, Hugoline is worth 150 coins; with 10 free spins, she's worth 100 coins; and with 15 free spins, she's worth 50 coins. After the free spins are done, she's saved from her cage!
Meanwhile, the bonus game centers around Hugo diving into the gold mine, which is inhabited by the dangerous crocodile Don Croco. We're presented with a series of doors. Pick a door, and we'll either get nothing, get coins, or get caught. When we get caught, the bonus game is over. If we get nothing or coins, we descend one level where we have to pick a door again. This happens three times before we enter the treasure room. Here, we pick one of the two chests and see if we found the treasure or if we get nothing!
This part of the game has a completely new background, a unique mechanic, and a number of special animations. Being caught means Hugo is flung out against the screen, while descending down the levels means a new setting each time. I was very impressed by how much time and effort has been spent on this.
Conclusion
Hugo is the first in a series of slots based around this character, and they really went all out. It's easy to see why Play'n GO decided to invest so much time and effort into creating more games with Hugo because this game set an excellent example.
There has been a lot of time spent on the look of the game, including the design of the characters, the animations, and the different special features. I was particularly impressed with how many details are included in the bonus game, things that most people probably won't even notice.
With its Medium Volatility, I was rewarded with a rather steady supply of wins in the base game. The bonus game and free spins triggered for me quite regularly, which helped a lot as well. You can choose to use the Autoplay function to even play those special modes for you if you'd like, although it's more fun to play them yourself.
With the ability to choose a bet between $0.01 and $100, and a max. win of 10,000x your bet, Hugo definitely makes it possible to win big. If you've never played this slot before, I would definitely recommend it! His sequels don't disappoint either!
Pros
Nostalgic Theme: Hugo slot offers a theme based on the popular 90s video game character, providing a nostalgic and entertaining gaming experience for fans of the franchise.
Rich Bonus Features: The game includes various bonus features such as free spins, wilds, multipliers, and a treasure bonus round, offering diverse ways to increase winnings and adding excitement to gameplay.
High-quality Graphics and Sound: Hugo slot features impressive visuals, animations, and sound effects, creating a rich and engaging atmosphere that captures the charm of the original character.
Wide Betting Range: The game caters to both low and high rollers, offering a broad range of betting options to suit different budgets and preferences.
Cons
Limited Appeal for Non-Fans: The game's theme and storyline might not be as appealing to players who are not familiar with the Hugo character or video game franchise.
No Progressive Jackpot: Hugo slot does not feature a progressive jackpot, which might be disappointing for players who enjoy the thrill of chasing potentially life-changing wins.
Simplicity: The game's design and features might not appeal to players who prefer more complex and feature-rich slots.
Potential for Frustration: While not a high volatility slot, some players may still experience dry spells between wins, which may be frustrating for those who prefer more frequent, smaller payouts.