Demon brings to life the experience of watching a UK heavy metal band play as it shows the summoning of an underworld creature in a slot. The game also includes other elements for the players that feature Wilds, free spins and multipliers.
The game leans heavily into its demonic inspiration with the main screen already talking about summoning a demon, while the entire slot is littered with demonic references. The game is definitely not for the faint at heart because even though the images aren't bloody or disturbing, they don't pull any punches when it comes to its subject matter. If you don't have a problem with that, this 2019 Play 'n GO slot might be exactly what you're looking for.
Built around a standard 5-reel, 3-row playing field with 30 paylines, the game doesn't make itself terribly difficult to understand. Anyone who has played a slot before will likely be quick to understand what is happening. The background shows a massive underground cave where an animated crowd with pitchforks yells for more. The symbols in the game either look gothic or are somehow related to the subject matter.
Since the game is based around an actual heavy metal band, some of the symbols relate to them, including a symbol for the lead singer. The soundtrack is also provided by the band, giving you a taste of their music. I wouldn't call their music exceptionally heavy but the screaming electric guitar and the singing help with the mood.
Demon Highlights
Freespins: You can get in-game free spins in Demon.
Multiplier: In Demon, the winnings can be multiplied by different multiplier mechanisms.
Wilds: Wilds substitute any standard symbol and help create more winning combinations.
Volatility: This high volatility slot has big, less frequent wins.
RTP: With the RTP of 96.51%, Demon is great for wagering your bonus.
Symbols
Demon is a slot that isn't shy about its source material and although I wouldn't consider anything in there particularly blasphemous it isn't very sensitive about religious iconography either. Players can see different items related to the topic in the high-paying symbols, including a bloody cross and a demon. Meanwhile, the low-paying symbols are generic card letters but done in a gothic font which keeps them somewhat related to the theme.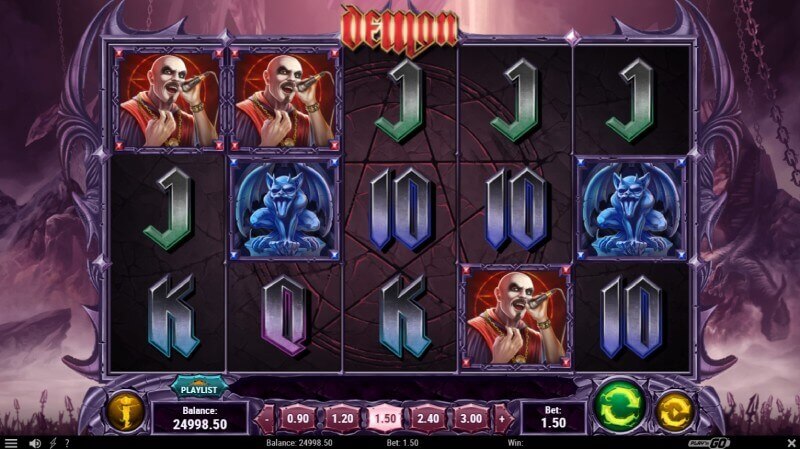 The colour scheme is suitably dark but with enough muted colours to keep it interesting to the eyes. The wins are shown by having a line run across the screen to follow the winning bet line while the tiles light up. Occasionally, small animations will play such as the Demon that acts as a scatter lighting up its eyes.
When it comes to the payouts, the symbols are ranked as followed:
Portal: Get a Portal on the screen to activate the free spins mode.
Wild Amulet: The Wild Amulet substitutes all symbols.
Wild Mask: The Wild Mask substitutes all symbols except the Wild Amulets.
Singer: Max. 12x your bet with five-of-a-kind on a winning bet line.
Cross: Max. 10x your bet with five-of-a-kind on a winning bet line.
Demon: Max. 8x your bet with five-of-a-kind on a winning bet line.
Robot: Max. 5x your bet with five-of-a-kind on a winning bet line.
Statue: Max. 4x your bet with five-of-a-kind on a winning bet line.
Ace: Max. 2x your bet with five-of-a-kind on a winning bet line.
King: Max. 2x your bet with five-of-a-kind on a winning bet line.
Queen: Max. 2x your bet with five-of-a-kind on a winning bet line.
Jack: Max. 2x your bet with five-of-a-kind on a winning bet line.
10: Max. 2x your bet with five-of-a-kind on a winning bet line.
With the low payouts for all symbols, the low opportunity at getting natural wins and the dependency on features, the game naturally lands on High Volatility. If you are reluctant to try this game out, you can pick a bet between $0.30 and $90 per spin. As always I recommend starting off low to get a feel of the game before deciding if you want to increase the risk.
Opposite the volatility is the allure of a big win. The jackpot of the game is a max. win of 5,000x your bet. This is always a sizeable prize but it's average when compared to other slots with the same volatility.
Features
Demon doesn't make things too easy but I wouldn't consider the game very complicated either. With the few features, it has the slot makes you more dependent on them to get a bigger win, but it's also more likely that they appear.
The features in the game include:
Wilds: Wilds substitute all symbols in the game. There is a Mask Wild and an Amulet Wild.
Free Spins: Get an Amulet Wild on reels 1 and 5, with a Mask Wild on reel 3. This triggers the free spins mode. You receive 6 free spins this way. If you get the Wild Mask in the centre of the pentagram you receive 11 free spins instead.
Multipliers: During the free spins mode, a win multiplier is selected randomly per spin. This multiplier goes up to 8x and counts for all wins during that spin.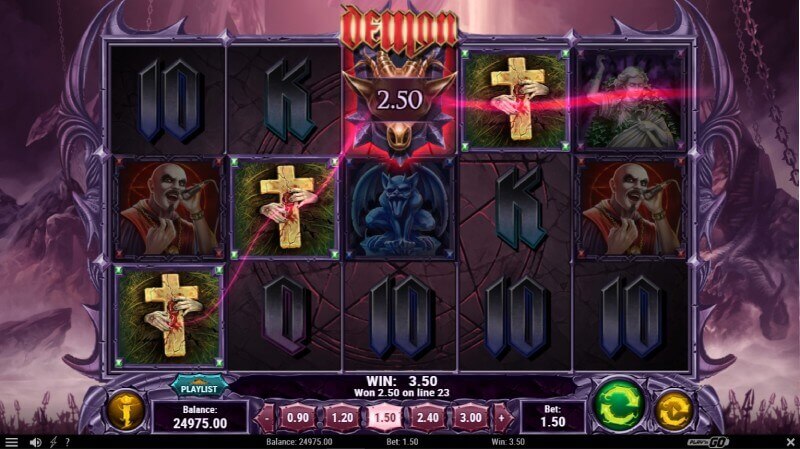 Everything is kept rather simple, the only real curveball that I noticed was the fact that the free spins mode isn't triggered through a scatter appearing on the screen. Instead, you will have to get the Amulet Wild on reels 1 and 5 while getting the Mask Wild on reel 3 at the same time. If you manage that, it will grant you 6 spins.
In the background of the playing field is a pentagram. Getting the Mask Wild on the middle part of the pentagram, while also getting the Amulet Wild on reels 1 and 5 of course, you get 11 free spins instead. In my experience, this was very difficult. Fortunately, triggering the regular free spins mode is a lot easier.
Conclusion
Demon is not a slot for players that enjoy sweet, cute or calm games. This slot will make sure that you stay awake while playing it. There are not a lot of features that make the experience somewhat understated and the game offers little in terms of animations. It kind of undoes the initial impression I got, where we hear a crowd chanting and the game opens with a giant pentagram.
If you aren't particularly interested in the demonic theme nor do you like high volatility games, this game might not offer what you're looking for. When it comes to its volatility it's definitely not one of the most volatile as I found it to be reasonably liberal in granting wins. My funds even increased quickly as I increased my bet, but obviously, this will be different every play session.
Are you looking for a slot that really embraces its dark subject matter? Do you like this unfamiliar but capable band? Maybe you enjoy slots that mess around with simple features in an interesting way. In that case, I would definitely recommend this slot.