Here is a virtual watermelon that players can eat with the seeds intact. I don't know its taste but the high-pay potential is there and the math model looks quite interesting.
The game at hand is called Wild Melon and was made by Play'n GO way back in 2012 as part of a series of one-payline slots that include Lucky Diamonds and Golden Goal.
In my experience with the three virtual slots machines, Lucky Diamonds has had a faster payout frequency but smaller values on the paytable, while Golden Goal has slightly smaller payouts higher up on the paytable but comes with a progressive jackpot prize.
So, if you 'get' single-payline slots and are OK with the fact that compared to modern slots their entertainment value is close to zero, I may suggest that playing Wild Melon is the best option of the three because it comes with the best payout progression.
Everything else about the game besides that is your typical old-school slot – lacklustre graphics, no extra features, no music and yes for payouts that always pay above your bet.
The trade-off is obvious and when you add the nostalgia, playing Wild Melon can turn out pretty alright if you get anywhere near the max payout of 10,000x your bet.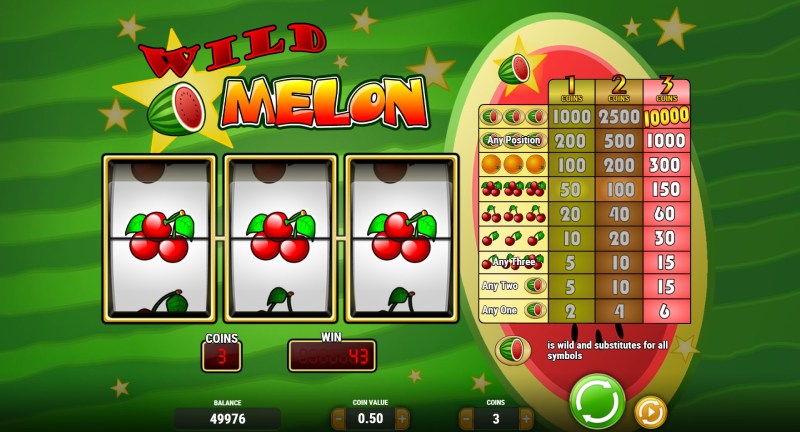 Theme and Graphics
Play'n GO has taken one of the quintessential classical fruit symbols to make a one-payline game around it.
Sure, why not. Watermelons are huge in Japan and I don't mean out of the ordinary physical boundaries, but huge as in the fruit is highly-coveted produce. Farmers wrap their most prized watermelons in wax paper, they mark them with special seals and they transport them in ornate wooden boxes.
Some lucky watermelons have had the privilege of weighing close to one million yen – that is slightly more than 7000 British dollars. That's insane! But the Wild Melon slot stands in comparison to the status of watermelons in Japan because the biggest payout that it can provide is 10,000x your bet.
On the other hand, the game's graphic design is very plain. In that regard, it is like a classical slot machine made in the 1920s and those things are darn fascinating to me.
Nevertheless, there are some moving parts in Wild Melon – the reels, obviously, and some ambience sound and blinking lights, so playing the game isn't quite like watching paint dry. There is some merit to the gaming experience that, as I said, some players know to appreciate.
Features
Wild Melon is devoid of any extra features. That's normal. But there still is a wild symbol – the watermelon – that can substitute for any other symbol.
The melon is also the most lucrative payout on the paytable as three of a kind can pay 1000x, 2500x and 10,000x your bet if you've won that outcome playing one, two and three coins, in that order.
Also, just like in Lucky Diamonds and Golden Goal, Wild Melon can pay for a single symbol on the payline. That symbol, in case you haven't guessed ahead of time, is the watermelon.
A single watermelon in any position can pay 2x, 4x and 6x your bet for one, two or three coins and two watermelon symbols in any position can pay 5x, 10x and 15x your bet.
This is what I like about this game besides the math model. The wild can pay double your bet and, considering the absence of low-paying symbols, these outcomes tend to crop up more frequently.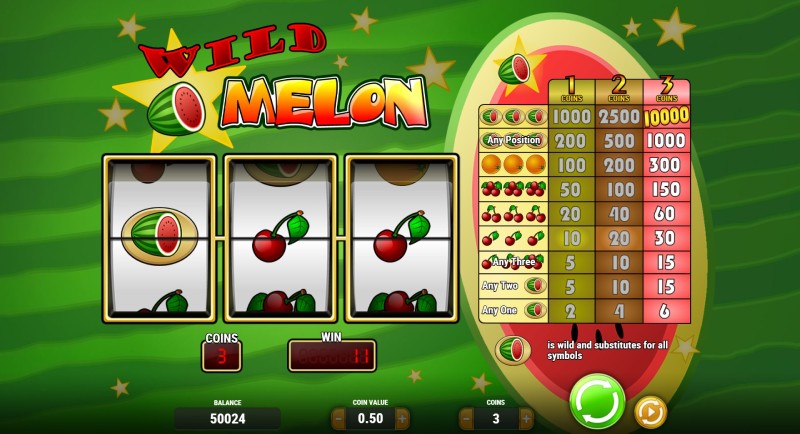 Bets and Payouts
Play'n GO is selling only three kinds of fruits on its virtual fruit stand, yet the paytable has a total of nine winning combinations.
Besides the watermelons, there are three variants of the cherry symbol – single, double and triple. These can pay between 10x and 150x your bet and the winning outcomes for any three of the cherries' symbols pay between 5x and 15x your bet.
The one symbol that remains is the orange. Three oranges can pay wholesome 100x, 200x or 300x your bet when triggered with a bet that extrapolates across one, two or three coins.
In terms of the bet values, the smallest bet is a high 50p per spin when playing a single coin, which is understandable because Wild Melon has a high-pay potential.
Coin values range between 50p and $5.00 per bet and the maximum bet is $15.00 per spin when you play the highest coin value to the third power. In order for your bet to qualify for the maximum payouts in the third column, the "Coins" setting needs to be set to 3, which is the maximum.
Conclusion
Even though Wild Melon is made to be a classical fruit slot, the game comes with few options, such as turbo spins and autoplay, which in turn has few additional settings that can fine-tune your gaming experience.
The game is expensive. The maximum win if you play with a single coin is 1000x your bet, which pales in comparison to the game's highest payout of 10,000 which requires bets of at least $1.50 per spin if you were to ever reach it.
The bottom line is, any of the symbol combinations above the fourth row are worth playing for, but even trying it out for a dozen spins or more can get expensive. In case anyone is mulling whether to play, take the RTP of 93.72% into consideration and the fact it is a high variance game.