All iridescent neons and swing beats – it can only be Syncronite Splitz from Yggdrasil. The Swedish slot supremos are back with their latest game to use the groundbreaking Splitz mechanic. Temple Stacks was the first Splitz game, and Syncronite probably won't be the last.
Is this slot going to coincide with your expectations or completely fall out of step? Let's see what Syncronite has to say for itself.
Drapes and Decor
Syncronite sits snuggly on the art deco shelf, nestled between titles such as The Great Pigsby and Multiplier Riches. It seems players really can't get enough of '20s inspired slots. Perhaps it's the charm of the period and the perky big band music that lend themselves so well to video slots. Syncronite certainly delivers if you're looking for a bit of glam with your gaming.
With a heavy dash of art deco mixed with a pulsing neon spectrum, the slot feels a bit like a gentleman's club from 1960s Soho. From the splash screen, you can almost smell the overflowing ashtrays and knock-off whiskey.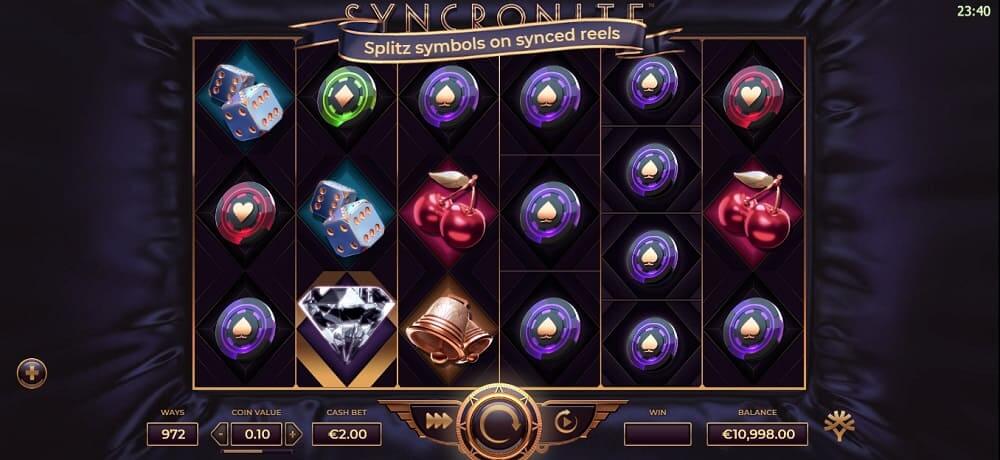 Instead of your usual dust-off-the-royals graphics approach to visuals, Yggdrasil has instead employed delicately designed chips. These wouldn't look so out of place on a spaceship/casino combo. The neons certainly give the game a definitively modern twist. Here are the 1920s – galvanized.
Banana Splitz
Okay, hold up. What exactly is a Splitz mechanic?
Well, put simply, a Splitz slot is when you land a Splitz symbol, it behaves in much the same way as a Wild. A Splitz symbol can shapeshift into any standard symbol and nudge you gently towards a winning combination.
The Splitz mechanic – as the name snazzily suggests – splits symbols into further bite-size chunks, up to eight per reel. Only available on synchronised reels, Splitz symbols bring massive win potential, and massive amounts of fun. With each of Syncronite's six reels ripe for some synchronising action, this can get proper mad fun.
If you find yourself converted to the way of the linked reels mechanic, check out Twin Spin from NetEnt which incorporates a similar function.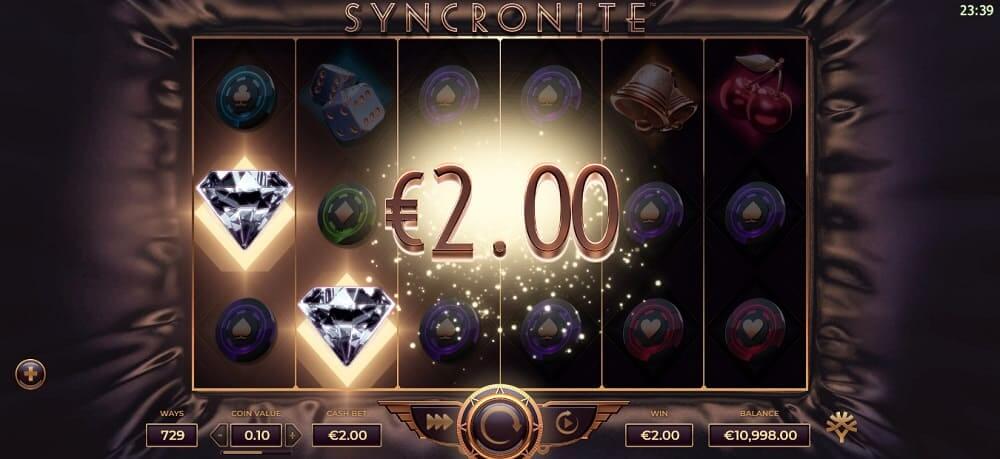 Syncronite, already armed to the teeth with its very own Splitz mechanic doesn't need to lay it on thick when it comes to features. The slot is a feature in itself. Aside from the Splitz twist on the game, you can also enjoy stacked symbols.
With a distinct lack of complimentary spins on offer, Syncronite will deter any player that's a Free Spin hunter. But, hey it still looks superb. Oh, and with the autoplay function in full swing, here's a slot you can enjoy to the maximum whilst doing the minimum.
Dimes and Dollars
Syncronite brings players the opportunity to enjoy a 96% RTP with a maximum potential win of 64,800x their original bet. This slot is of the high volatility persuasion and you can wager from $0.10 per bet, reaching a $20 maximum bet per spin, split over 21,168 paylines on a 6×3 grid.
Synchronised Spins
A sophisticated mix of glimmering win animations, glowing symbol illustration and irresistible soundtrack, Syncronite firmly ticks the quality video slot box.
I was really happy to see that Syncronite, although not packing a load of features, looks absolutely amazing. The graphics team at Yggdrasil have proven themselves a force to be reckoned with.
The beauty of video slots is that there is no magic formula as to what players will enjoy. Compared to any other entertainment industry, the slot audience is next-level unpredictable. This in turn encourages slot producers to take risks and push boundaries, all before they've even had their morning coffee.
Being a lover of thematically well-defined slots with solid visuals, I was a massive fan of Syncronite. The somewhat sleazy sci-fi tincture, mixed with upbeat '20s bed music and the uninhibited gameplay are what makes Syncronite a video slot with irresistible appeal.