Fresh Fruits is the slot for people that enjoy highly stylized fruit symbols in a simple classic slot setup! The game incorporates Wilds and Scatter symbols to help the player get wins as they spin the reels.
Developed by Endorphina, Fresh Fruits was released in 2014. The age hasn't begun to show however since the game is entirely filled with symbols that are simple and crisp. You won't see any outdated shading effects or poorly executed animations here, the game plays it safe. The symbols are mostly variations on the popular fruits but presented as a logo or sticker instead. In fact, the design greatly reminds me of NetEnt's Stickers slot.
The game has a 5-reel, 4-row playing field with a respectable 40 paylines. There is the possibility of winning the max. win of 1,000x your bet which isn't that terrible considering the simplicity of the slot. I thought the images were nice and sharp even though they weren't very detailed, but that was also part of the design. I also liked the animations when they were part of a win.
When it comes to the sound, Fresh Fruits also doesn't try anything too original. Many of the sound effects have been used in several of the Endorphina slots. Since there aren't any special features or free spins, which means there aren't any special song clips that play at that point either.
Symbols
All of the symbols in Fresh Fruits are based on the original slot machine symbols, which include different fruits as well as 7s and bells. All of them are presented in a flat shape without many textures but rather showing the outline. I thought this looked rather well even though it wasn't terribly exciting.
The symbols in the game are:
Star (Scatter): Max. 500x your bet with five-of-a-kind on the screen.
7s: Max. 25x your bet with five-of-a-kind on a winning bet line.
Bell: Max. 7.5x your bet with five-of-a-kind on a winning bet line.
Coconut: Max. 5x your bet with five-of-a-kind on a winning bet line.
Watermelon: Max. 5x your bet with five-of-a-kind on a winning bet line.
Strawberry: Max. 2.5x your bet with five-of-a-kind on a winning bet line.
Apple: Max. 2.5x your bet with five-of-a-kind on a winning bet line.
Lemon: Max. 2.5x your bet with five-of-a-kind on a winning bet line.
Grapes: Max. 2.5x your bet with five-of-a-kind on a winning bet line.
Whenever there's a win the game pauses and shows boxes around the winning symbols. They also have different small animations that don't show a lot of creativity but I appreciated the effort that went into them.
Features
Fresh Fruits keeps things simple with only the most basic features:
Scatter: The Star symbols act as a scatter, counting a win whenever there are 3 or more that appear on the screen.
Wild: Wilds substitute all other symbols in the game, except the Scatter symbol.
The features are exactly what you expect them to be, offering no special additions at all. Something I did notice was that the Wilds regularly appeared stacked to fill a reel, even though it wasn't listed as a specific feature. This is just something that seemed to happen organically.
The Scatter Symbols were unfortunately very rare and I never got more than 3 on the screen at the same time, but considering that getting 5 will be the jackpot it makes sense that this is very rare. Overall I found the features to be frequent enough to feel like an actual addition to the game, even though they were very simple.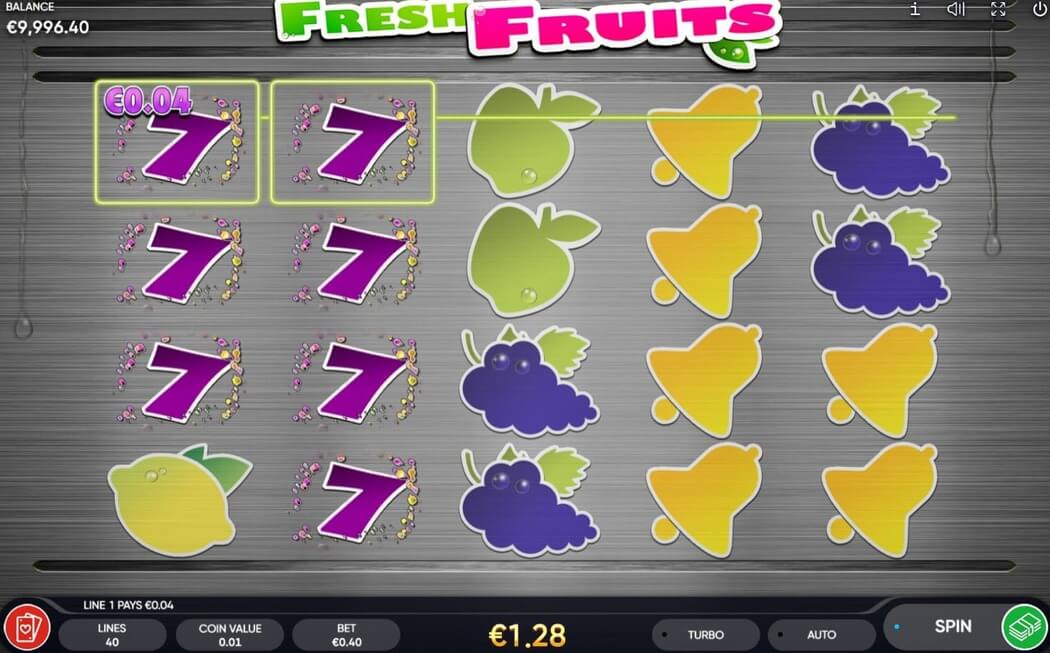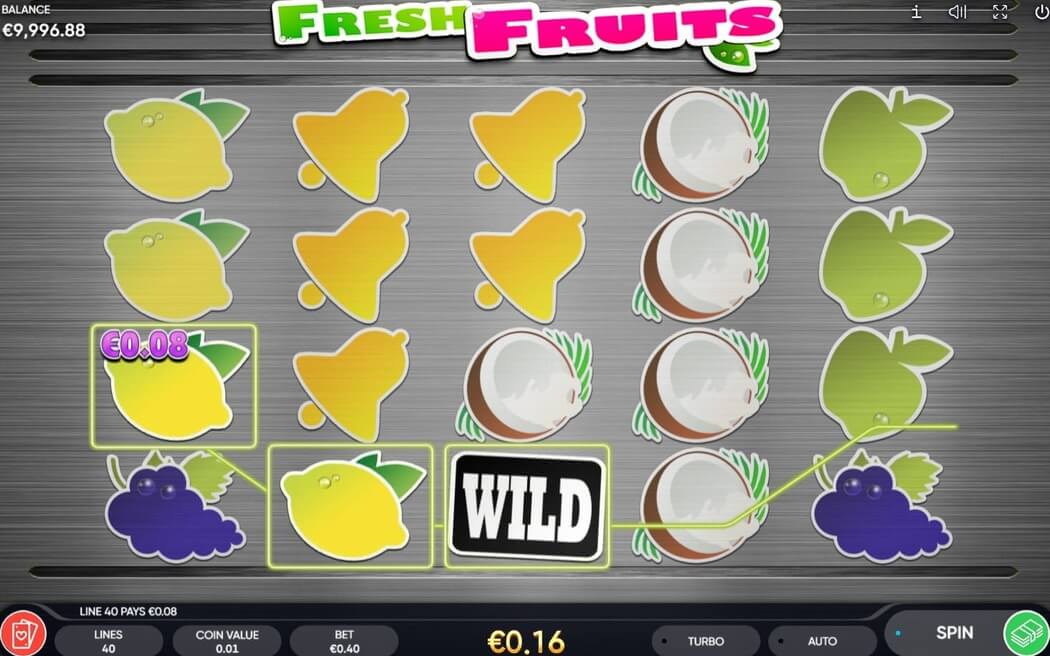 Conclusion
Fresh Fruits is the type of slot that takes some different elements and puts them together in what is ultimately a very simple game. The classic slot gameplay is still present here with a slightly larger playing field. The features are basic but do exactly what you would expect them to do. If you're a fan of the simple gameplay that the original slots offered, then you'll have a good time here.
The images are nice and I liked the appearance but unfortunately, the developers didn't do a lot with it. The symbols do have some nice animations that create movement on the screen. The sound design was a little too basic for my liking and eventually, I just muted it completely. I think they could have scored some extra points here but they didn't.
If you want to play something with Medium Volatility, Fresh Fruits is going to be a good choice. Over time I spun more than 2,000 times and ended up with positive funds. Obviously, this can be different for other people, but in general, I felt like I was rewarded for my plays. Finally, players can pick a bet between $0.01 and $400 per spin to augment their experience.