Baker's Treat Slot Review
If you're the kind of person who gets a craving for sweets when seeing delicious-looking pastries, don't play Baker's Treat. This slot gives players the ability to look at a collection of beautifully-drawn baker's treats with which to play. All while playing it in the setting of a beautiful summer day seen from the kitchen.
The game came out in 2018 and includes features like paylines from both sides, stacked wilds and free spins. With 5 reels and 15 paylines, Baker's Treat offers you a feast for your eyes. And with a top payout of 5,000x, maybe a feast in other ways too.
Graphics
The first thing that struck me was the graphics. Everything looks like it was hand-drawn with great care for detail, making the pastries seem like they are about to jump off the screen and into your mouth. The perspective gives you the idea you're standing at the table, with everything in the game fitting the style. Even the five reels are incorporated through the use of a tablecloth.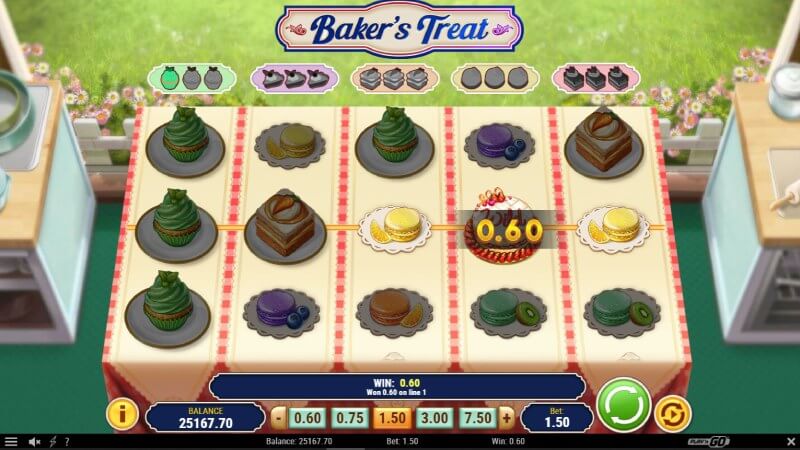 Baker's Treat does a good job of showing you exactly what the idea is. The colourful, beautifully drawn graphics really gave a good taste of what to expect. I even got a craving for some pastries at some point! The different effects draw your attention but aren't too excessive and you can keep a good pace going if you want.
Music
The music got me into the mood quickly but over time, it started to feel a little grating. The loop is very short and they added a sort of ticking clock motif that made me feel pretty anxious. As if they were waiting for me to win big within a certain time limit. I think that doesn't really fit the general theme of the slot. After a while, I muted the sound because of that.
Baker's Treat Highlights
Paylines from both sides: The paylines in Baker's Treat go from left to right and right to left.
Stacked wilds: Stacked wilds appear as a tall column and create winning combinations across the reel.
Wilds: Wilds substitute any standard symbol and help create more winning combinations.
Freespins: You can get in-game free spins in Baker's Treat.
Volatility: This high volatility slot has big, less frequent wins.
Symbols and Features
Baker's Treat aims to do things a little differently from the other slots I've played and I think they give it a good try. The main selling point is that each reel has its own so-called Flour Power Feature. Each of the five reels has its own pastry assigned to it. If you get three of that specific pastry on that specific reel, you get one pip. Get three pips on one reel and it automatically activates a bonus feature.
EXAMPLE: Reel 2 is for Blueberry Pie. Get three Blueberry Pies on Reel 2, and you get a Blueberry pip. These pips stay indefinitely, or until you close the game. Get three Blueberry pips and you activate the Blueberry Flour Power feature. In this case, the next three spins will each have a random reel filled with Wilds.
Luckily, the slot keeps an excellent track of how many pips you have on each reel. Every time you get three on a reel, it pauses the game with a quick information screen to let you know what feature you unlocked.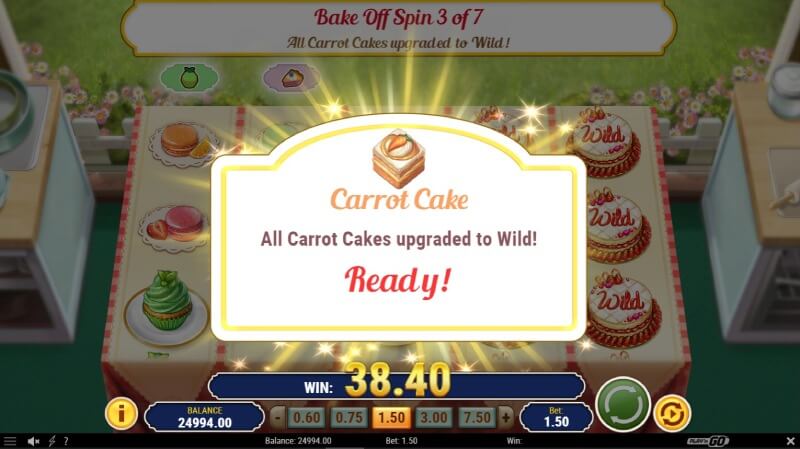 From what I can tell, these are the Flour Power features:
Random Wild Reel: You get 3 free spins with a random reel filled with Wilds.
Expanding Wilds: 3 Free spins and every Wild you get will expand to fill the reel.
Extra Wild Symbols: You get 3 free spins and one of the Pastries will now count as a Wild.
Synchronized Reels: 5 free spins and two reels will have the same symbols, making it easier to get a win.
The real feature you want to go for is the Bake Off. The Bake Off is triggered when you get an assigned pastry on every reel. Here you receive up to 10 free spins, and every spin activates another Flour Power Feature. You can win more and more often as the Bake Off continues. In my time playing this game, the Bake Off was where I really thought I was getting a Baker's Treat!
The symbols each have their own value. The more you get (3, 4 or 5), the higher the win. From highest to lowest they are:
Strawberry Sponge
Lemon Cheesecake
Carrot Cake
Blueberry Pie
Cupcake
In general, I felt like I got a steady stream of small wins, helped along by the Flour Power Features, and every once in a while I would get the Bake Off where I had a chance to win a much higher amount.
Conclusion
Baker's Treat is one of those games that kind of disappears in the giant library of slots. It does what it does well, but it also does not reinvent the wheel. The graphics are great, the music is mediocre and although the Flour Power Feature is pretty unique it doesn't really add much to enhance the experience.
It's a good slot for when you're looking for something fun and easy, with a steady supply of small wins and the occasional exclamation mark in the form of a Bake Off. I definitely commend Play 'n Go for giving their artist the time to draw some beautiful pastries that look good enough to eat.