Inferno Star brings us into the inner core of the solar system where we orbit a giant star, seeing if we can pull some big wins out of the fire!
The game was created by Play 'n GO and released in 2019, which makes it one of the newer slots in their repertoire. The game is built out of a 5-reel, 3-row playing field with a total of 5 paylines, staying close to the classic layout we all know and love.
Meanwhile, the slot is mostly made up of fruit symbols while we see an enormous star filling up most of the background granting the slot its name. The star is lightly animated as are the symbols, which only light up when they're part of a winning payline.
In general, I didn't care much for the appearance of the slot. It has very little to do with the sun except for one special symbol and the background. The fruit symbols come across as extremely lazy. All in all, the slot reminded me of Fire Joker with its focus on fire, the standard symbols and the small number of features.
The soundtrack is passable but seems largely unrelated to the theme. No space music or even a sense of fire burning, but a rather generic electronic song playing in the background. Meanwhile, getting wins doesn't trigger much more than a short jingle.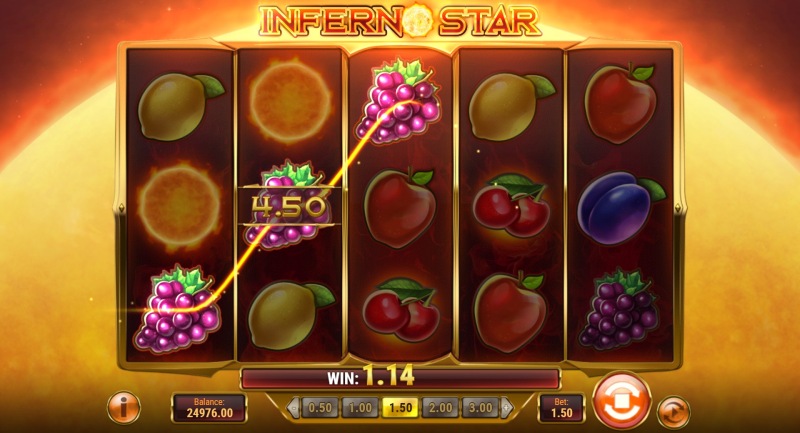 Symbols
The symbols in Inferno Star are largely what you'd expect from a fruit machine. Most of them are different fruits with only the Inferno Star symbol being original.
From highest to lowest, they are:
Raging Sun (Scatter): If a Raging Sun stops on reel 3 it starts the re-spin feature. Any additional Raging Sun symbols become sticky and start another re-spin. Max. 2,500x your bet with five-of-a-kind on the screen.
Inferno Star: Max. 500x your bet with five-of-a-kind on a winning payline.
Watermelon: Max. 75x your bet with five-of-a-kind on a winning payline.
Cherries: Max. 75x your bet with five-of-a-kind on a winning payline.
Apple: Max. 25x your bet with five-of-a-kind on a winning payline.
Plum: Max. 25x your bet with five-of-a-kind on a winning payline.
Melon: Max. 25x your bet with five-of-a-kind on a winning payline.
Grapes: Max. 25x your bet with five-of-a-kind on a winning payline.
The Inferno Star and Raging Sun symbols are original but still very basic. They're only a red glowing circle, which was disappointing.
Features
Inferno Star does not have a lot of special features that increase the game experience. Considering the simple premise I think that's a good thing, as this game is definitely aimed at players that enjoy a classic fruit machine experience with some nice graphics.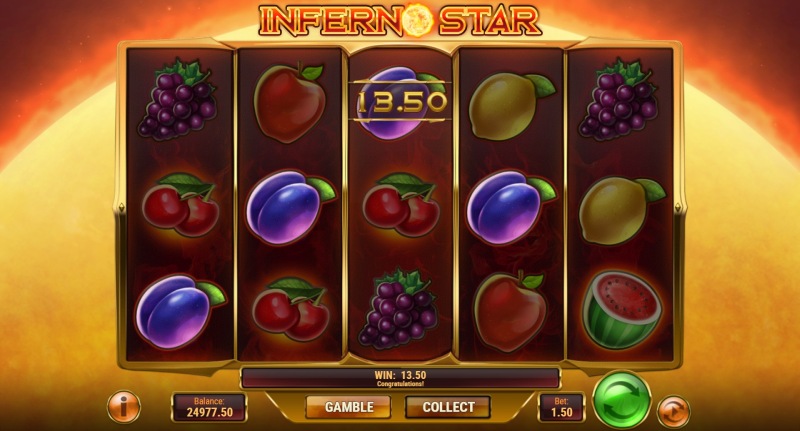 The features are:
Scatter Symbols: The Raging Sun Scatter Symbol can only appear on reel 3 during the base game. When this happens, it will start a re-spin. Adding another Scatter Symbol to the screen will enable another re-spin. Getting no more Scatter Symbols will immediately end the free spins mode.
Sticky Re-Spins: Raging Sun Scatter Symbols start Re-spins, which are sticky and stay on the screen as long as new Raging Sun symbols are added each spin. Once there are no more symbols added, the re-spins end and you're rewarded your win.
The features are very simple and all hinge around the Raging Sun Scatter Symbol. This one only appears on reel 3 and in my experience only very occasionally. When it did, it frequently didn't get another Raging Sun symbol on its first re-spin, ending it immediately. All in all, it only appeared a tiny fraction of the time.
Considering it's the only real feature the slot has, that was quite disappointing! When considering if you want to play this slot, just assume it's a regular slot machine with no features. Then when the special feature does trigger it'll be a nice surprise that usually doesn't go anywhere.
Other than that, it obviously holds the regular base features. With the Autoplay function, you can let the game play itself for up to 100 spins in a row. There's also a Quick Spin feature that reduces the time between spins.
Conclusion
Inferno Star is one of those slots that I can't say too much about. It looks okay but does nothing new. The few symbols that aren't regular fruits are simple and lightly animated. The background is mostly static. There are no real features to speak of.
It has High Volatility which I definitely noticed as wins were light and irregular. Only when I activated the Re-Spins did I have a shot at winning something big, but that depended on getting another Scatter Symbol right away.
The game allows you to bet between $0.05 and $100 per spin. The max. win is a solid 2,500x your bet. I did like that even a three-of-a-kind on any of the symbols rewarded a substantial sum, which slightly offset the high volatility. That said, I didn't get them a lot.
For players who are looking for a modern classic slot, you can't go wrong with Inferno Star. It adds very little in terms of gameplay, graphics or sound but it also doesn't offend in any way.