Ring, ring! It's for you… Agent Destiny is calling. And this is one call you don't want to miss. Catapult yourself into the world of secret espionage with this 5-reel, 3-row slot complete with 20 paylines.
This is a fast-action slot, with some interesting features. Resembling the comic-style genre, there's a stark contrast between the high-paying and low-paying symbols. This might throw off a few players at first but I do believe it was a good design choice.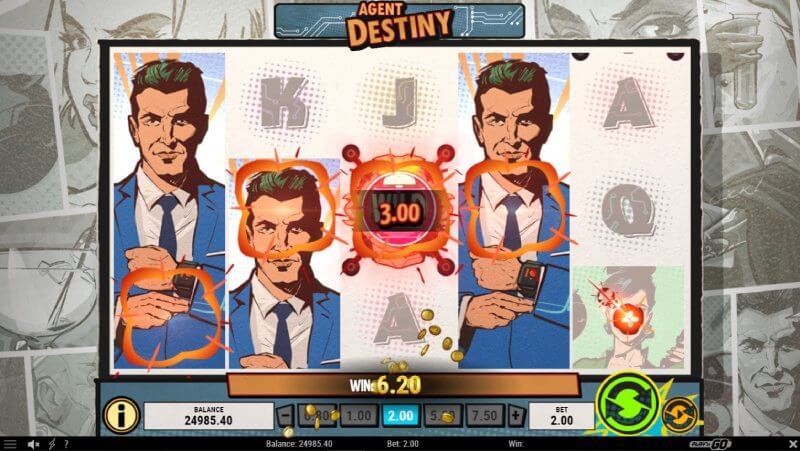 Be warned, this slot is not for the faint of heart. Volatility here is set to high. Very high if you go through Play'n GO's notes.
Agent Destiny Highlights
Freespins: You can get in-game free spins in Agent Destiny.
Stacked symbols: In Agent Destiny, the symbols come in tall stacks.
Colossal symbols: Colossal symbols are bigger than the 1-by-1 block of a standard symbol.
Wilds: Wilds substitute any standard symbol and help create more winning combinations.
Scatter symbols: Collect scatter symbols to get free spins and/or cash prizes.
Symbols
High-paying symbols will take on the form of comic-style pop art characters. They are colourful and have a real impact on the reels, especially if they are super-sized. Low-paying symbols will take the form of card suits, they are mainly black and white, and on the plain side.
All high-paying symbols and the Safe Wild can land as Mega Symbols creating some awesome wins.
The symbols, from highest to the lowest consist of:
The wild scatter will only appear on reels 1, 3 and 5. With 3 scatters the free spins round is triggered awarding 9 free spins and linked reels. It also acts as a wild and substitutes for all symbols.
The safe wild substitutes for all symbols bar the wild scatter. It can appear anywhere on the reels with a chance to land as a mega symbol. Five-of-a-kind will yield 60x on an active payline.
The blonde bombshell yields 15x with five-of-a-kind on a payline.
The mad scientist yields 12x with five-of-a-kind on a payline.
The blue-suited agent yields 7x with five-of-a-kind on a payline.
The green-suited agent yields 6x with five-of-a-kind on a payline.
The ace yields 3x with five-of-a-kind on a payline.
The kind yields 2.5x with five-of-a-kind on a payline.
The queen and jack yield 1.5x with five-of-a-kind on a payline.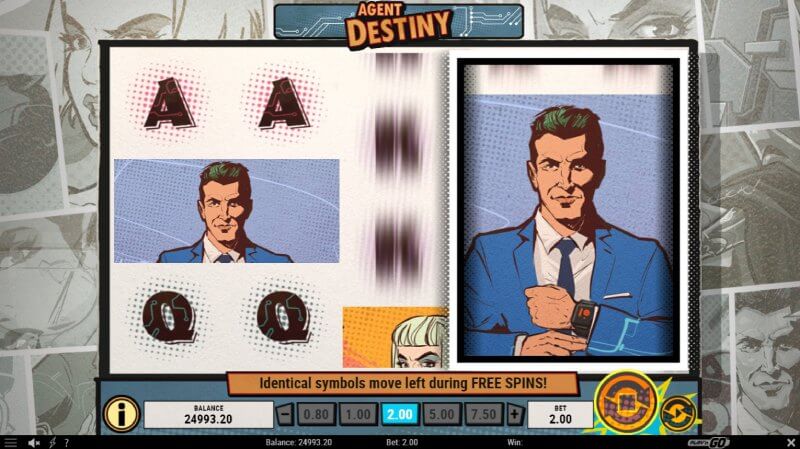 Features
During the base game, there is a chance for Linked Reels to be triggered randomly. The symbols on the right (either on reels 4 and 5 or on reels 3, 4 and 5) will slide to the left and a free spin is granted. The free spin will then have identical symbols on the rightmost reels.
Landing scatters on reels 1, 3 and 5 will trigger the free spins round. You start with a total of 9 spins but every wild scatter that appears on the reels will award an extra spin. During the free spins round, linked reels are activated on all spins. This means there's more of a chance for gigantic full-screen payouts to appear.
During linked reels, adjacent reels will display identical symbols. Once a spin has finished, the reels will move from right to left reusing the same symbols shown on the left and spinning new identical-symbol ones on the rightmost reels as would happen in the Linked Reels during the base game.
Conclusion
I must admit that at first, I didn't like the look of the slot. The difference between the aesthetics of the symbol was too much. But, the more I played, the more I started enjoying it. Turns out that with the linked reels, you need the stark contrast. Even in the bonus round, the difference between the symbols helps convey that extra bit of excitement. When the screen is full of colour, there's a chance that a big win is around the corner.
With volatility set to 'very high,' you can expect quite a ride. The game in itself is also fast-moving, cranking up those BPMs. I've seen my balance go down quite fast at one point but I then managed to hit the bonus round where I won 149x. It was quite an intense bonus round and whilst I was hoping for a Mega Symbol show, this didn't happen.
During the bonus round, you can see where the 5,000x max win can happen. That's not to say it's easy. I managed to enter the bonus round another 4 times with wins ranging between a disappointing 20x to 350x.
This is definitely a game more suited to slots pros, or else, I would suggest trying to play it for fun before using your money.