Vikings Go Berzerk Reloaded is a new version of the familiar and popular Yggdrasil slot which follows the adventures of a group of intrepid Vikings. This slot features updated graphics, sticky wilds, free spins and the ability to trigger the bonus game manually.
The game was released in 2021 and makes it an excellent example of what this famous studio is capable of. As with the original Vikings Go Berzerk the game is built around a playing field with 5 reels and 4 rows. There are a total of 25 paylines on the screen. Players also can expect the usual elements in slots like this, with wilds and scatters that trigger the free spins mode.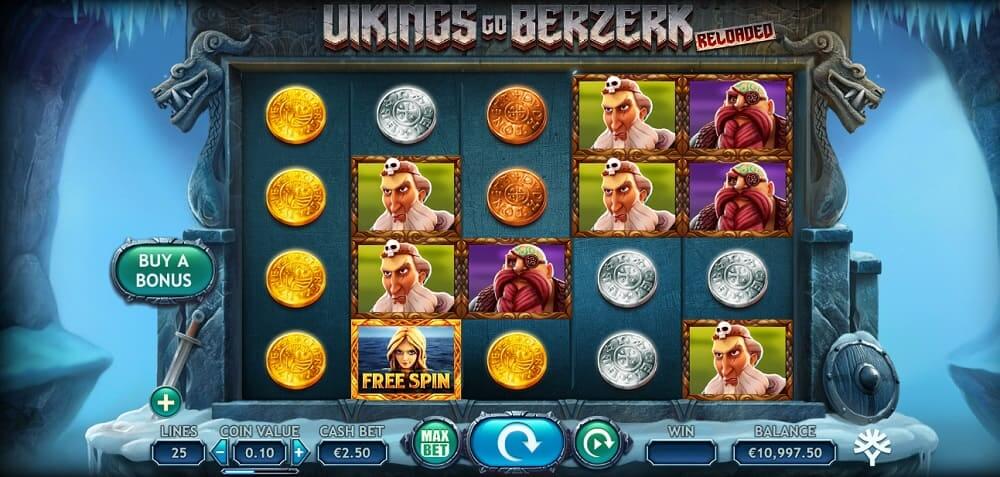 It's never made a secret that this is an updated version of the original game which came out in 2016. Even though that game still holds up, both in terms of gameplay and graphics, it's obvious that the designers spent some time updating the look of the game. Although the animations and symbols are still mostly the same, everything looks a lot sharper and nicer. It's a bit surprising they chose to work on a game that's only 5 years old but it does pay off.
There are many elements in this slot that are lifted directly from the original game. The changes are mostly under the hood, from the slightly lower RTP to the bigger possible jackpot. I'll get into those things a bit later. If you were a fan of the first slot you will likely enjoy this one too. Seeing how popular the first Vikings slot was it makes sense for the studio to take the time to slap a new layer of paint on it.
Symbols
Vikings Go Berzerk Reloaded uses the same symbols that were used in the original. Players can expect different coloured coins to act as low-paying symbols. Meanwhile, the band of Vikings take up the role of high-paying symbols. As in the first game, each Viking that appears on the screen can trigger an animation. This sees them fight a mermaid or siren. If the Viking wins, they are turned into a Wild. All of this happens in a special animation.
The game has Medium Volatility with an RTP of 96%. This is slightly below the 96.1% of the original, meaning it's just a tad less likely you'll get a win. The RTP itself is also below average to other slots with the same volatility. All of this means that the game isn't as forthcoming with wins as we would have liked to see, and it's not really balanced by higher payouts either. It's only a slight difference but one that can become noticeable over time.
Players can pick the amount they want to bet per spin as usual, with this game allowing bets between $0.25 and $50 per spin. The slot further has a maximum win of 25,000x your bet which is considerably higher than the original's 4,000x your bet. As such, this can be extra motivation for a player to try out the updated version of that beloved game.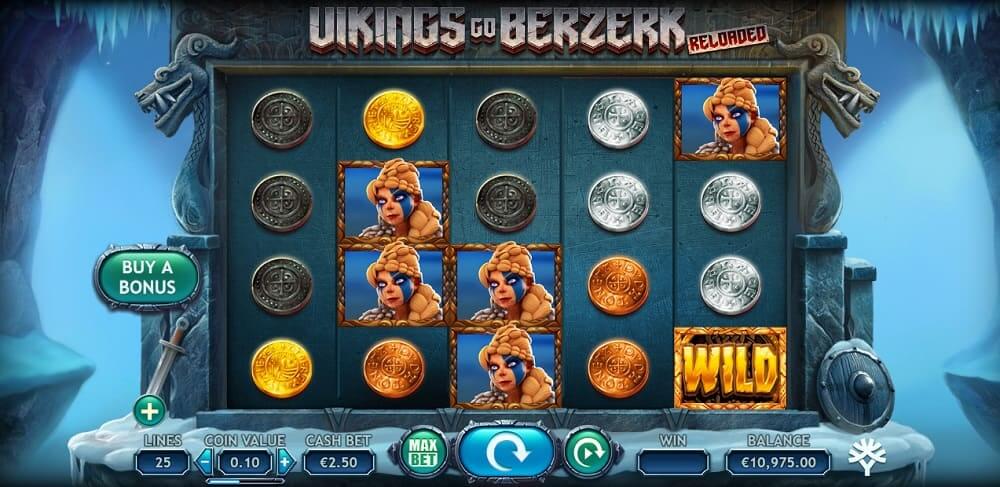 This slot also has the same symbols as the original, which include:
Scatter: Get 3 or more scatters on the screen to activate the free spins mode.
Wild: Wilds substitute all other symbols in the game except the Scatter.
Red Viking: Max. 10x your bet with five-of-a-kind on a win line.
Purple Viking: Max. 8x your bet with five-of-a-kind on a win line.
Green Viking: Max. 7x your bet with five-of-a-kind on a win line.
Blue Viking: Max. 6x your bet with five-of-a-kind on a win line.
Gold Coin: Max. 2.2x your bet with five-of-a-kind on a win line.
Silver Coin: Max. 2x your bet with five-of-a-kind on a win line.
Bronze Coin: Max. 1.6x your bet with five-of-a-kind on a win line.
Iron Coin: Max. 1.4x your bet with five-of-a-kind on a win line.
Features
Viking Go Berzerk Reloaded has the same features as the original which means that fans will be able to jump right in. For everyone else, here is a quick overview of the different elements:
Wilds: Wilds substitute all regular symbols in the game. Wilds can appear randomly. A high-paying symbol that defeats a mermaid will also turn into a Wild.
Multiplier Wilds: Some Wilds will randomly have a multiplier associated with them. This multiplier is applied to any wins they are a part of.
Free Spins: With 3 or more Scatters on the screen the free spins mode is activated.
Sticky Wilds: During the free spins mode, wilds are sticky and stay on the screen for the entire game mode.
Gamble: At the start of the free spins mode, players can choose to gamble for either more free spins or lose all of them.
Buy a Bonus: In areas where this is allowed, the game permits players to activate the free spins mode manually by paying an upfront cost.
The gameplay is focused a lot around the free spins mode. This is activated frequently and can also be triggered manually in certain areas of the world. UK players are unfortunately not able to use this functionality. Whenever the free spins mode is triggered, players can decide if they want to risk the spins. If they do, there is a 50/50 chance that players will either lose all their free spins or add extra ones.
In my experience, I would always pick losing the free spins so I wouldn't necessarily recommend it. However, getting the free spins mode to activate was not as hard as it is in other slots. Even without using the manual activation, I saw this mode trigger at least a dozen times in my hour of playing. Obviously, this doesn't mean every player will see it activate that often.
Once in the free spins mode, its usefulness is debatable. There is always the possibility of getting multiple sticky wilds on the screen. When this happens, it's likely that a player will walk away with a sizeable sum. Unfortunately, this doesn't happen as much as we'd like to see. I would often end a free spins mode with only a moderate sum. It also makes activating it manually and paying the cost less interesting.
Conclusion
Vikings Go Berzerk Reloaded is an updated version of a fan favourite and it doesn't try to hide that fact. The gameplay is practically identical to the original with the changes mostly hidden under the hood. The most noticeable changes are the graphics which look a lot sharper and more energetic. If you enjoyed the first game you'll surely have a good time with this one.
The game relies heavily on the free spins mode for players to get any big wins. I was pleased to see that it did allow players to activate this mode, either manually or through playing the base game. The gamble function adds another layer to the bonus game but felt a bit irrelevant. Players can risk their starting 7 spins to win an additional 2. That seems like bad math.
That's also one of my biggest concerns with the game. It never really feels like the player has a shot at big wins. There are too many caveats that will make it hard for a player to come out on top. Obviously, the game now comes with a much higher jackpot but we can see the reason why the developers felt comfortable adding that.