Charge up a quantum leap and tear holes through parallel universes. Reactoonz is a game full of energy and chaos.
In 2017, Play'n GO released Reactoonz, a sequel to Energoonz. Reactoonz takes everything that was good in the original and pushes it even further. This is one sequel that has made the original obsolete.
Reactoonz is not your average slot. It is played on a 7×7 grid, and it has no paylines. You win if there are five or more of the same symbols in a cluster. Energoonz and Gemix were among the first slots of this kind, but it is NetEnt who has become well-known for their Cluster Pays mechanic. They have even trademarked the name.
Reactoonz is a game full of special features, random bonuses, and all kinds of chaos. This is a double-edged sword, as it can be hard to understand what is going on. It took me a good while to figure out what each special feature is and how they work, and I have played a ton of different slots.
Graphics and Sound
Reactoonz is a light-hearted sci-fi slot full of aliens. The visual style is an improved version of Energoonz, which means cute creatures with varying amounts of eyes, bolts of electricity zapping across the stage, and quantum vortexes opening portals to distant universes. So, your typical sci-fi stuff.
Reactoonz has a fairly unique look that is easy to recognize and easy to use. Every visual aspect is made to be user-friendly. I found it easier to learn all the mechanics by playing the slot, rather than reading the rules.
The game sounds like any other space-themed game. This is a part that could use a little work, as it is so forgettable. It's not bad, but just not something you would remember after you close the game.
There is one thing worth mentioning. The aliens do sound a little like the Minions. So, if you aren't a fan of the yellow buggers, you might want to mute the game completely.
Symbols and Wins
The symbols are all made up of cute little aliens. The one-eyed little ones are the lower-valued symbols, and the bigger, more mature two-eyed ones are the high-value symbols. They are somewhat color-coded, but only three out of the four aliens follow that system.
During normal play, there is one special symbol as well. That is the wild quantum vortex. This symbol can only be created by other features and will never just fall from the top of the screen.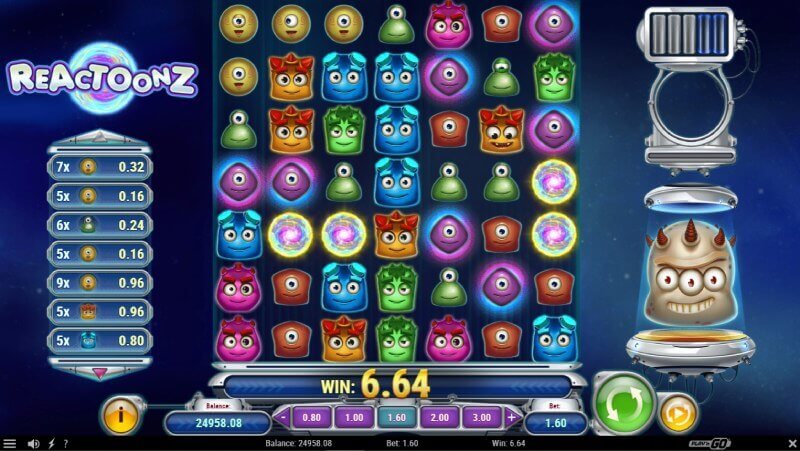 Reactoonz is based on chain reactions. A single win is always tiny, but it will cause a cascade effect, and new symbols fall in to fill its place. It is like the Avalanche mechanic in Gonzo's Quest.
Instead of getting a multiplier, you get a quantum charge when you win. A full quantum charge is used when there are no winning combinations, and they keep the game moving. Get enough quantum charges, and even the great Gargantoon will show up.
Reactoonz is a high-volatility slot with an RTP of 96.51%. To win big, you need to chain up multiple smaller wins and keep the wheels spinning. A single spin will basically never be worth your wager.
Features
Glowing Alien: Get wilds with reactive aliens
In every round, there are some random aliens that glow. If you get them in a winning combination, they leave behind a wild quantum vortex.
Instability: The parallel universes aren't very stable
Each time the first spin in a round doesn't get a winning combination, the great Gargantoon may send in some wild vortexes. If the Instability feature activates, you get 4-8 wilds added to random places on the field.
Giantoonz: Grow your aliens for more value
Aliens are very adaptive and can change size and combine with each other. If you get a 2×2 square filled with one type of alien, they combine into a Giantoon. Giantoonz are counted as four symbols, but they double every win they are a part of.
Quantum Feature: Charge up the quantum leap and alter reality
Every time you win anything, you charge up your quantum machine. Get enough juice, and you get a full charge of a random type. A charge is used when you get a spin with no winning combinations. Your round is over when there are no wins available, and you have no charges left in the quantum machine.
There are four different charges:
Implosion: Implosion changes 3-6 random symbols to wilds and destroys every symbol that surrounds those wilds.
Incision: Incision will change the center square into a wild and cut two diagonal lines across the field. Those aliens that are touched by the incision are all changed to one random symbol.
Demolition: Demolition will destroy every one-eyed alien from the board.
Alteration: Alteration takes a random one-eyed alien and changes every one of them into a different symbol.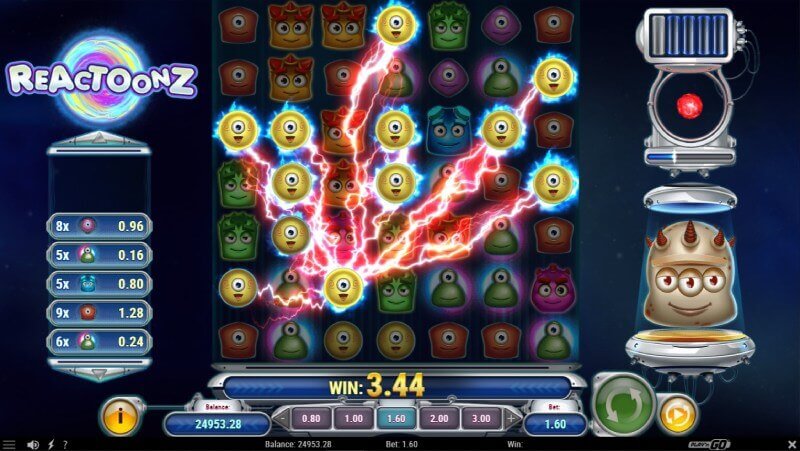 What you get is chosen randomly, but you can tell what you have in store by the color of the charge.
Gargantoon: Bring forth the giant creature
If you manage to fill up the entire Quantum Feature, you get a visit from the great Gargantoon. This 3×3 alien is a gigantic wild, which will deteriorate over time. The Gargantoon will stay in place but divide into smaller creatures with every spin.
Final Thoughts
I have always been fascinated by slots that do something different. That is why I liked Energoonz and was interested in Reactoonz when I first heard about it. Innovation is key when it comes to good game design.
Reactoonz is not the simplest of games. If you read the rules, you might spend a good moment trying to figure out how things work. I tried that and didn't quite understand everything. When I started to play, then it all made sense. So, what is the solution? Just go and play; you'll figure everything out soon enough.
When the slot gets going, it is a wild ride. The quantum charges can keep the game moving for a good while, and if you get up to Gargantoon, you are in for a treat.
For me, this is an interesting slot, but not one that I would play often. It is fun to play, but the volatility is just a tad too high for my taste. The game is a bit chaotic, and a lot is determined by random events. If you like a game with high volatility and the possibility of a super valuable spin, then Reactoonz is definitely worth a look.
Pros
Unique Grid Layout: Reactoonz Slot features a 7×7 grid layout with cascading symbols and cluster pays, offering a refreshing change from traditional reel-based slots and creating more winning opportunities.
Engaging Theme: The game offers a fun and quirky theme featuring colorful alien characters, providing an entertaining and visually appealing gaming experience.
Rich Bonus Features: Reactoonz Slot includes a variety of bonus features such as wilds, multipliers, symbol transformations, and random special effects, adding excitement and variety to gameplay.
High Volatility and RTP: This slot offers high volatility gameplay and a competitive Return to Player (RTP) percentage, making it appealing for players seeking larger, less frequent payouts.
Cons
Complexity: Reactoonz Slot has a more complex set of rules and features compared to traditional slots, which may be confusing or overwhelming for new players or those who prefer simpler gameplay.
Steep Learning Curve: Due to its unique grid layout and numerous features, Reactoonz Slot may require more time and effort for players to understand and master the game mechanics.
Potential for Frustration: High volatility slots like Reactoonz can lead to long dry spells between wins, which may be frustrating for players who prefer more frequent, smaller payouts.
Niche Theme Appeal: The quirky alien theme might not be appealing to all players, particularly those who enjoy slots with more relatable or widely popular themes.