Golden Gorgon takes its inspiration from the ancient Greek myth of the 3 sisters with snakes as hair. The most famous Gorgon was of course Medusa, but there were 2 others. In this slot, we get a glimpse at the myth as well as sticky re-spins and multipliers.
This slot was made by Yggdrasil who released it in 2021. On the surface, the game is very simple, with a 5-reel, 3-row playing field and a total of 25 paylines. The game is clearly inspired by the Greek myth. Not only is Medusa 1 of the symbols, but we can also see how the standard card letters are replaced with different letters from the Greek alphabet.
The background is rather bland with only the appearance of a stone wall with some carved runes in it. The playing field is surrounded by a seeming temple with pillars and the Golden Gorgon at the top. Whenever there's a win the statue's eyes light up, but other than that we can't see any interesting animations.
When it comes to the music, there is unfortunately little to say. The quality is fine but I found the song used to be rather ill-fitting to the theme. It sounds like a relaxed pop song that you would find playing at a quiet bar, not when fighting Medusa. The win sounds are a bit more fitting with what sounds like a classic tune, but that might be too little too late.
Symbols
Golden Gorgon uses a Greek myth as its inspiration and that's very clear when looking at the symbols that are being used. The highest-paying symbol is the hero Perseus that slew her. The other important symbols are different items you would find in the time period like a shield and sword. Meanwhile, the low paying symbols are represented by letters from the Greek alphabet.
This might make it a bit harder to tell how much the win is worth, but it fits the theme better and I liked that. Whenever there's a win the total sum is shown on the screen anyway which helps fix that issue. Players won't see a lot of wins unfortunately because the game has High Volatility. I found it to be very rare to get a win. Even so, the RTP stands at a respectable 96%.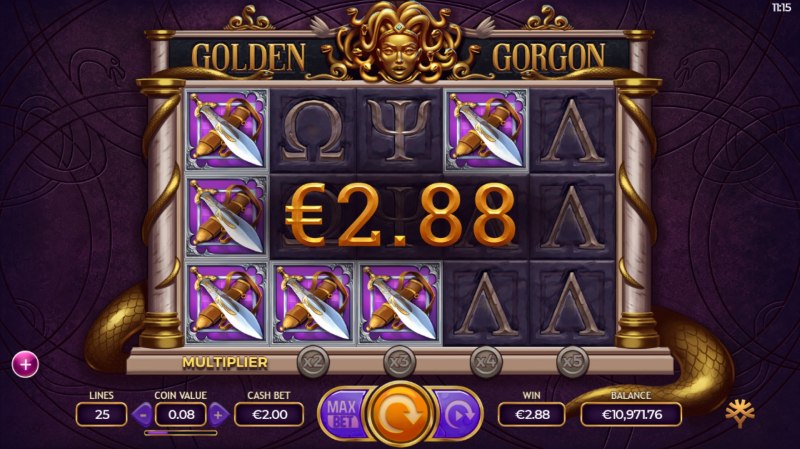 If you do want to stick it out with this game, there are some ways to do it. The player can pick a bet between $0.25 and $400 per spin. The maximum win is obviously huge and I wouldn't recommend it to anyone but serious power players. I would often go dozens of spins in a row without a single win, which would drain the average player's reserves within seconds.
Those few players that manage to hit the maximum jackpot will walk away with a win of 2,502x your bet. This is on the surface an acceptable amount, but when compared to other slots with the same volatility it is actually very low. So be aware that even if you hit the jackpot you will walk away with less than you would at other slots.
The symbols in the game are:
Perseus: Max. 20x your bet with five-of-a-kind on a win line.
Sword: Max. 6x your bet with five-of-a-kind on a win line.
Shield: Max. 3x your bet with five-of-a-kind on a win line.
Alpha: Max. 2x your bet with five-of-a-kind on a win line.
Epsilon: Max. 2x your bet with five-of-a-kind on a win line.
Psi: Max. 1x your bet with five-of-a-kind on a win line.
Omega: Max. 1x your bet with five-of-a-kind on a win line.
Features
Golden Gorgon is actually pretty light on features and doesn't even use standard mechanics like Wilds and Free Spins. This is compensated a bit by the features it does have, but even then there isn't a lot to discuss.
The features in the game are:
Sticky Re-spins: Any win on a win line will trigger a sticky re-spin. The winning symbols will stay on the screen while the rest are spun again. If new winning symbols are added, the reels spin again. This continues for as long as new winning symbols appear on the screen.
Multipliers: If a reel is filled from left to right, the multiplier increases by 1. The multiplier is the same as the number of filled reels. The maximum multiplier is 5x if the entire screen is filled with winning symbols.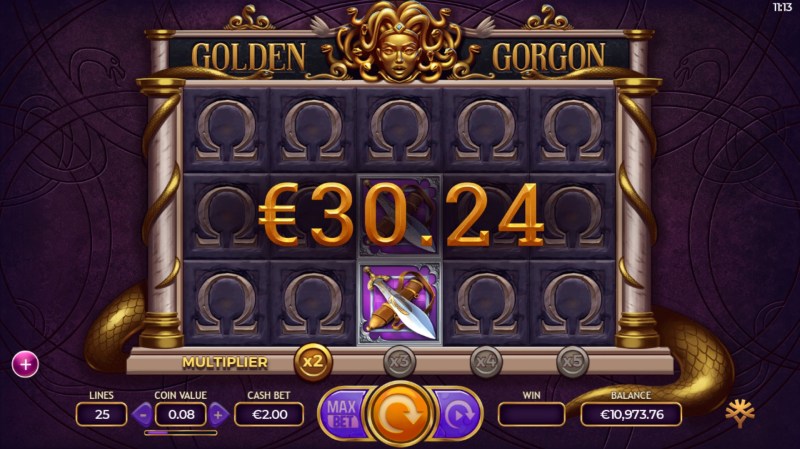 The features largely speak for themselves in my opinion. When spinning the reels you are waiting for a normal win to hit. This can happen on any of the 25 win lines. When this occurs, the Gorgon at the top will have her eyes light up and the sticky re-spin functionality will start.
This will lock the winning symbols in place and turn them gold to make them easier to spot. The other symbols will spin as normal. If the next spin yields more winning symbols, those will also stick into place. In theory, it can result in the entire screen being filled with the same symbol but obviously, that'll be exceedingly rare.
In fact, I found it very hard to even get any win, and even if I did the re-spin would only very rarely trigger additional re-spins. At the same time, it's very clear the entire game is built around it. The payouts for a regular win are low and you will need to get wins on multiple win lines and a 2x or 3x multiplier to even break even. As a result, my funds basically only dropped the entire time I was playing.
The multiplier feature was as hard to activate as the sticky re-spins, since they don't start counting until an entire reel is filled. Filling reel 1 doesn't even activate a multiplier, which makes it very unlikely a player will even see the 2x multiplier.
Conclusion
Golden Gorgon is quite a disappointing slot when looking at the complete Yggdrasil library. The game has very little in terms of animations or background, and the symbols are very static. Even smaller studios nowadays put more effort into the win animations.
Coupled with the difficulty of getting a win through the high volatility and the fact that every feature is tied to getting a win made it a boring slog to play. If you get a win there is a shot at getting a big win, but you're likely only going to walk away with a simple three-of-a-kind win that won't even pay back your bet.
This game isn't even something I'd recommend to power players. The maximum bet is huge and only feasible for players with deep pockets, but the jackpot is roughly half of what a regular high volatility game would offer. In short, I don't really see any reason why you would pick this game over any other.