Bompers is the silly title for a quite inventive slot that takes some of the aesthetics of a pinball machine while giving it a distinct vibe. The slot further features cascading reels, a non-standard playing field and up to 262,144 paylines.
This slot was developed and released in 2021 by Elk Studios. This developer has been working on diversifying their portfolio and that includes releasing some less classic designs. Bompers is one of those games, which doesn't completely get rid of the usual video slot gameplay but does try some new things. The game features a 5-reel, 4-row playing field that can expand into a massive 5-reel, 8-row playing field through its cascading reels mechanic.
Although the game looks like it uses the Cluster Pays mechanic it actually does still use regular paylines but in such a way that players can get wins with between 4,096 and 262,144 bet lines. Wins are calculated by having the same symbol on consecutive reels. When there's a win, the symbols involved light up before dropping away.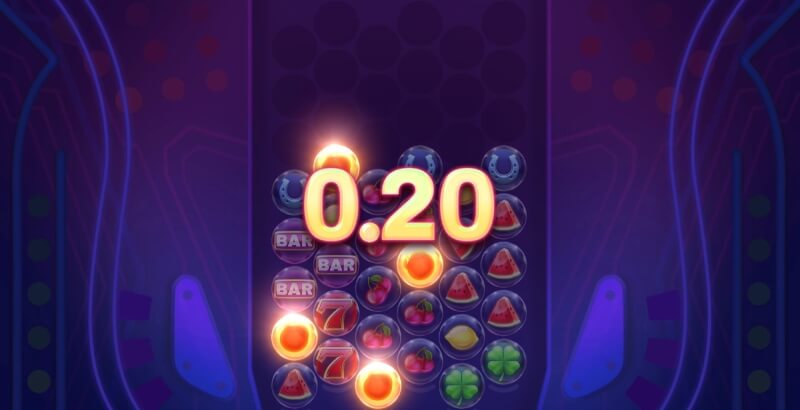 The symbols used in Bompers are unfortunately a lot less original, using familiar images like BAR, Sevens and different types of fruit. I'm not sure why the designers decided to change up the appearance of the slot but then to stick with the most familiar symbols from classic fruit machines. Perhaps they didn't want to overwhelm the player.
Bompers Highlights
Volatility: This high volatility slot has big, less frequent wins.
Max. lines: The 262144 paylines result in more possible winning combinations.
Bonus game or special game: Bompers has a separate bonus feature.
Freespins: You can get in-game free spins in Bompers.
Sticky wilds: Sticky wilds substitute any standard symbol and remain on the reels for additional spins.
Symbols
Bompers has a regular-sized playing field for most of the time but since it can grow to double its size with the right wins at the right moment, the game has to reserve a lot of space. This means that the symbols on the screen are smaller and there is a lot of empty room most of the time. In the background, we can see some vague shapes that reminded me of a pinball machine, which is probably also where the name is coming from.
The symbols in the game are, from highest to lowest:
Bonus: Get 3 Bonus symbols on the screen to activate the free spins mode with 7 free spins.
Wild: Wilds substitute all symbols except the Bonus symbol.
Seven: Max. 10x your bet with six-of-a-kind on a win line.
BAR: Max. 3x your bet with six-of-a-kind on a win line.
Horseshoe: Max. 2x your bet with six-of-a-kind on a win line.
Lucky Clover: Max. 1x your bet with six-of-a-kind on a win line.
Watermelon: Max. 0.6x your bet with six-of-a-kind on a win line.
Orange: Max. 0.6x your bet with six-of-a-kind on a win line.
Melon: Max. 0.6x your bet with six-of-a-kind on a win line.
Cherries: Max. 0.6x your bet with six-of-a-kind on a win line.
When it comes to the design of the symbols it all looks fine. The studio's creativity isn't on full display here but they look distinct enough to easily see when a win is achieved. Since the payouts for a single win are very low, the playing field is large and there are a big number of paylines, the game ends up with High Volatility.
Players that enjoy this volatility can pick a bet that's somewhere between $0.20 and $100 per spin. The max. win of 5,000x your bet is something that I've seen a lot on similar slots with the same volatility so even though it's a big potential win, it's about average when compared to other slots.
Features
Bompers does some things differently while keeping other elements of the slot the same. These features all mix together. A quick overview of the features includes:
Cascading Reels: Whenever a win is triggered, the winning symbols will disappear.
Consecutive Wins: Wins are awarded when a symbol appears on consecutive reels from left to right.
Wilds: Wilds substitute all regular symbols in the game.
Expanding Reels: Whenever there's a win, extra rows are added on top of all reels.
Mystery Bomb: When a Mystery Bomb is triggered it turns itself and all connecting symbols into a random symbol. When 2 or more Mystery Bombs overlap, the overlapping symbols turn into Wilds.
Shooting Star: A Shooting Star will move up the reel. When it touches the top it will create a mixed collection of up to 7 symbols with at least 3 Wilds.
Free Spins: Get 3 Bonus symbols on the screen to activate the free spins mode. During this mode, free spins can retrigger.
The game has a number of features that spice up the gameplay somewhat but I do wonder about their effectiveness. The ideas are all pretty solid but during my time playing my funds dropped down steadily and only very rarely got a hike up so be aware of that.
The Mystery Bomb and the Shooting Star are separate symbols in the base game that have to appear on the screen in order to activate. These symbols are rare and can be quite lucrative but in my experience, they usually aren't. Getting the Bomb symbol adds a random symbol in a ring around itself which can generate a big win but more often does nothing.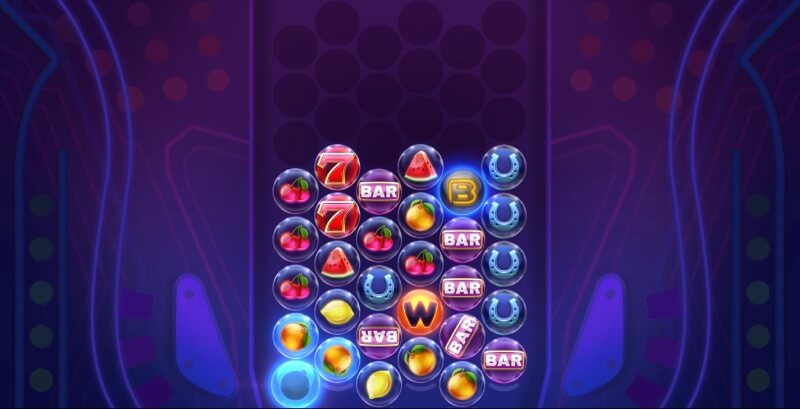 It's the same problem with the Shooting Star symbol which generates a grouping of random symbols that drop down onto the reels. Since they're all random, it's impossible to tell if it's going to be a win or not beforehand.
Conclusion
Bompers is a slot that deserves some credit for trying to slightly change the format without actually straying too far into experimental territory. The game gives players some new features to play around it while the basic gameplay elements stay the same as most classic slots.
If you are looking for something slightly different than the standard video slot but you don't want to have to do a deep-dive into the paytable to figure out how it works, I think Bompers is a good alternative. There is plenty to see and do, some of the features are pretty unique but you don't have to worry about clusters or other such features.
I thought it was a good attempt by Elk Studios to do something new even though the volatility was a bit too high for my tastes and I couldn't get any big wins during my time playing. As it's different for every player, I'll leave it to you to see how it goes for you.
Pros
Innovative gameplay with cascading reels and expanding playing field.
High number of paylines offers many opportunities for winning combinations.
Visually appealing with vibrant colors and pinball machine-inspired graphics.
Offers a high potential for big wins with a maximum payout of up to 5,000x the bet.
Cons
Limited variety in symbols used in the game.
May not appeal to players who prefer more traditional slot gameplay.
Can be confusing for some players to understand the different paylines and how they work.
No bonus features or free spins rounds.