Bell of Fortune gives players the ability to return to the old days of fruit slots brought into the modern age. Sit down, relax and transport yourself back in time with this Play 'n Go slot!
If my introduction didn't give it away, Bell of Fortune is a digital version of the most basic kind of fruit machine. It is a simple 3 reels, 1-payline slot released in 2012.
Bell of Fortune is, in my opinion, a perfect game for players that are looking for a real classic slot. Even the look of it is copied from the old school slot machines one can find in gambling halls or pubs.
The developers added details to the game to really emphasize the experience of playing in a gambling hall. For example, there is the digital Jackpot counter at the top of the screen. Each time the slot spins you hear a sound like the hydraulics that operated the physical slot machines.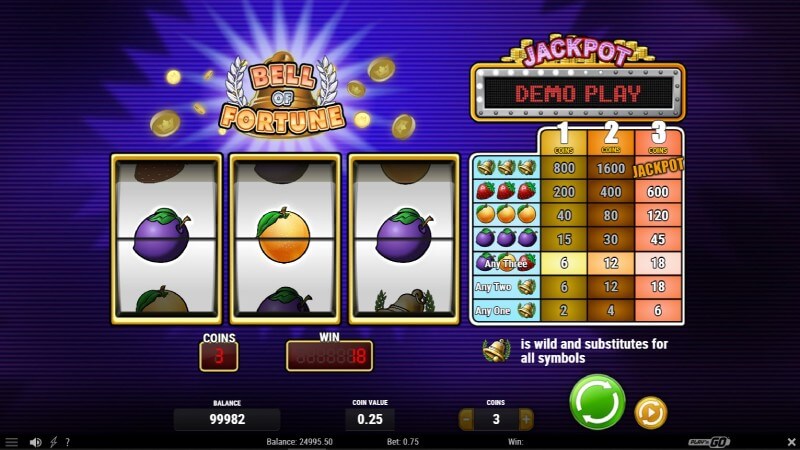 Even the sound design is reminiscent of the classic experience. The music is a light pop song with a steady beat, interrupted with a celebratory jingle when you get a win.
The last thing to mention is that the symbols don't always line up to the payline. It happens quite often that 1 or more of the reels simply don't stop on the payline, just like with the classic machines. When they don't, it's not possible to get a win!
Bell of Fortune Highlights
Jackpot: Bell of Fortune features a progressive jackpot.
Wilds: Wilds substitute any standard symbol and help create more winning combinations.
Volatility: This high volatility slot has big, less frequent wins.
Mobile version: This slot works well on devices running on iOS and Android.
Automatic play: Auto-play function spins the reels without needing to push play for every spin.
Symbols
Since this is a copy of the classic slot machine the symbols used are also familiar. The eponymous Bell of Fortune acts as the Wild in this game.
From best to worst they are:
Bell of Fortune: Wild. Get three-of-a-kind and win the jackpot.
Strawberries: Get three-of-a-kind and win 600 coins.
Oranges: Get three-of-a-kind and win 120 coins.
Plums: Get three-of-a-kind and win 45 coins.
One of each: Get any combination and win 18 coins.
Two Bells of Fortune: Get 18 coins.
One Bell of Fortune: Get 6 coins.
That's all there is to it! Even though there are only 4 different symbols there is a lot of flexibility in the winning combinations. It's possible to get a win from one strawberry, one orange and one plum on the payline. Or get two oranges and one plum for example and also win.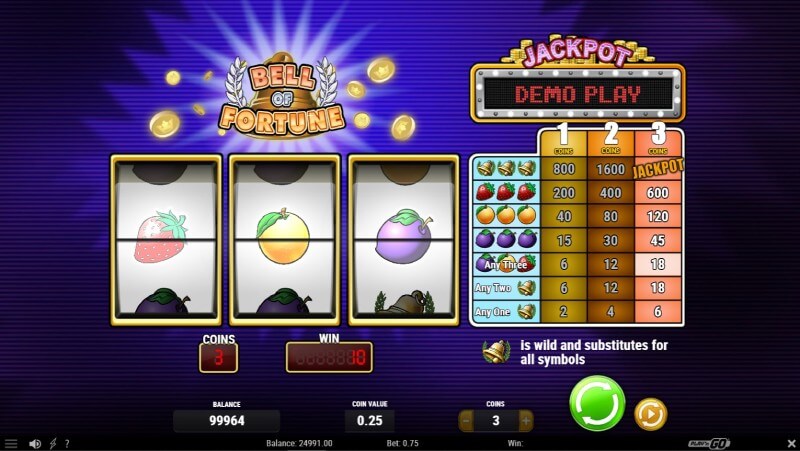 In fact, during my time playing the biggest cause of not winning was when the symbols didn't line up with the payline.
As it is a video slot it does offer some adjustments to the gameplay that the 'real' slot machines don't have. You can choose to disable the sound for one. Then there is the possibility to enable Fast Play and you can switch on the Autoplay function.
There is a little bit of flexibility with the bet amount but it can only be set to $0.25, $0.50 or $0.75 per spin.
Conclusion
Bell of Fortune is a slot that looks and plays exactly like the physical fruit machines a lot of us grew up with. It adds nothing new because it does not want to. Instead, it seeks to give us a taste of our past.
I feel it has done a great job in that regard. Even the details such as the sounds and the look of it harken back to the classic slots.
Are you someone who is not impressed by the more modern video slots? Do you prefer the simpler gameplay of fruit machines? Then I believe Bell of Fortune will perfectly fulfil that role!
Do keep in mind this type of slot has high volatility which means that wins are not easy to come by. When you do manage to hit the jackpot you win your bet x 1000!