Play Yaggdrasil's Vault of Fortune online slot and go on a treasure hunt that can make you rich. Vault of Fortune is a 3-reel, 3-row video slot that offers 20 paylines. The game takes you to a warehouse packed with valuable antiques and art pieces. Spin the Vault of Fortune reels to make winning combinations, and turn the beautiful artefacts into handsome profits.
The Vault of Fortune slot boasts Yggdrasil's proven high quality. Yet it stirs away from innovation and pyrotechnics. Is there more to this slot than sheer elegance and great graphics? Read this review to find out.
Theme and Graphics
At my first peak at the Vault of Fortune slot upon its release in July 2020, I noticed the tomb-like backdrop and Pharos remnants. This set the scene for yet-another Ancient Egypt themed video slot. But a further look revealed that Yaggdrasil cleverly combined into the design different cultures and periods. The slot's theme combines elements from Ancient Cultures, Adventure, Riches and Luxury, Gems and 3D visuals.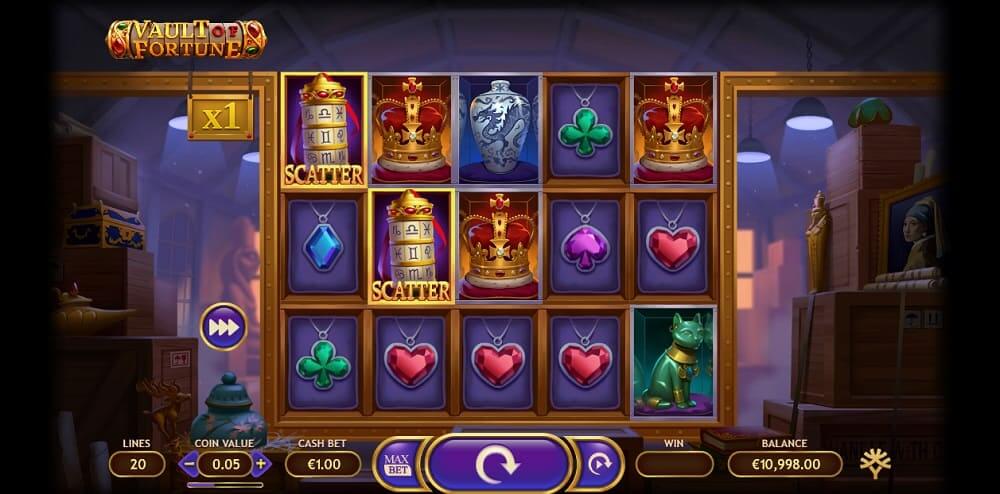 With immaculate attention to detail that is typical to Yaggdrsil's design team, Vault of Fortune provides a unique game atmosphere. The purple-shaded 3D backdrop shows wooden crates, a treasure chest, oil lamp, vase and Egyptian remnants. The reels are hanging on a wooden frame in the middle of the game screen. So multipliers and more information is conveniently displayed beside the grid. Although the screen is loaded with visuals, somehow the design manages to keep the layout clean and tidy.
Welcome Screen
Perhaps the high expectations I had from Yaggdrsil in the visuals department left me disappointed at the game's welcome screen. Instead of a great animation movie to set the scene and get you into atmosphere, the first screen you see shows the backdrop with four random elements (a scroll with the game title, two grid screen shots and a start button). As clicking on any of these just takes you to the game itself, I found this extra step to be confusing and unnecessary.
Sounds
Gentle classical flute and horn tunes play in the slot's background, while spins and winnings produce the standard clings and coin dropping sounds. I found the sounds to be a bit monotonous, and thought that suspense music could add more fun and adventure to the game. Still, the current soundtrack fits nicely with the slot's subtle theme. And it will suit slot players that prefer spinning the reels to a quiet background.
Symbols
The Vault of Fortune symbols contribute to the game's adventure and mystery. Low-paying symbols are depicted by card-suit gems, while medium and high-paying symbols are portrayed by artefacts. The symbol design is immaculate, where I especially liked the elaborate detail and background of high-paying and special symbols.
Following, are the symbols with respective wins:
Regular Wild (pull lever): Will trigger Expanding Wilds (Ancient golden plaques) that will expend 6 high on winning dropdowns.
Scatter (Kryptex): 3 or more Scatters will trigger free spins.
Crown: 1,250 coins with 5 on a winning payline.
Fabergé Egg: 800 coins with 5 on a winning payline.
Jade Cat: 450 coins with 5 on a winning payline.
Chinese Vase: 450 coins with 5 on a winning payline.
Card Suit Gems: 128 coins with 5 on a winning payline.
Features
The Vault of Fortune slot machine boasts a good array of features, but I had seen them all before. You won't find on the reels innovative features, just decent bonus rounds that give you good chances to win.
Cascading Reels: Winning symbols are crushed into bits and replaced by new ones. This gives you a chance for several consecutive wins during one spin. It is similar to NetEnt's Avalanching Reels technology as featured on Gonzo's Quest for example. Where the winning symbols explode and make way to new ones.
Regular Wilds: The Regular Wild can appear in any position on the reels to substitute for other symbols and generate winning combinations.
Stacked Wilds: When used to create a winning combination, Regular Wilds expand vertically to cover 3 symbols on the reel, and keep dropping 3 more positions. This makes for a total of 6 symbols in height. Stacked Wilds have a statistical hit frequency of 1 to 25 spins. If you like how Yggdrasil designed their Stacked Wilds, you can also try their Easter Island slot. Another one of Yggdrasil's fantastic designs, this time based on a hilarious Ancient Civilization theme.
Multipliers: Each win on the Vault of Fortune slot will increase your multiplier by 1x. However it will reset once a spin doesn't yield a win. Unless you trigger more Free Spins, in which case you get to keep the accumulated multipliers.
Free Spins: 3 or more Scatter symbols on the reels will trigger Free Spins. With 3, 4 or 5 Scatters giving 8, 12 and 20 Free Spins respectively. More Scatters will trigger additional Free Spins, and the multiplier you had during the base game will carry over to the Free Spins. Thus, your multiplier will continue to increase by 1x with each additional win.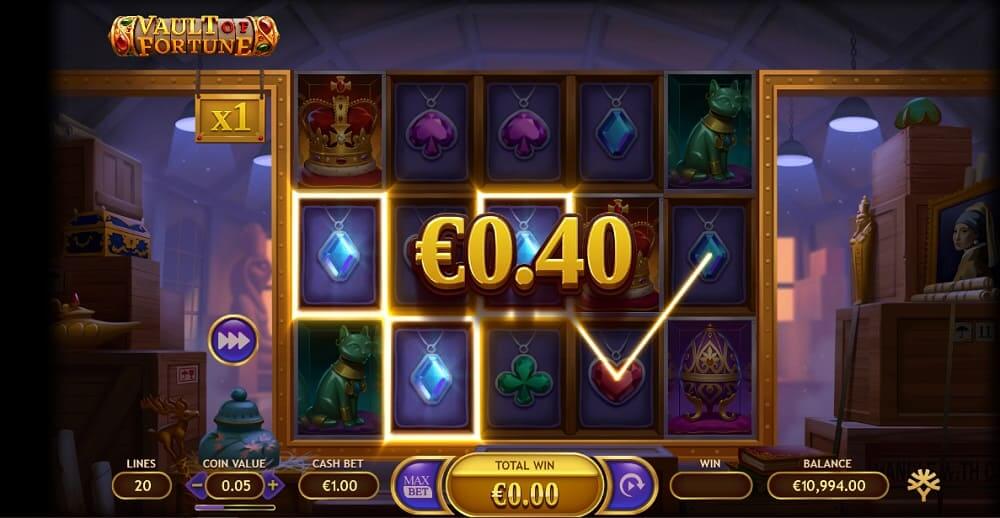 For a more convenient spinning session, adjust your bet amount and set the Vault of Fortune on Auto Spin. If you want to play for higher stakes, you can set the slot to Turbo Mode or click on the Max Bet key.
Bets and Payouts
Logically the biggest wins would be triggered by the highest-paying symbols. But most of your profits on the Vault of Fortune slot will be made on Free Spins. Especially if you are lucky to re-trigger more Free Spins and keep your multipliers growing. With an RTP (Return to Player) of 96.1%, Vault of Fortune is just a notch above the 96% industry average.
As Vault of Fortune is a medium-to-high volatility slot, I expected a higher RTP to reward for the relativity-higher risk. Therefore I was disappointed with the 19.4% hit rate, which statistically generates a win once every 5 spins.
The minimum bet is 0.1 coins and the maximum is 100 coins per spin. Although you shouldn't expect frequent payouts, once you do get a win the potential profits are impressive. Vault of Fortune gives you a chance to win up to 11,000x your stake. So if you are betting at the maximum limit, you can win an epic $1,100,000. If you have patience to play a high-volatility slot, I recommend playing the Vault of Fortune for its decent profit potential.
Final Thoughts
Yggdrasil's designers seem to know how to concentrate on small things that make a big difference. Therefore the Vault of Fortune's design and graphics are its strongest assets. The wide range of betting limits and high potential rewards make this slot a good choice for both high rollers and casual players. However given the high volatility, you should manage your stakes carefully to make sure that your bankroll lasts through losing spins. Slot players that are into dynamic gameplay and innovative features should probably look elsewhere. But for those looking for a tidy, well-executed gaming experience that pays attention to every detail and can potentially yield big profits – I strongly recommend spinning the reels of the Vault of Fortune.