Honey Rush is a truly unique Play'n Go slot with a theme that drips from the sweetness of nature. But don't let the flowery design and hummingbird sounds fool you. Honey Rush is a high volatility slot machine with one of the highest potential wins we've ever seen from this Swedish developer.
Join me on a trip to the beautiful countryside, and let's check if Honey Rush really delivers the sweet taste of success.
Theme and Graphics
Besides the Honey Rush online slot being beautiful and fun to play, it's one of Play'n Go's most uniquely designed games. Instead of traditional reels, the hexagonal honeycomb of cascading symbols lets you play on a 4-5-6-7-6-5-4 grid with no less than 37 symbol positions!
The game elements float atop a beautiful, three-dimensional backdrop showing a green forest and tree trunks, with the honeycomb hexagon in the middle of the screen. To the right, you will see a Rush Meter that charges with every win, while on the left is a board that shows the winning symbols in a wooden frame.
Music and Sounds
There's nothing big and loud happening in the Honey Rush slot's sound department, and that's precisely how it should be. Cheerful guitar music with birds chirping in the background is perfect for a relaxing and fun gameplay in nature. I actually wish that more slot developers would create background music that, as its name suggests, fits nicely in the background and does not try to take over the game. In the case of Honey Rush, the great sound unassumingly becomes one of the slot's selling points.
Honey Rush Highlights
Non standard reels: Non-standard layout can feature varying reels/rows or a different winning mechanism.
Cascading reels: Cascading reels explode the winning symbols and drop down more to fill the gaps.
Walking wilds: Walking wilds or wandering wilds move on the reels after each spin until they expire.
Multiplier wilds: Multiplier wilds multiply the winnings in their winning combos.
Wilds: Wilds substitute any standard symbol and help create more winning combinations.

Symbols
The choice of symbols for the Honey Rush slot is a bit odd. Firstly, there are no bees in sight, which I would expect from a slot with so much nature and honey in its theme. Instead, the high-paying symbols are a random mix of coins and a diamond. The low-paying symbols are flowers that are thankfully more connected to the theme and design.
Diamond: Pays max 200x for 35+ in a cluster
Golden Coin: Pays max 100x for 35+ in a cluster
Silver Coin: Pays max 75x for 35+ in a cluster
Bronze Coin: Pays max 50x for 35+ in a cluster
Various Flowers: Pay max 20x for 35+ in a cluster
Features
Like everything else about Honey Rush being unique and innovative, this online slot tries to do things differently in the bonus department as well. So it doesn't come with the classic bonus features. You won't find Scatters on the reels, so don't get your hopes up for triggering Free Spins. Instead, the Honey Rush slot offers unique features that some players find much better. I'll agree that they are new and exciting.
Cluster Pays: Honey Rush is a Cluster Pays slot that comes with tumbling reels. A win is awarded once a cluster of 5 matching symbols is formed. The winning symbols are then removed, making room for new symbols and more chances to win. This allows landing many winning symbols and many consecutive winning spins, giving you a chance to rake hefty payouts.
Rush Meter: The Rush Meter sits on the right side of the screen. Its needle moves up every time a winning combination occurs. The more winning symbols collected in consecutive spins, the higher you boost the Rush Meter. Every time the Rush Meter is fully charged, you will advance in one of the game's four levels/colonies.
Drone Colonies: On the first 3 levels, you will need to collect 20, 40, and 80 winning symbols to unlock a respective Drone Colony. With each Drone Colony, you will be awarded a minimum of 7 matching symbols on the reels.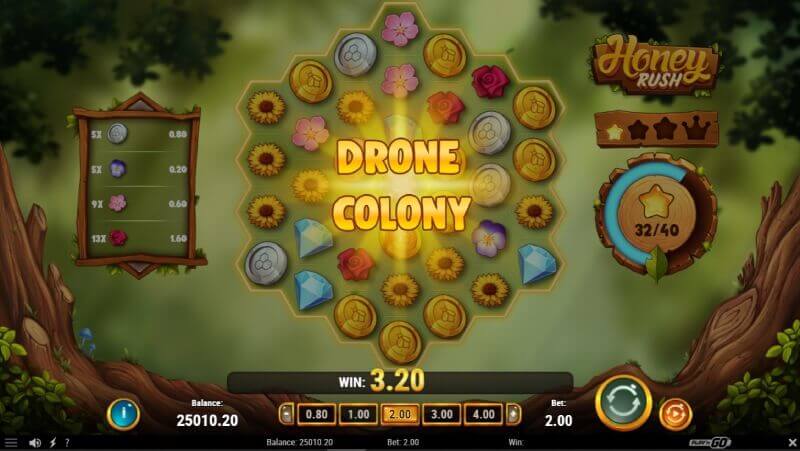 Queen Colony: The ultimate goal is to collect 160 winning symbols. This will charge the Rush Meter to the max and unlock the Queen Colony, awarding you a massive cluster of anywhere between 20 and 37 matching symbols. It practically means that you can fill the entire game hexagon with winning symbols.
Worker Colony: The Honey Rush online slot also features a Worker Colony that is randomly triggered during losing spins. It awards a cluster of between 7 and 15 matching symbols.
Sticky Wilds: As you unlock each level of the Honey Rush slot machine, you are awarded 1 Sticky Wild on the reels. Portrayed by a honey pot symbol, the Wild will only appear when triggered by the Rush Meter and will only be positioned on the second ring of the Hexagon from the outside. As it is a Sticky Wild, it will remain on the reels until the game round finishes.
Win Multipliers: The Honey Rush Wild can also come with a 2x or 3x win multiplier attached. As the Wild remains on the reels, the multipliers are multiplied by each other, giving exponential returns on the same winning symbol cluster. So at the end of a bonus round, winnings can be multiplied by up to 27x.
Bets and Payouts
With a volatility mark of 10 on the Play'n Go scale, the Honey Rush slot machine comes with the highest variance this Swedish developer produces. But even if you are on a budget, you can get buzzing and play Honey Rush online for a stake as low as $0.20. If you would like to go for a larger taste of the sweet chance to win, you can wager as high as $100 per spin.
Honey Rush's RTP (Return to Player) is 96% sitting at the industry average, which is pretty decent for a high volatility slot.
If you land 35 or more Diamond symbols, you can win up to 20,000 coins. But thanks to the Win Multipliers and the Sticky Wilds, Honey Rush can produce gigantic payouts of 9,000 times your total stake. So if you place the highest bets, you have a chance to cash out $900,000 on a single spin.
Conclusion
The Honey Rush slot machine is unique in many ways. The first difference that meets the eye is the unique hexagonal design that combines Cluster Pay reels. Then, there are the Rush Meter and Colony bonus features that are also new and innovative.
Finally, what caught our attention most was the potential epic win of 9,000x your stake. Compared to slots of such high volatility from Play'n Go with a standard 5,000x max potential win, this is genuinely the Honey Rush online slot's landmark.
If you are playing on a tight budget, playing on the Honey Rush slot may exhaust your bankroll pretty quickly. But if you are a fan of high variance Cluster Pays slots, Honey Rush is worth a spin. The unusual design may need some getting used to at first, but once you see what this slot has to offer, you'll definitely come back for more.