The Wild Class brings us to a normal-looking fair where a group of teenagers deal with the full moon. That's right, because they're werewolves. If that sounds like an exciting premise, just wait until you try out the free spins, stacked wilds and multipliers.
Developed by Play 'n GO this game was released in 2021. Players find themselves at a fair where among the stalls and roller coasters a bunch of teenagers are stalking around. While they might look like average kids, this all changes once the free spins mode is activated. Most of the action takes place on a standard 5-reel, 3-row playing field that does look slightly different because of the angular shape.
Players can get wins on one of the 20 paylines while they play, where the winning symbols are highlighted to show the payline. Everything looks nice and detailed, with special attention put into the characters and the background. There are also some animations, both in the distance and with the characters. We can see them move or blink their eyes when they're part of a win. The roller coaster in the back has a little cart riding around, and the Ferris wheel spins.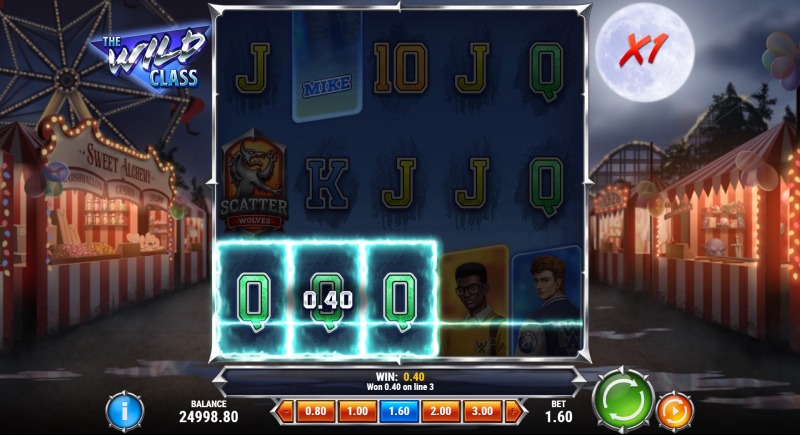 When it comes to the sound design, the developers didn't go for something spooky or scary. Instead, we are treated to a rather upbeat pop song that sounds wildly out of place. It doesn't even make sense as music that you'd hear at a fair. Maybe the idea was to evoke the sense of an 80's teenage movie but even that doesn't really work.
Symbols
The Wild Class has the expected selection of unique high-paying symbols and a complement of low-paying card letters. I thought the card letters are somewhat made to fit the setting since they look like the font used on football-jackets that stereotypical American students wear. Even so, it was a tenuous link at best and didn't do much to add to the setting. All the symbols do look nice as they are sharp and detailed.
Players that want to play this game will be able to choose a bet between $0.20 and $100 per spin, which gives a lot of room. The High Volatility does mean that players are likely to go quite a while between wins. I found that even triggering a win wasn't necessarily enough to make back my spins. It wasn't until I had a lucrative free spins mode that I even made any profit.
With the volatility comes an RTP of 96.2% which is almost exactly the average. There is a maximum win of 6,666x your bet. Aside from the appropriate number to the setting, it gives the player slightly more than normal for a slot with this volatility. However, most of the time players should expect smaller wins than that.
The symbols you can find in the game include:
Scatter: With 3 or more Scatters on the screen the free spins mode activates.
Wild: Max. 15x your bet with five-of-a-kind on a winning bet line.
Jess: Max. 10x your bet with five-of-a-kind on a winning bet line.
Mike: Max. 7.5x your bet with five-of-a-kind on a winning bet line.
Chris: Max. 6x your bet with five-of-a-kind on a winning bet line.
Ace: Max. 2x your bet with five-of-a-kind on a winning bet line.
King: Max. 2x your bet with five-of-a-kind on a winning bet line.
Queen: Max. 2x your bet with five-of-a-kind on a winning bet line.
Jack: Max. 1.5x your bet with five-of-a-kind on a winning bet line.
10: Max. 1.5x your bet with five-of-a-kind on a winning bet line.
Features
The Wild Class feels like a relatively simple slot that does do some things right without being too innovative. The features that players can find here are found in other slots as well, although I think the combination feels unique.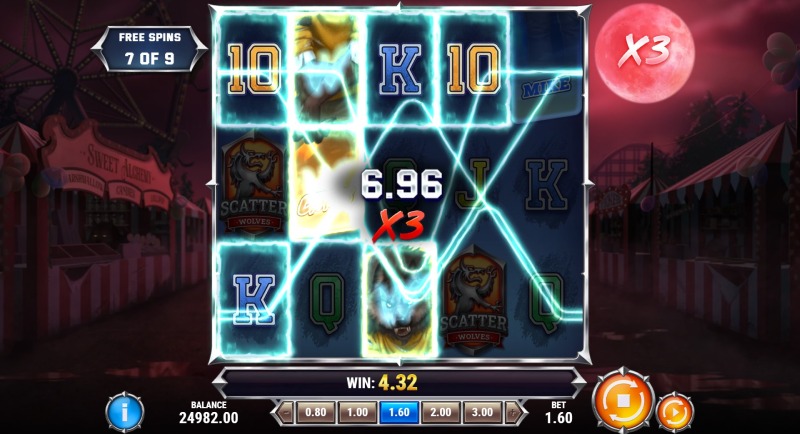 Players can expect the following features:
Stacked Symbols: The high-paying symbols appear stacked and can fill the reel.
Stacked Wilds: Wild symbols appear as stacked.
Free Spins: Get 3 or more scatters on the screen to activate the free spins mode.
Wilds: Werewolves act as Wilds.
Multipliers: Anytime there's a win the multiplier increases by 1. During the free spins mode, the multiplier doesn't reset between spins.
Werewolves: During the free spins mode, 1 or more of the characters are turned into werewolves. Werewolves act as Wilds.
The base game of this slot feels very standard, with the only exception being the stacked high-paying symbols. The three students each have their own look and animations. The way wins are calculated still works as usual. I found that they could sometimes grant a win this way but it was rather uncommon.
There is also a multiplier present during both the base game and the free spins mode. The multiplier can increase by 1 whenever there's a win, but in the base game this resets back to 1 every spin. During the free spins, this reset doesn't happen. This can cause the multiplier to increase by quite a lot before the player runs out of spins. It's also possible to win additional free spins.
The most interesting element of the game is the werewolves. Whenever the free spins mode is activated, the characters can be turned into werewolves. If there are 3 scatters it will change 1 character, 4 scatters turns 2 characters and 5 scatters turn all 3 characters. Each werewolf acts as a wild on top of its own value.
Conclusion
The Wild Class is an original attempt at trying to change up the usual settings and ideas. Instead of Egypt or a casino we get a fair with a bunch of werewolf teenagers. Even though I probably wouldn't have expressed it in quite the same way, the combination of setting and art style works well together.
When it comes to the gameplay, there's not that much to say about it. I felt like the different elements were a nice fit. The free spins mode was definitely the most important part of the game so it was nice to see that it wasn't too hard to activate. The werewolves look nice and are animated, which was a pleasant bonus.
High rollers will probably get the most out of the slot. The high volatility means that wins are rather rare and often not big enough to compensate for losses. Triggering the free spins mode and having some extra free spins will quickly escalate the multiplier. This can potentially turn into a massive win. It will just require quite a lot of time to get there.