Sticky Joker is a slot that looks rather rudimentary at first glance but does offer some interesting features that bring the game to the modern age in some ways. The game doesn't just include a joker but also has re-spins, sticky wilds and a bonus wheel.
Originally released in 2020 by Play 'n GO, this slot will remind a lot of players of the classic slot machine thanks to its 3-reel, 3-row playing field. The game also only includes 5 paylines that will make it feel a little more difficult to get a win. Despite that, the slot is still listed with Medium Volatility which should mean that getting a win isn't going to be especially difficult.
The slot looks fine even if it doesn't inject a lot of creativity into its design. The joker is probably the most original element and not even thanks to what it is but more to complement its design. There are also some animations associated with it that you'll see whenever it appears on the screen.
Other symbols in the game include the usual fruits, BAR and Sevens which don't do anything to help the game set itself apart from all other slots using fruit machine symbols. There is a bonus wheel that is triggered occasionally but even that doesn't try to do anything new. If you're not a huge fan of the fruit machine symbols, you'll probably have a bad time here.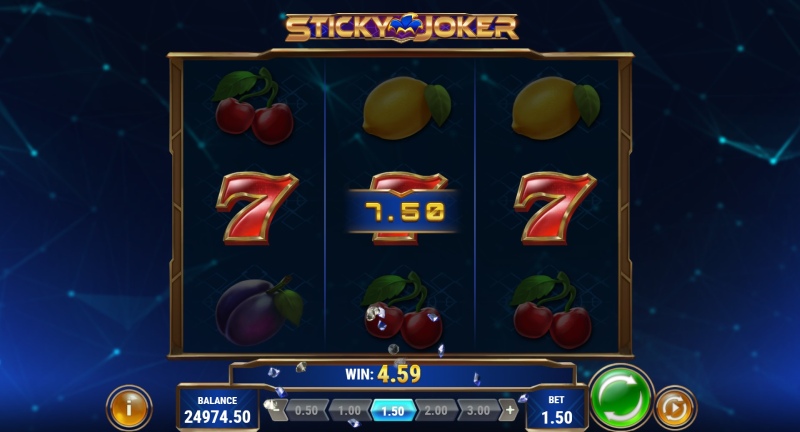 Symbols
Sticky Joker is obviously a very new game which does mean that everything looks good. The graphics are clearly designed well and even have some slight animations to them. Most of the time a symbol will show a little bounce when the reels spin and when they're part of a win they'll turn pixelated for a moment. The other elements in the game are very simple, unfortunately.
Players are able to pick a bet between $0.05 and $100 per spin to see what suits them best. In my experience, the game is rather forthcoming with wins and I ended up above my starting funds although not by a lot. This was with a low bet though, so keep that in mind if you want to take a bigger risk and increase the size of your bets.
There is also a maximum win of 1,650x your bet which I thought was about average for a slot with this volatility. Not that I ever had the idea I was close to winning it, but even so, it's a nice incentive for a lot of players. The game will regularly award you with wins during the base game but the bonus wheel was the place where I got my bigger wins.
The symbols in the game are nothing spectacularly original and can be ranked as followed:
Joker (Wild): Substitutes all symbols in the game. Wilds will also trigger a re-spin. Max. 8x your bet with three-of-a-kind on a payline.
Seven: Max. 5x your bet with three-of-a-kind on a payline.
Star: Max. 2x your bet with three-of-a-kind on a payline.
BAR: Max. 2x your bet with three-of-a-kind on a payline.
Plum: Max. 1x your bet with three-of-a-kind on a payline.
Grapes: Max. 1x your bet with three-of-a-kind on a payline.
Lemon: Max. 1x your bet with three-of-a-kind on a payline.
Cherries: Max. 1x your bet with three-of-a-kind on a payline.
Features
Sticky Joker is at its core a fruit machine and that means it doesn't have a lot of features. The ones that are there aren't usually found in this kind of classic slots but did help me in my enjoyment of the game. They help keep the gameplay a bit more varied and exciting and they don't interrupt the flow of the slot too much.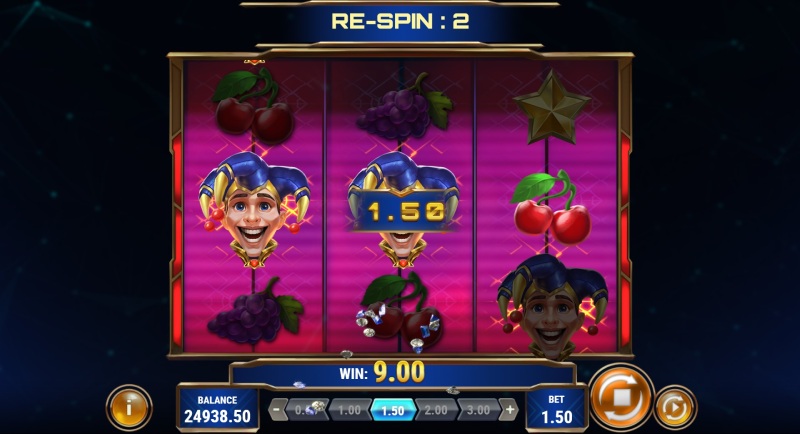 The features include:
Wilds: Jokers appear as Wilds and will substitute all other symbols in the game.
Re-Spins: When a Wild appears on the screen it will automatically trigger a re-spin. Re-Spins continue as long as new Wilds appear on the screen.
Sticky Wilds: Any Wilds that appear will be sticky for as long as re-spins continue.
Bonus Wheel: When the player gets 4 or more Wilds on the screen and the re-spins run out, the Bonus Wheel is activated. This wheel holds multipliers between 2x and 10x the total win collected during the re-spins mode.
Most of the time the player will be treated to the Joker appearing on the screen. This happens frequently and will automatically trigger a re-spin. Once a re-spin is activated, the Wild will become sticky. If the re-spin adds another Wild to the screen, that Wild will also become sticky and another re-spin is triggered. This can continue until no more Wilds are added or the screen is filled with Wilds.
Whenever the player manages to get 4 or more Wilds on the screen at the same time this will activate the Bonus Wheel at the end of the re-spin mode. This wheel holds multipliers between 2x and 10x the total win of the re-spins mode. Whichever multiplier the wheel lands on will then be applied to the total win, which can obviously create some impressive numbers.
When I played the game, the Wilds would appear frequently and it would also not be uncommon for additional Wilds to appear during this part. This meant the re-spin feature would continue for quite a while. Getting the Bonus Wheel to activate wasn't as frequent as it did require a number of Wilds to appear on the screen at the same time.
Once it did show up though, you could be pretty certain it would result in a hefty win. The Wheel would usually land on the 2x multiplier for me which could just have been random, but even then I would get a sizable amount of funds back.
Conclusion
Sticky Joker is a slot that draws a lot of inspiration from the classic fruit machine. Most of its symbols are simple variations on what we've seen a hundred times before. For that reason, I don't think the appearance of the game will linger with players for long.
The gameplay was a lot more engaging and fun. I had the idea that the Wilds were appearing every handful of spins which meant automatic re-spins. It was also common to see extra Wilds appear during this feature which meant more re-spins.
The bonus wheel was perhaps the most interesting part of the game and although it wasn't as common as the other features I do think it appeared frequently enough to feel like an addition to the game. It also facilitated some impressive wins during my time playing.