Ultra Fresh takes a look at the fruit machine and improves on it in only the most superficial ways: new graphics. The minimalistic style is sure to appeal to some players that enjoy the oldest style of slot!
This game was produced and released by Endorphina in 2014, making it a slot that has been around for quite some time. The game boasts the classic 3-row, 3-reel playing field that most players will be familiar with. To win, players need to get the same 3 symbols on one of the 5 paylines in the slot.
I thought Ultra Fresh honestly looks pretty fresh with all the symbols very big and bold on the screen. The designers took a minimalistic approach when designing the game, featuring no background whatsoever and making the symbols look more like stickers or logos than real fruit. That said, I did like this angle as it gave the slot some character. Unfortunately, there is little more to say about the look and feel of this game.
The soundtrack added some spice, featuring a heavy beat and a quick tempo. Players will likely be bobbing their head as the reels spin. Even with the turbo function switched off, the speed was very high so I advise everyone to keep an eye on their funds.
Symbols
Since Ultra Fresh is inspired by the classic fruit machine, none of the symbols are original. The only thing that jumps out is the design. The use of different colours keeps things easily distinguishable, making it easy for the player to see when there's a win.
Keep in mind that the game is listed as having a Low Volatility but in my experience, it was the opposite. Wins were extremely rare, but even a single win could make up dozens of spins without any results. Players can choose a bet between $0.01 and $50 per spin to augment this somewhat. A max. win of 1,500x your bet is nothing to scoff at but there are other fruit machines with bigger jackpots.
The symbols are:
7s: Max. 150x your bet with three-of-a-kind on a win line.
Gold Stars: Max. 40x your bet with three-of-a-kind on a win line.
BAR: Max. 12x your bet with three-of-a-kind on a win line.
Watermelon: Max. 8x your bet with three-of-a-kind on a win line.
Lemon: Max. 8x your bet with three-of-a-kind on a win line.
Cherries: Max. 8x your bet with three-of-a-kind on a win line.
Strawberries: Max. 8x your bet with three-of-a-kind on a win line.
Blueberries: Max. 1x your bet with three-of-a-kind on a win line.
As you can see, the payouts are quite high considering the only thing to get is a three-of-a-kind, with the 7s paying out a whopping 150x your bet. During my time playing this never happened, but it's not unlikely for a single spin to create multiple winning paylines, increasing the size of a win even more. This to me exemplifies the high volatility the game should be listed as.
Features
As a classic fruit machine, Ultra Fresh is extremely light on features. Since Endorphina strove to stick close to the gameplay experience of older slots, you won't find anything that will take you away from the base game. The only things worth mentioning are:
Multiplier: Whenever one of the fruit symbols completely fills the playing field, the total win will have a 2x multiplier applied to it.
Gamble: At any time when there is a win, the player can choose to try and double up the win. If they fail, they lose the original win.
During my time playing, I never used the Gamble function since the wins in this game are rare but rather high, making it a huge risk to try and double it but losing it instead. This feature is present in most Endorphina slots but I hardly make mention of it since I think the other features are usually more interesting. Since Ultra Fresh has so few of them, I decided to highlight it.
The multiplier feature is something that never triggered during my time playing as I simply failed to get a screen full of fruit symbols. If it did happen, the 2x multiplier would have significantly increased my funds considering the high coin wins for even a single winning payline.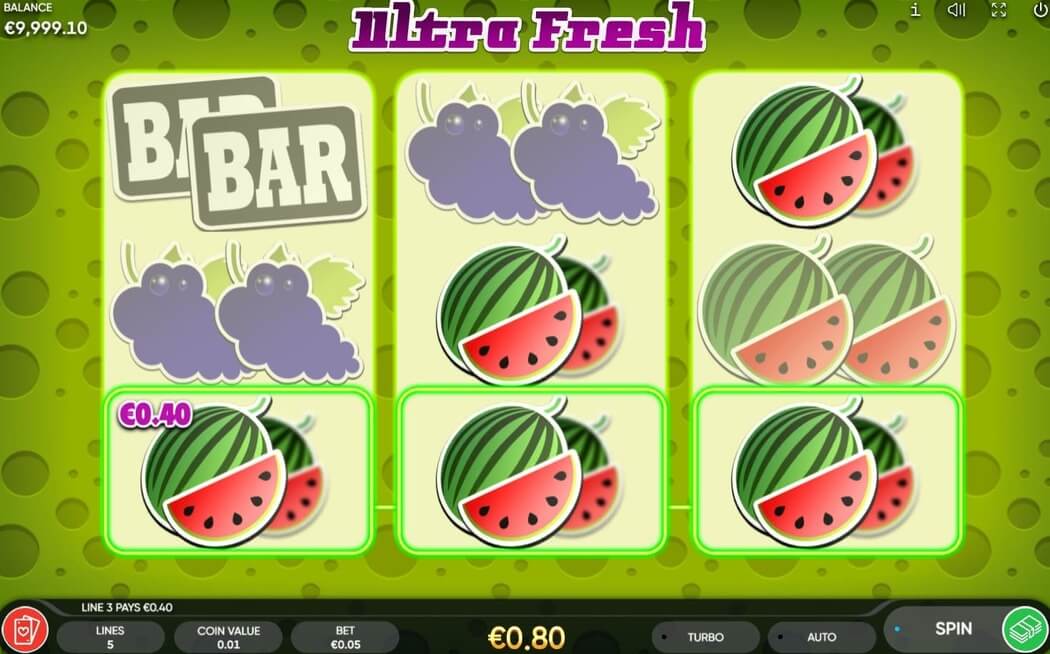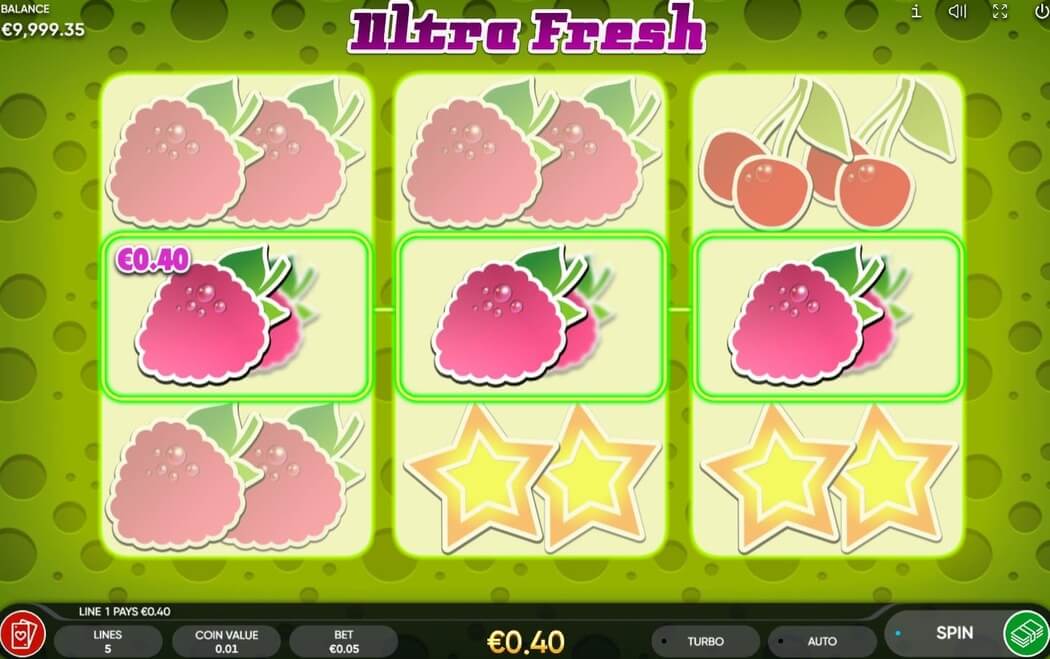 As Ultra Fresh is trying to be a classic fruit machine I won't hold the small number of features against them. There are simply not a lot of things that any developer can do with this concept and I think fans of this type of slot will be appreciative of that.
Conclusion
If you're a fan of classic fruit machines, you will likely enjoy Ultra Fresh. It stays very close to the original concept, although of course, it does have 5 paylines instead of the regular 1. The only feal feature included in the game is the multiplier, and that triggers automatically. Players won't have to worry about being taken out of the base game.
Anyone who isn't a big fan of this type of slot probably won't get much out of it. I did like the soundtrack a lot and I had it play the entire time. Is it a good enough soundtrack to play this game if you're not a fan of the fruit machine? Unfortunately, no.
There's not much else I can say about the game. If you looked at the screenshots, you'll know what you'll be getting and you should also know already if it's for you!