This farm-themed idyll is more vibrant than a Faberge egg and makes finding cash prizes as fun as Easter egg-hunting. Which is precisely what Easter Eggs is all about.
There are two preconditions that need to be fulfilled for anyone to find this Play'n GO game enjoyable – first, you have to like farm life and second, you must be able to allow some fluff to percolate in your life. If both are checked then the rest is easy because Easter Eggs is both visually pleasing (per the above) and it comes with a set of features that can give your potential wins a pair of wings.
I personally didn't expect to find such an amusing set of specifications. The game has a theoretical return to player of 96.75%, medium variance and a set of symbols with impressive payout amounts. Obtaining prizes from the gilded eggs can result in an instant payout of 500x your bet, while the maximum payout potential is a staggering 6568x your bet.
The theme obviously emerges from the favourite activity that is associated with Easter – looking for the hidden eggs.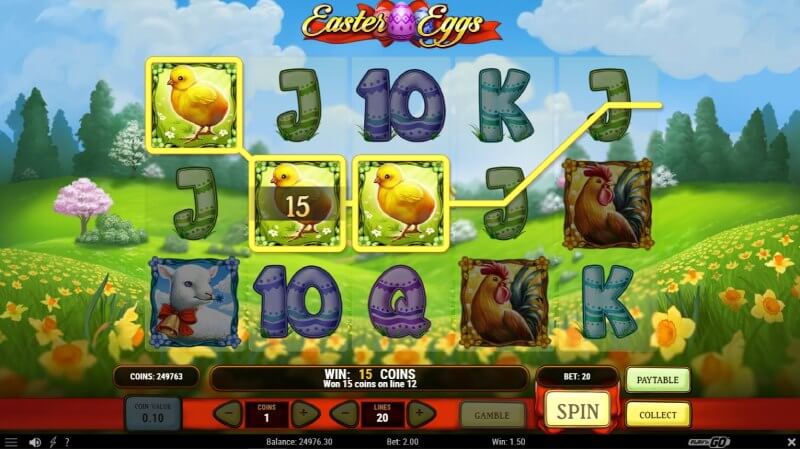 Those who are into symbols and the history of some of the most widely-celebrated holidays are aware that Easter celebrates the rebirth of nature, i.e. spring and that before it was a Christian holiday, ancient cultures had been celebrating this time of year for thousands of years.
The designers at Play'n GO had probably wondered, why not make an online slot about it, which, in the spirit of the holiday, hides cash prizes that can post on 20 paylines that are spun on three rows and five reels.
Theme and Design
In terms of graphic design, Easter Eggs is as pretty as bunnies wearing bow-ties. The game radiates pretty colours and farm critters that children like to squeeze on the verge of scaring them off forever. It's a pretty theme throughout, but it doesn't just end there because Play'n GO has poured itself over the design in order to make a game that is memorable and one that you can play not just for the Easter holiday.
Each one of the symbols has been drawn in a way that gives it an 'Eastery' look and feel, so much so that even the royal card symbols have an egg-like appearance. The bonus symbols and the wild have been treated to more lustre, which becomes apparent when they land on the reels or when they trigger the corresponding feature.
The music is also very much in tune with the theme and the quality of the gameplay. If you like to spin the reels on Easter Eggs to a melody that inspires the waking of nature, have the sound on. And if you hit two Faberge eggs in that bonus, as I did, you may even answer the compulsion of performing a celebratory jump and heel click… as I did.
There are two bonus symbols on the paytable, which means two features are in order when you land the right combination of symbols.
I can't say why, but to me choosing fewer spins with a greater multiplier (6x) made more sense on two occasions. Of course, I resolutely took my chances at landing a single win out of so few a spin, but things panned out as I hoped and the multiplier paid off handsomely.
The main reason why I got a hefty payout from the bonus was the wild symbol. That golden egg needs to be traced back to its mother goose because it can do so much good for the payouts thanks to the 2x multiplier that it can factor-in for every win.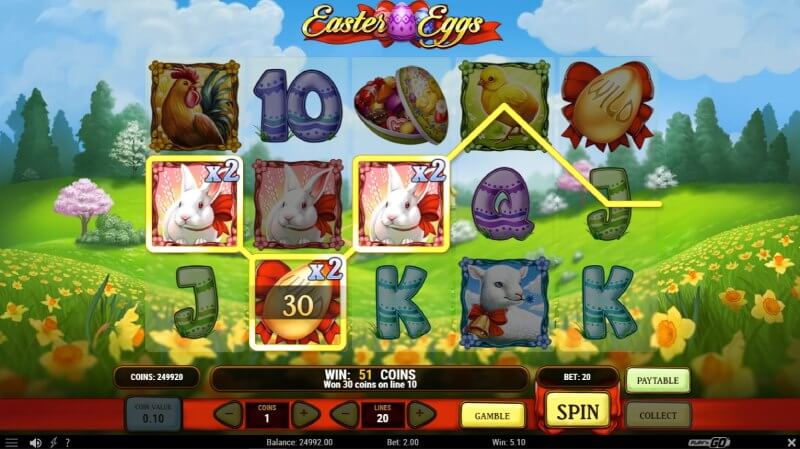 The 2x multiplier is joined by whatever multiplier amount you choose for the free spins bonus which is where Easter Egg shows its best ability to generate a holiday of payouts.
Bets and Payouts
The wild also shares first place with the scatter symbol for the most valuable symbol on the paytable, as landing five of its kind triggers a prize of 150x your bet. Seeing four golden eggs on a payline can be as exciting, thanks to the 50x your bet payout. Wins for two and three wilds pay 0.5x and 5x your bet and I say, find that golden goose!
It is expected that the high-paying animals of the farm can trigger winning outcomes less frequently than those of the royal cards and that is because the payouts are quite generous, especially for four and five of a kind.
From lowest to highest, the chick, bunny, lamb and rooster can pay between 0.75x and 1.25x for three matching symbols, 3.75x and 12.5x for four and 12.5x and 37.5x your bet for five of a kind.
Conclusion
Easter Eggs is one of those earlier Play'n GO slots that come with a lesser than awesome graphic design and a beautiful paytable structure. The multiplier wild is the best thing that can happen to your winning outcomes in the base game, except for triggering either one of the bonus features. The guessing game is alright, I think, but the free spins bonus can work itself up into a winning bonanza if the golden wild egg manages to roll itself on the paylines on most winning spins.
Overall, this is the kind of Easter holiday I'd be happy to celebrate every year, so let's hope those Faberge eggs keep on rolling!