Poltava gives players a glimpse at history, where the existence of flintlock guns and cannons is starting to replace swords and catapults. The game features Free Spins, Sticky Re-Spins and Sticky Wilds.
Set in the Napoleonic Era, Poltava is an Elk Studios slot that was released in 2016. The game boasts a collection of original, highly detailed symbols combined with standard card letters written in a fitting font. The playing field has 5 reels and 4 rows, holding a total of 40 paylines. The symbols are lightly animated, mostly only when they are part of a win but the Wilds offer a short animation when they appear on the screen.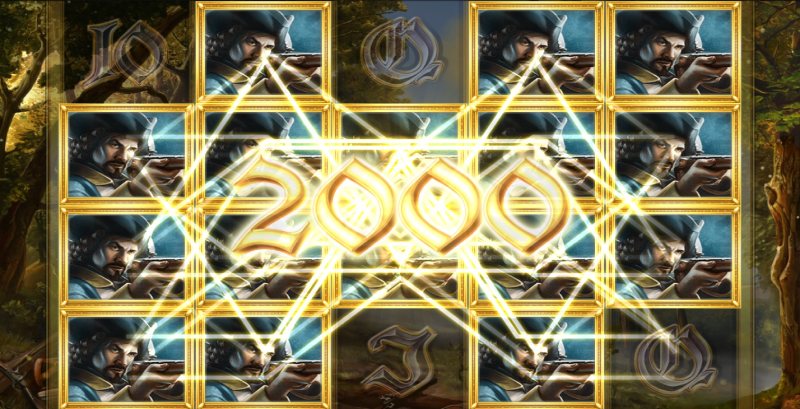 The background shows us a European forest with the remains of battle still visible. Combined with the different symbols it creates the idea that this is about a battle, but Poltava as a name didn't mean anything to me until I looked it up. Poltava was the site of a big battle in 1709 between Russian Peter the Great and the Swedish General Carl Gustav Rehnskiöld. The game shows the different elements of the battle, from soldiers to cannons and cavalry.
When it comes to the music, the slot draws its inspiration from the setting with a dour but impressive theme song. In the background, we can hear musket fire as well. When one of the special features activate the music switches to a metal song, probably inspired by bands like Sabaton. When you hit a win you just hear a simple jingle, which felt somewhat out of place.
Symbols
I thought the symbols all looked very nice, especially the high-paying ones. These are also unique to the slot and fit the setting. I liked how the different high-paying symbols also represent a special feature which I will go into later. The low-paying symbols in contrast are just simple card letters in a classic font. Even though it fits the time period, it does not fit the battlefield setting.
Wilds: Wilds substitute all other symbols except the Re-Spin Symbol.
Lion (Re-Spin): Get 3 Lion Symbols to activate the Re-Spin feature.
Cavalry: Max. 20x your bet with five-of-a-kind on a win line.
Artillery: Max. 15x your bet with five-of-a-kind on a win line.
Infantry: Max. 12.5x your bet with five-of-a-kind on a win line.
Ace: Max. 10x your bet with five-of-a-kind on a win line.
King: Max. 10x your bet with five-of-a-kind on a win line.
Queen: Max. 7.5x your bet with five-of-a-kind on a win line.
Jack: Max. 7.5x your bet with five-of-a-kind on a win line.
10: Max. 7.5x your bet with five-of-a-kind on a win line.
Poltava has a High Volatility just as a lot of other Elk Studios games. There are only a few symbols but they don't hit a payline very often by themselves. To combat this, there are different features that either fill the screen with the same symbol or it activates the Re-Spins feature. That meant that wins were rather rare but when they occurred, they were often pretty big.
Features
Poltava isn't a very complicated slot when it comes to features but at the same time, there are quite a few of them.
Wilds: Wilds substitute all other symbols in the game except the Lion Symbol.
Marching Reels: When Artillery, Infantry or Cavalry symbols fill a reel the same symbol will appear on the other reels to the left of it on rows 2 and 3.
Sticky Re-Spins: During the Marching Reels, if the same symbol shows up again to the right of the original Stacked Symbols it grants an extra re-spin. This can continue for as long as the same symbol is added.
Flames of War: With 3 Lion symbols on the screen the Flames of War feature starts with 3 Free Spins.
Sticky Wilds: During the Flames of War feature the Lions become Sticky Wilds. Extra Lions can be added to the screen as Sticky Wilds as well.
The Wilds showed up relatively often during the slot but weren't much good on their own. Wins were created sometimes but they weren't big enough to really make back the funds spent on spinning. Getting enough Wilds on the screen to trigger the Flames of War feature wasn't as common but still happened frequently enough to feel like a part of the game.
When the Flames of War triggered, I received 3 Free Spins. During these Free Spins, the 3 Lions are Sticky. If any more Lion symbols show up during the Free Spins they also become Sticky and will grant another Free Spins. This continues for as long as new Lion symbols appear. In my experience, it's fairly certain you'll get at least 1 or 2 of them to be added.
The Flames of War feature was also a place where I would get big coin wins because the screen would rapidly fill with Wilds. Although it's not guaranteed, I found my funds to steadily trend upwards during my time playing.
The other big feature is the Marching Reels. This starts whenever 1 of the 3 high-paying symbols fill a reel. When this happens the same symbol appears on rows 2 and 3 of the playing field to the left of the reel. Then, the game triggers a re-spin which can add additional symbols to the right of the reel. If it does that, it will make those symbols sticky too and trigger another re-spin.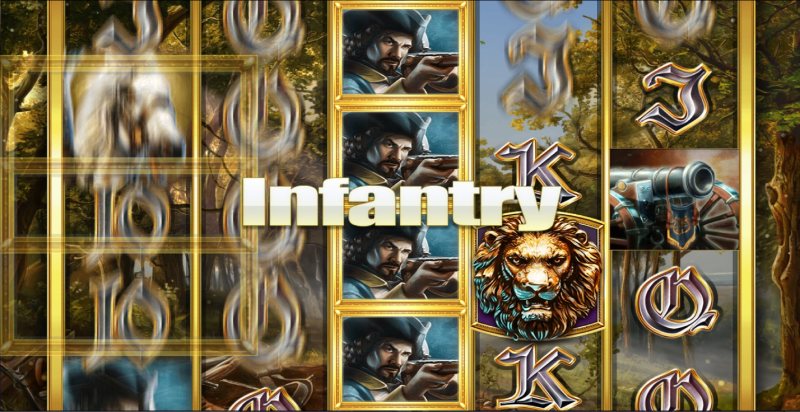 I found this feature to be the most volatile. When it worked out properly and triggered a few re-spins, the game would create bigger wins every time. If there was no extra symbol added it would often end quickly and with barely any coins.
Conclusion
Poltava is an interesting game with a unique premise that I had to do some real-life research to put it in the right context. I think the game misses an opportunity by making sure everybody understands what it's about when they start playing it. Still, the game still has a solid theme even if someone doesn't know the full story.
The features were interesting and quite original, often playing a big part in creating bigger wins. They were also quite fickle, sometimes barely adding anything while other times being a massive source of coins. With the opportunity to pick a bet between $0.20 and $100, players can see how the slot is treating them before committing.
If a player has a good day, they might hit the max. win of 1,800x your bet which is quite a large win without being too excessive. I never felt like I was close to getting it but I did notice my funds increasing over time. Of course, this can be different for you.