The Legacy of Egypt slot is based on ancient Egypt with its abundance of wealth and beautiful art. The game gives this concept its unique take. Let's see if this slot deserves to be added to the pantheon of Egyptian-themed slots.
Legacy of Egypt strives to give players a classic gaming experience across a 5-reel, 30-payline framework while adding its unique features to the game. You'll find yourself transported back to a time when Ancient Egypt was at its height, with everything full of splendor. It is an excellent setting to play in as far as I'm concerned!
Graphics
The Legacy of Egypt slot looks gorgeous, as I have come to expect from software provider Play 'N Go. Even though the Egyptian motif is quite a popular one, the artists that worked on this slot visibly put a lot of attention to detail into the look of the game.
Don't worry about originality as the game makes sure to use familiar Egyptian scenes. You'll find the usual staples here: a Pharaoh, the Eye of Ra, statues of Anubis and Sobek, and more. All of them are gorgeous and distinct enough to keep me interested while playing.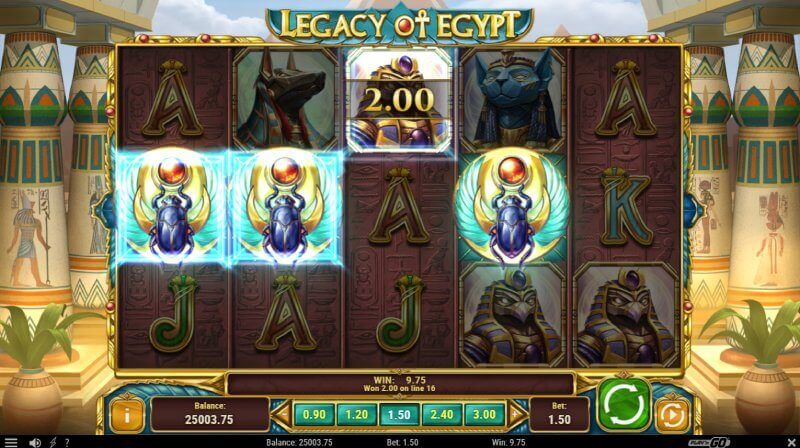 The game also has plenty of little animations, from fern leaves in the background moving gently with the breeze to the Pharaoh blinking and the different statues emoting. My eye was constantly drawn to somewhere on the screen, which really helped to bring the game to life. I was playing the game with a constant smile on my face at how the slot looked.
Sound & Music
The music you hear while playing is very slow and minimal. It doesn't sound very Egyptian, and I'm not sure why they chose this type of music. Once you start spinning more and more, the music picks up, though, and it starts to fit the feel of the slot a lot more.
Getting any kind of wins plays a short jingle that fits well with the theme but not so much with the music. If you manage to unlock some free spins, the music stays a little more upbeat. But this stops again once you go back to the base game. It encouraged me to keep playing if only to keep the music going!
Legacy of Egypt Highlights
Multiplier: In Legacy of Egypt, the winnings can be multiplied by different multiplier mechanisms.
Freespins: You can get in-game free spins in Legacy of Egypt.
Wilds: Wilds substitute any standard symbol and help create more winning combinations.
Scatter symbols: Collect scatter symbols to get free spins and/or cash prizes.
Volatility: This high volatility slot has big, less frequent wins.
Symbols and Features
Legacy of Egypt uses the normal division of classic symbols and specific ones to fill the playing field. As usual, let's go from highest to lowest:
Wild
Scatter
Cleopatra
Pharaoh
Sekhmet
Sobek
Anubis, Ra
Ace, King, Queen, Jack
There is one main feature in the game. You can land the free spins bonus round by getting three Scatters on-screen at the same time. This will activate the free spins mode, where you gain a random multiplier for every spin. The number of free spins you get can vary from 1 to 20!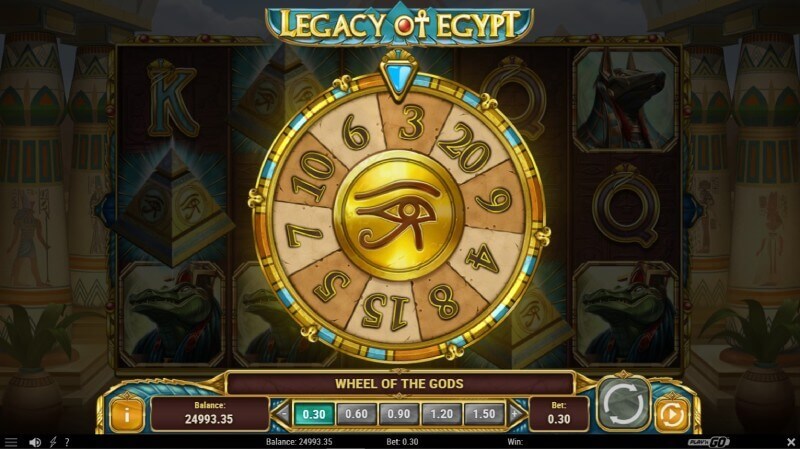 As you play along, Scatters will act as Wilds, increasing the chance of bigger wins. Once the free spins are expended, the total amount won will be added to your funds.
Conclusion
While Legacy of Egypt stays in familiar waters, it does what it does really well. The graphics, especially, are fantastic, with a lot of crisp detail. I like how there are also a bunch of small animations that liven things up.
The sounds are good but not great. The style of music really falls out of tune with the rest of the game, but as it picks up, it translates the energy of the slot a lot better. I should commend the creators for not going for the easy choice with a generic Egyptian tune but trying to liven things up a bit.
There are very few extras in the game. The free spins are exactly what you'd expect, and the only really unique aspect is the multiplier. If you are the type of player who likes a beautiful slot that doesn't go too far with unnecessary frills, then this slot should definitely be on your list.
Legacy of Egypt is the type of slot I consider as a modern take on the classic slot idea. It applies the traditional aspects of a slot without making it more complicated. Instead, it is updated for modern times. It is an excellent compromise for people who like to play beautiful slots with the classic gameplay most of us expect.
Pros:
The game's main attraction is its free spins round, which includes random multipliers, increasing potential winnings significantly.
During the Free Spins round, landing two or more Pyramid symbols triggers Pyramid Spins, which carry the multiplier from the triggering spin and can lead to substantial rewards.
The Ancient Egyptian theme of the game, combined with high-quality graphics and sound effects, provides a unique and immersive gaming experience.
With a wide range of betting options, the game is suitable for both low-stakes players and high-rollers.
Cons:
Legacy of Egypt is a high volatility game, which means there can be longer periods without significant winnings. This might not suit players who prefer regular smaller wins.
Apart from the Free Spins and Pyramid Spins, the game does not offer additional bonus features, which might disappoint some players.
With multiple special symbols and features, Legacy of Egypt can be a bit complex for beginners to understand.
While not the lowest, the Return to Player (RTP) rate of Legacy of Egypt is relatively average compared to other slots, meaning the expected long-term returns are not as high.