The King is an Endorphina slot that takes a look at medieval Europe for its source of inspiration, seeking to give us a taste of what it might have been like back in the day. The game offers a number of features including multipliers, multiplier wilds and free spins!
Originally released back in 2014, The King is a simple title for a rather intricate slot with a nice collection of features and some amazing graphics. Everything in the game is made to either fit the setting or at least invoke the sense. The low-paying symbols are regular card letters but designed to look like artistic letters.
The background behind the 5-reel, 3-row playing field shows us a wide-open view of a medieval town with a lot of details. The high-paying symbols on the slot itself are original drawings of different characters as well as various medieval items. All in all, I thought the game looks amazing and the graphics continue to look good even on a large monitor.
There are also plenty of animations on the screen when there is a win along 1 of the 10 paylines. These go a little beyond just a wiggle and a zoom, actually making sense in relation to the symbol. The card letters are not as interesting to look at, unfortunately.
When it comes to the music, most of the sound effects will be familiar to people that played Endorphina slots before. These are often simple electronic beeps or jingles that have little to do with the theme. As for the music, all we can really hear is a solemn type of orchestra way in the distance that only comes to the forefront when the free spins mode is activated.
Symbols
The King has a High Volatility which shows itself in several ways. The first is that there is quite a large number of different symbols. These include:
Crest (Scatter): Get 3 or more Scatter Symbols to activate the free spins mode. Max. 500x your bet with five-of-a-kind on the screen.
Crown (Wild): Substitute all regular symbols in the game. Max. 900x your bet with five-of-a-kind on a win line.
Knight: Max. 75x your bet with five-of-a-kind on a win line.
Archer: Max. 75x your bet with five-of-a-kind on a win line.
Treasure: Max. 40x your bet with five-of-a-kind on a win line.
Helmet: Max. 25x your bet with five-of-a-kind on a win line.
Shield: Max. 25x your bet with five-of-a-kind on a win line.
Ace: Max. 12.5x your bet with five-of-a-kind on a win line.
King: Max. 12.5x your bet with five-of-a-kind on a win line.
Queen: Max. 10x your bet with five-of-a-kind on a win line.
Jack: Max. 10x your bet with five-of-a-kind on a win line.
10: Max. 10x your bet with five-of-a-kind on a win line.
9: Max. 10x your bet with five-of-a-kind on a win line.
Some of the symbols only require two symbols on a bet line to trigger a win, which is a nice addition but this only awards a minimal amount of coins. The game allows players to pick a bet between $0.01 and $100 per spin. Considering the max. win of 9,000x your bet this can be quite a large number.
Features
Endorphina has built a reputation with me for only including a small number of simple features into their slots, that impact the game in small ways. The King is roughly the same in that it only has a limited number of features but they do have a bigger influence on how the game is played.
The features include:
Multiplier Wilds: Wilds in the game add a 2x multiplier to any win they're a part of.
Scatter: Scatters can count towards a win regardless of their position on the screen.
Free Spins: Get 3 or more Scatter symbols on the screen to activate the Free Spins mode with 15 spins. All wins during this mode have a 3x multiplier applied to them. You can also win additional spins.
The most frequent feature to appear was of course the Wild feature. These would often facilitate wins and then also grant a 2x multiplier. Getting one of these was always a nice additional win.
The Scatter symbols didn't appear as often but when they did, only 2 were needed to trigger a win. Getting a third was less common but this was enough to start the free spins mode. When the free spins mode starts we are transported to a room inside the castle that holds vast mountains of gold coins.
During the free spins mode, players start with 15 free spins and all wins have a 3x multiplier applied to them. This usually resulted in some substantial wins but it was not guaranteed and I had times where the free spins mode was simply disappointing. Considering the high volatility, players can't afford to have a free spins mode without a big payoff as the regular gameplay doesn't compensate for the coins spent on spinning.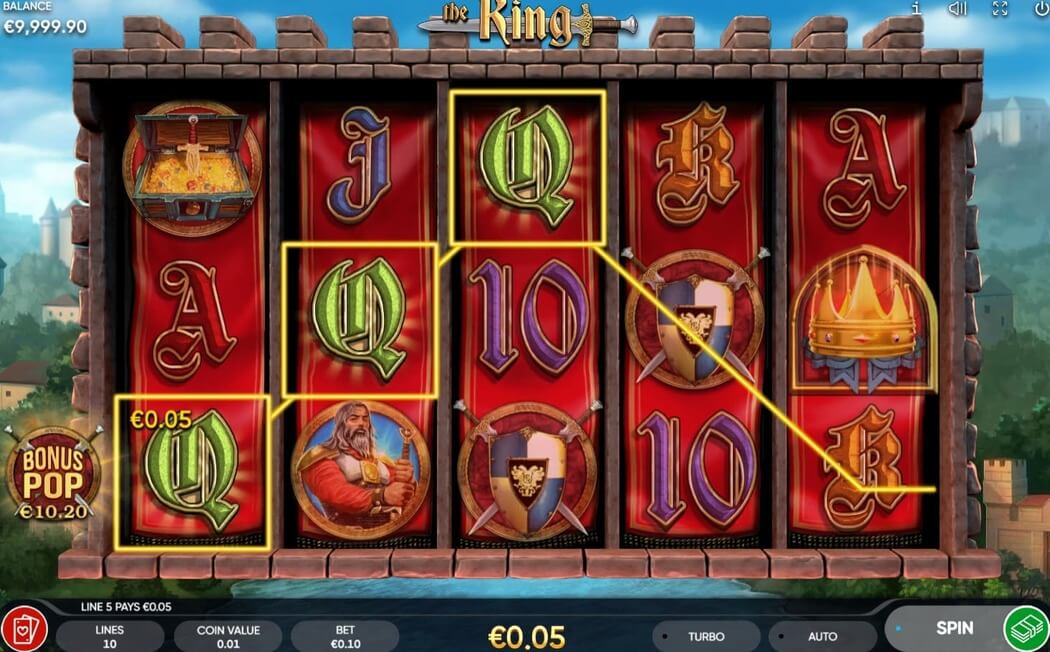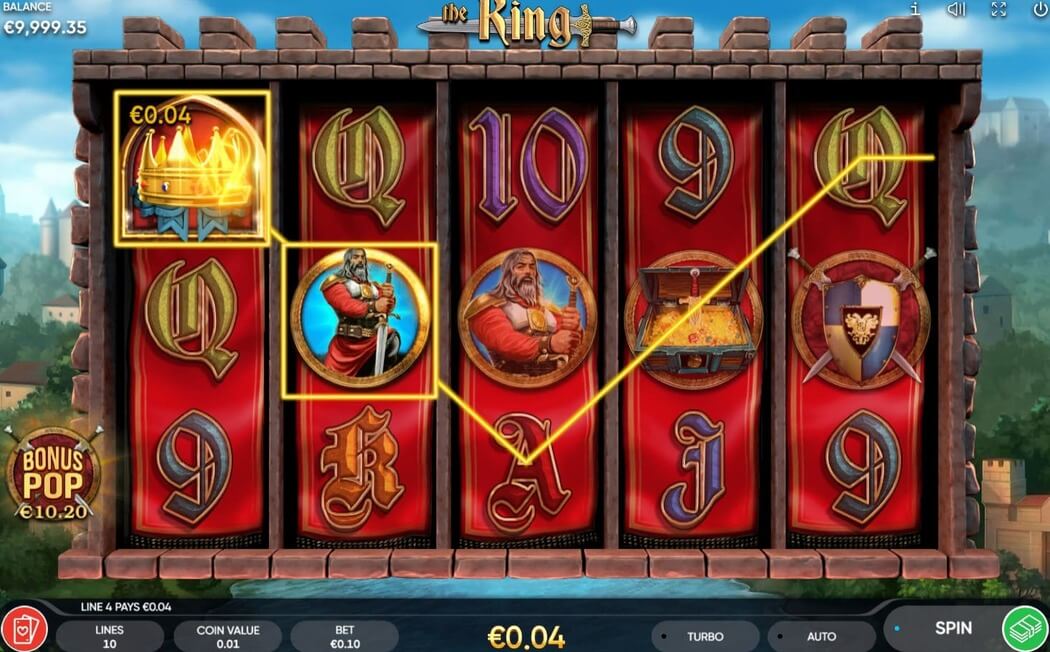 Overall, I found the features to be interesting and engaging, with a lot of thought put into their design. Especially the new background for the free spins mode helped create the idea that we were in the process of getting some big wins, even if that didn't always happen.
Conclusion
The King is a slot that fits the developer's library but has a lot more visual fidelity and that creates a more memorable experience. The features that are included aren't original but offer enough of a change to the core gameplay that they managed to keep me interested.
If you are looking for a slot with its basic gameplay only modified and not completely changed, The King will probably fit the bill. There is plenty to see and the features appear often enough to feel like a part of the slot and not something that is tacked on.
Players looking for something more experimental or a lot more classic won't find that here. The game doesn't offer any unique features but is also too different from fruit machines to appeal to those kinds of players. I do think the vast majority of players will get some enjoyment out of The King, even if it lacks in staying power.