ZZ Top Roadside Riches gives us a glance at the life of the famous rock band that created some of the most famous and familiar rock songs in previous decades. The slot not only delivers us the main band but players can also enjoy free spins and walking wilds.
This slot was released in 2021 by studio Play 'n GO, unfortunately, a few months after singer Dusty Hill died. Nonetheless, the game does a great job at remembering him and his fellow band members who continue to tour. The gameplay revolves around a 5-reel, 4-row playing field with 1,024 paylines.
Players are presented with the experience as if they are on the road with the band. The game shows a dusty motel in the corner and the wide-open plains of midwest America in the background. There is some traffic driving by while neon signs flicker occasionally. The reels themselves are filled with a combination of standard low-paying symbols and symbols based on the band.
Obviously, I have to discuss the music in the game as well. Fans will be glad to know that it is featured extensively, with some of their biggest hits playing in the background. The music also keeps playing and isn't constantly interrupted when you stop spinning for a second. Wins don't mess with the songs too much either, letting you get a nice groove going.
Symbols
ZZ Top Roadside Riches also makes use of the iconic look of the band members, with all 3 of them serving as high-paying symbols. They are slightly larger than the other symbols and will trigger bigger wins. The other symbols consist of various items that fit their brand. Meanwhile, the low-paying symbols are card suits that do fit the theme somewhat.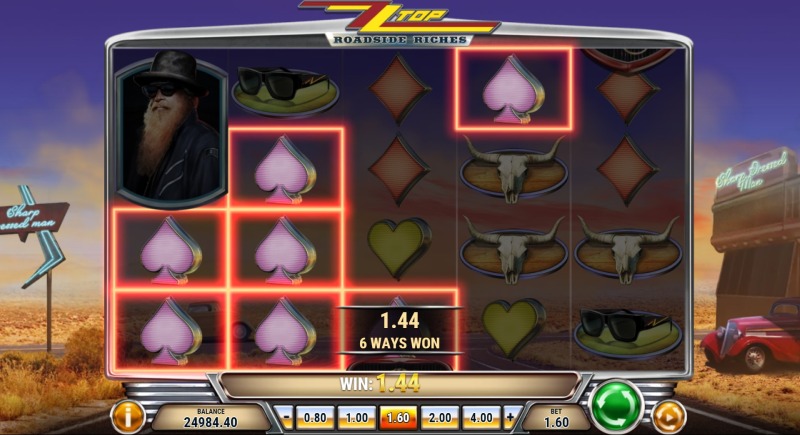 Players that sit down to play this game will not notice the High Volatility very quickly since I felt the game was quite happy to grant you a win. The big issue is getting wins that make back your bet. The listed RTP is 96.2% which is about average for this type of game. This translates into getting regular smaller wins but having to play for quite a while to get a big win to make back your losses.
If you play the game for long enough you might hit the jackpot, a maximum win of 40,000x your bet. This is obviously a huge sum and a lot bigger than other slots. Players can risk more or fewer coins depending on their preference, being able to pick between $0.20 and $100 per spin. The higher the bet, the bigger the jackpot but it will also drain your funds faster.
The symbols in the game include:
ZZ Top: Get 3 Bonus symbols on the screen to activate the free spins mode.
Wild: Wilds substitute the regular symbols in the game.
Dusty Hill: Max. 5x your bet with five-of-a-kind on a winning bet line.
Frank Beard: Max. 5x your bet with five-of-a-kind on a winning bet line.
Billy Gibbons: Max. 5x your bet with five-of-a-kind on a winning bet line.
Sunglasses: Max. 1x your bet with five-of-a-kind on a winning bet line.
Skull: Max. 1x your bet with five-of-a-kind on a winning bet line.
Heart: Max. 0.25x your bet with five-of-a-kind on a winning bet line.
Diamond: Max. 0.25x your bet with five-of-a-kind on a winning bet line.
Spade: Max. 0.25x your bet with five-of-a-kind on a winning bet line.
Club: Max. 0.25x your bet with five-of-a-kind on a winning bet line.
Features
ZZ Top Roadside Riches also includes a selection of features that spice up the gameplay. While players will be able to easily get started, there are some elements that influence how it plays.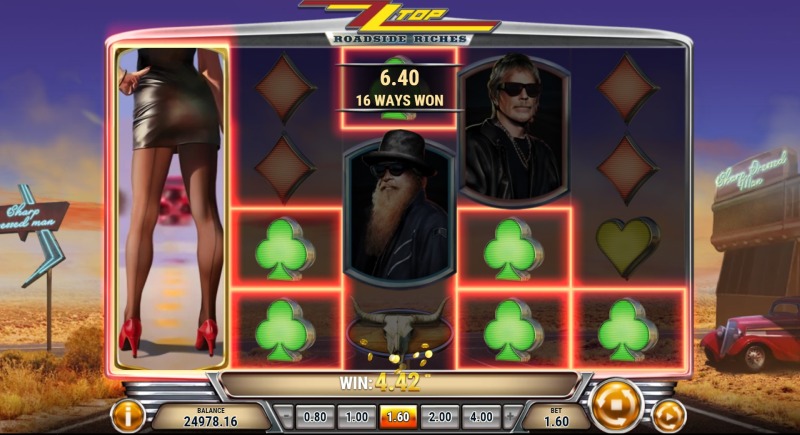 First a look at the features themselves:
Consecutive Reels: Wins are awarded when a symbol appears on consecutive reels from left to right.
Free Spins: With 3 Scatter symbols on the screen the free spins mode is activated. Before it starts, players can pick between walking wilds or multiplier wilds.
Walking Wilds: If during the free spins mode a Wild would be part of a win, it will expand to fill the reel.
Multiplier Wilds: Wilds have a multiplier attached to them during the free spins mode. If they're a part of a win, the multiplier is applied to the win.
The game mostly plays out in the base game as I found the free spins mode a bit hard to activate. It's not as hard as in some other slots, but you won't see it pop up a lot either. You'll likely be fine playing in the base game when it comes to wins, although the trick is getting wins that are big enough to compensate for your spins. As you can see in the list above, even the highest paying symbols don't pay out a lot in a five-of-a-kind win.
It's clear that the slot expects players to enter the free spins mode to make their spendings back. The multipliers and walking wilds are meant for the wins to get bigger. If you don't manage to activate the free spins mode you're likely to see your funds drain.
Although I felt the features were a pretty interesting part of the game, the fact that they are largely saved for the free spins mode made the base game rather bland. There are some animations to keep things lively though. The music that is playing in the background also helps, especially if you're a fan of ZZ Top.
Conclusion
ZZ Top Roadside Riches is a great game if you're a fan of this band. The developer clearly put a lot of attention to detail into the design. The fact that they can use the music of the band is an essential part of the experience. If you like the band or just rock music in general, this game is definitely recommended.
When it comes to the gameplay, I'm partially enthusiastic. Although the base game is rather bland, it allows you to play the free spins mode often enough to make it feel like it's part of the game. It all depends on how often you manage to trigger it. If you get it to show up frequently you're likely to walk away with a tidy sum. If not, it will hurt your funds.
Do give this game a try if you're a high roller as well. The truly massive jackpot is a lot bigger than in other slots and there doesn't seem to be any extra difficulty in taking a shot at it. In fact, I've played slots with tiny jackpots that won't grant you the same access to the free spins mode as this one does.