The infamous Johnny Rotten was a Punk Rocker long before he made his first butter commercial.
I wonder if he's ever discovered the Punk Rocker slot game by Nolimit City. I find the game to be as cool as ice and as hot and fast-moving as lava. He'd definitely like that.
This is definitely one of Nolimit City's best creations. It combines the win-ways payout system with a symbol-expanding capability which can result in big wins on up to 46,656 ways to win.
Punk Rocker is the game you want to go to if you are looking for respins, free spins, win multipliers and expanding symbols. My overall impression is that Nolimit City deployed its best reasoning when putting together this payout system.
I think it goes without saying that this is a high volatility game. It couldn't have been any other way because, with such features, the payout potential demands sums that can blow anyone's mind.
Lo and behold, Punk Rocker can shake out as much as 15,072x your bet.
Theme and Design
Design-wise, the game is an amalgam of politics and pop iconography. You'll find Albert Einstein sporting a mohawk, Winston Churchhill wearing a golden chain (mohawk included), a chimp giving his middle finger to the world, and so on.
The best word used to describe how the game plays and feels is 'edgy'. Of course, the visual effects are in-your-face energetic, especially during the bonus features and when the Molotov cocktail Wild comes into play to do its thing.
Sadly, a ravaging punk track is missing from the picture. I would have loved to have that as a part of the base game, but instead, the riffs blaze through when you get locked reels, stacked symbols and either one of the bonus games.
Punk Rocker Highlights
Buy bonus game: You can instantly enter the bonus round by paying a lump sum.
Freespins: You can get in-game free spins in Punk Rocker.
Re-spins: Re-spins make the reels spin again without having to place an additional bet.
Expanding reels: Expanding reel feature copies the symbols to neighbouring reels or adds new places for symbols.
Walking wilds: Walking wilds or wandering wilds move on the reels after each spin until they expire.
Several features compete to give the reel set a good shakedown for its money. I can't say which of the following is my favourite just because they can become fused together into one seamless barrage of features.
The win-ways model enables you to gain from winning outcomes that post across the five reels, from left to right and regardless of row position.
This system facilitates the use of the Molotov Wilds which can lock on the screen in the following manner.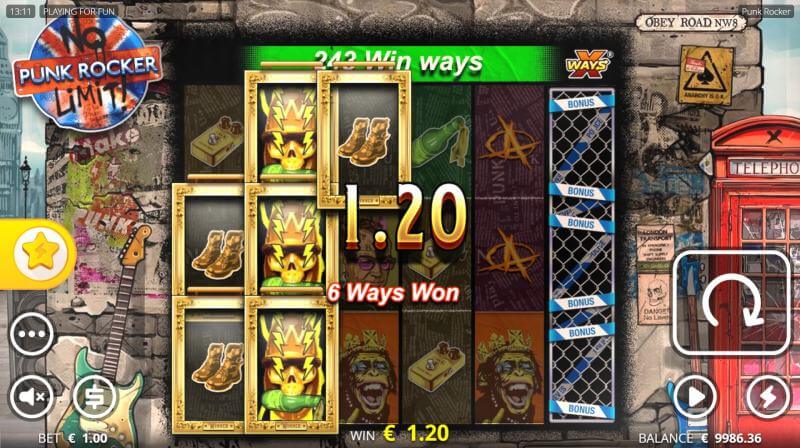 When you get two scatters anywhere on the reels, they lock in place and become Wild. To add a kicker to the gig, Punk Rocker locks the number of win-ways to 729 with the help of an additional reel.
If you get additional Molotov Wilds, they too will remain locked for extra respins.
This is one of Nolimit City's signature mechanisms. Mystery symbols can expand into two, three or four facets of the same symbol. This, of course, improves on the winning outcome, if there is one.
The converted Mystery symbols can stack six rows high and post on any of the five reels, or in the case of Riot Respins, six reels.
There are two extra features to the current extra feature, which is why I love playing this game so much.
In free spins mode, the xWays mystery symbol is guaranteed to expand into a four-stack and sometimes, if the said symbol is one of the punk iconographies, it can shoot up to 20 stacks high.
Social anarchy sounds like fun in the context of the real world, but I have sound reservations about that. In the case of Punk Rocker, I say bring it on.
The 'looting' can begin with three scatter symbols, awarding 8 free spins. As a bonus, you get a sixth added to the reel set for guaranteed 729 win-ways.
Furthermore, each reel can add an enhancer to the potential winning outcome. You can get Wild win multipliers, expanded symbols, extra spins and extra jumping wilds.
To get one of the enhancers on the respective reel, a Jumping Wild needs to post on that reel and open up the doors of the subway train.
The difference between Anarchy and Civil War free spins is in the number of Jumping Wilds on the reel set. Since the bonus is triggered by four scatters, that many symbols will act as supercharged Wilds.
All other rules and enhancers apply, including the Wild Multipliers that are added when the Jumping Wild corresponds with the value above the reel.
Bets and Payouts
The game lets you choose from a wide range of bet amounts. I think that the minimum of 20p per spin is a fair starting point. There is always the option to up the ante if you deem it suitable.
Payouts-wise, Punk Rocker starts off with amounts that are low and this is true for the better part of the paytable.
That's the 'problem' with games that are heavy on the extra features – they compensate for the payout potential by offering a notably lower paytable structure.
Getting four high-paying symbols across the reel set, without the help of any enhancers, may bring you between 0.4x and 3x. The latter value is an abrupt jump from 0.6x your bet for four of the collaged Mona Lisa symbols.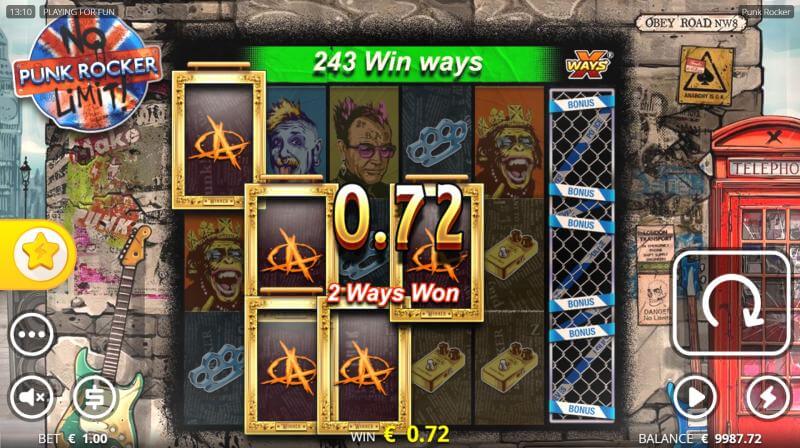 A good view of the paytable structure makes it evident that you can't win big in the game without getting a confluence of extra features.
Payouts are as follows:
Doc Marten's boots: 0.20x 0.32x, 0.8x, 2.4x
Brass knuckle: 0.2x, 0.32x, 0.8x, 2.4x
Molotov cocktail: 0.2x, 0.32x, 0.8x, 2.4x
Guitar pedal: 0.2x, 0.36x, 1x, 3x
Anarchy symbol: 0.2x, 0.36x, 1x, 3x
Sean Connery?: 0.24x, 0.4x, 1.2x, 4x
Einstein: 0.28x, 0.48x, 1.6x, 4.8x
Chimp: 0.32x, 0.52x, 2x, 6x
Mona Lisa: 0.4x, 0.6x, 3x, 10x
Churchill: 1x, 3x, 6x, 20x
Conclusion
If you are looking for an edgy game to play, Punk Rocker is my most heartily recommended choice. Do mind, however, that the game's volatility is as edgy as London's subway in peak hours.
This is a game that you play hoping to win a free spins bonus. Either one of the two modes should offset some of the losses.
Being aware that there have been many notable wins out there, the game has demonstrated its potential. So it's a matter of playing at the right time and hitting the right chords on the random number generator.