Sparky and Shortz is set in the far future where a duo of robots are hanging out together. If one of them breaks down, the other one has to fix them. As the player, you get to help. The game features multipliers, free spins and wilds.
Another release by Play 'n GO in 2021, the studio is hard at work delivering some visually stunning games. In the same period of time that Charlie Chance and the Curse of Cleopatra was released, we see that their innovation hasn't run out yet. The game is built around a 5-reel, 3-row playing field with a total of 10 paylines.
It's immediately clear that the game is set in the future. The main characters are robots and there are a lot of futuristic elements embedded in the game design. Everything looks slick and chrome, with a few aliens thrown in for good measure. There are also a number of interesting animations that help bring things to life. All in all, I thought this was another excellent example of the attention to detail that this studio has become known for.
Players will also be treated to a science-fiction soundtrack with a high tempo. As expected we can hear lasers and other futuristic sounds as the reels spin. The robots also have their own voice lines, speaking occasionally to comment on things happening on the screen. It felt a bit much at times and the volume can be pretty loud, but it does add to the atmosphere.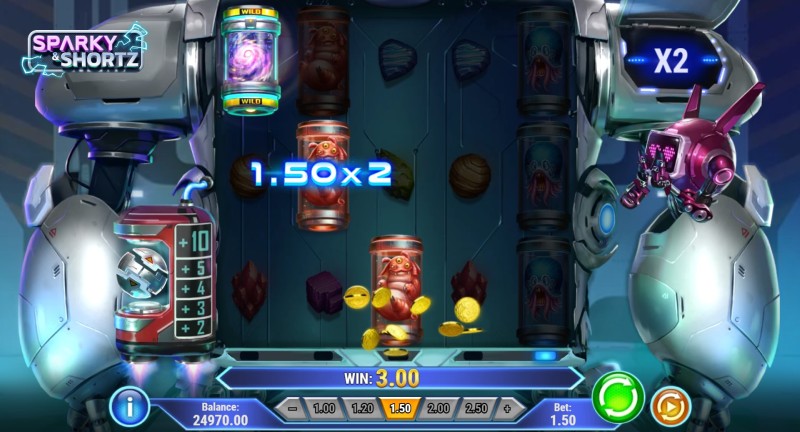 Symbols
Sparky and Shortz brings a number of original symbols to the screen in order to stick to the setting. There are no card suits or card letters here, everything is original. That's not to say there aren't simpler low-paying symbols but even these have a unique appearance. Meanwhile, the better-paying symbols are different types of aliens.
The game is built around its High Volatility. Players should expect a lot of spins with no wins or very small wins, offset by the occasional bigger win. These are rarely enough to compensate for the losses up to that point though. I found my funds to drop quite quickly as I played, even with a small bet. The game has an RTP of 96.28%, which is a bit above average.
When playing the game, players can obviously pick the size bet they want to play with. The options range from $0.20 to $100 per spin. There is also a sizeable jackpot to look forward to. This slot offers players the opportunity of trying to win the max. win of 10,000x your bet. Obviously, this would be a heft sum but don't count on hitting a win that big.
The game offers a number of unique symbols, including:
Wild: Wilds substitute all other symbols in the game except the Scatter symbol. Max. 20x your bet with five-of-a-kind on a win line.
Scatter: Get 3 Scatters on the screen to activate the free spins mode.
Red Alien: Max. 10x your bet with five-of-a-kind on a win line.
Blue Alien: Max. 8x your bet with five-of-a-kind on a win line.
Green Alien: Max. 6x your bet with five-of-a-kind on a win line.
Brown Mineral: Max. 1.2x your bet with five-of-a-kind on a win line.
Purple Mineral: Max. 1.2x your bet with five-of-a-kind on a win line.
Red Mineral: Max. 1.2x your bet with five-of-a-kind on a win line.
Blue Mineral: Max. 1x your bet with five-of-a-kind on a win line.
Green Mineral: Max. 1x your bet with five-of-a-kind on a win line.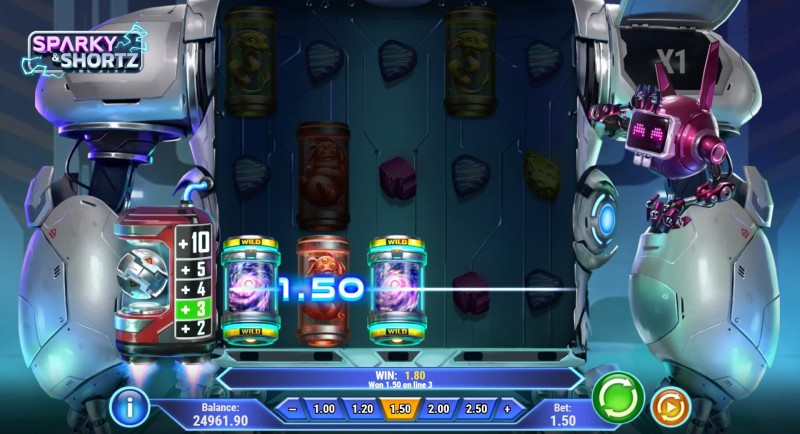 Features
Sparky and Shortz can't avoid having a decent collection of features to spice up the gameplay. For this, the game includes some old familiars as well as some more innovative ones.
The features you'll find here are:
Wilds: Wilds substitute all regular symbols in the game.
Multipliers: Whenever a stacked symbol appears, a random multiplier is applied to any win during that spin.
Free Spins: Get 3 Scatters on the screen to activate the free spins mode. During this mode, 3 scatters will add an additional 4 free spins up to a maximum of 100. The multiplier tracker will also not reset in between spins.
Stacked Symbols: When a symbol appears stacked, it will merge into one symbol. The stacked symbol will also apply a random multiplier to any wins that spin. Multipliers can stack.
While playing, I found that the features were pretty frequent and would change the gameplay in small ways. Probably the most common one was obviously the Wilds since those would simply appear on the screen now and then. The Wilds in this game have their own value so unlike in other games they allow big wins if they appear on a win line together. That didn't happen very often in my experience though.
The Stacked Symbols might seem something that would be quite rare but in this slot, it happens a lot. Whenever a reel is filled with the same symbols they are merged into a new, unique image. They don't work any differently though. Each stacked symbol adds a random multiplier between 2x and 10x to a counter. If there are multiple stacked symbols, each gets a random multiplier that is added to the counter. Any wins on that spin will have that multiplier applied to them.
In the free spins mode, it works largely the same except the multiplier doesn't reset between spins. This means the counter can go up very high. It's also required if the player wants to have any shot at a big win. The payouts are low and the frequency of wins is possibly even lower. As a result, I felt that there was a lot of pressure on the free spins mode.
Conclusion
Sparky and Shortz brings a possible future with robots to life in an endearing and attractive way. The robots have their own look and feel, with the small robot having the most personality since he's on-screen all the time. The overall design of the symbols and the reels also work well to make the setting feel real.
There aren't that many features that mess with the standard gameplay and I found the features that are included to be rather easy to understand. Only absolute purists will likely not enjoy these. I didn't find them to take away from the enjoyment at all, but at the same time, their effectiveness was maybe also a bit on the small side.
If you're someone looking for a slot with high volatility this is definitely the game for you. If you would rather play something that leaves you with some funds to continue playing, perhaps you should consider another slot. The volatility is quite brutal and wins are entirely dependant on a high multiplier to make back any of the spins.