Arthur reigns over England and there is no shortage of gold. Everything and everyone just turns into gold like magic.
Yggdrasil developed and released Arthur's Fortune in the spring of 2020. This thematic and well-designed slot is pure Yggdrasil quality. It's hard to find bad things to say about it and it seems that Yggdrasil might just be the king of consistent quality.
Arthur's Fortune revolves around golden wilds. Every symbol in this game can be turned into a wild, even all at the same time. That might not be easy, but it is possible.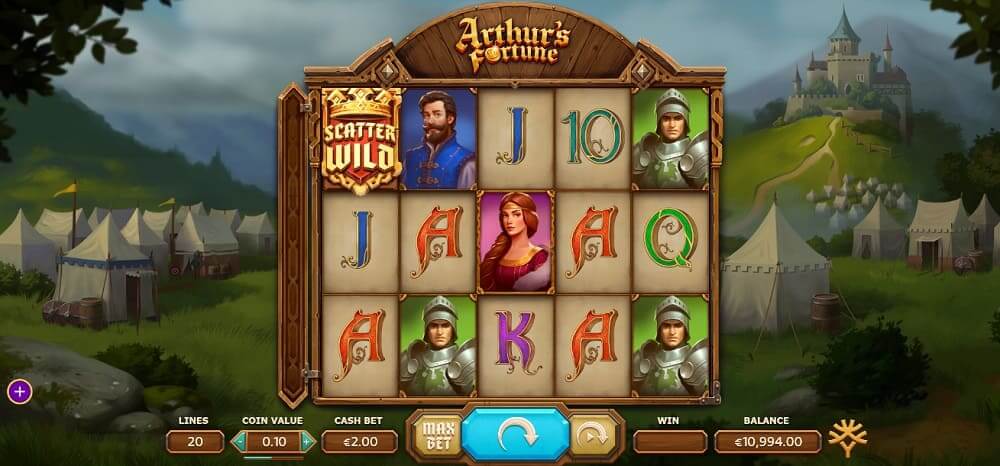 There are enough features to keep the game interesting and you win often enough to keep it fun. The medium volatility makes sure that the features get activated and you have more chances to hit it big. Sure, the wins aren't going to be gigantic, but at least they are frequent.
It is time to jump back in time to Arthurian England and get to know the secrets of Arthur's Fortune.
Graphics and sound
Arthur's castle stands tall on the hill. The training camp at its feet makes sure that the knights of the round table will always have soldiers by their side. You spend your time in the camp as well, but instead of combat, you train your skills in slots.
Arthur's Fortune is a medieval-themed slot with beautiful visuals. Everything is made to fit the theme, including the reels themselves, which are made of wood. They even make a lovely creaking noise when they spin.
As for the music, we start off with some generic medieval-themed lute songs. The song begins quietly but as soon as you start to spin, the music wakes up with an adventurous vigour.
The theme plays a big part in Arthur's Fortune in a good way, even though the game might as well be about King Midas. Yggdrasil took the medieval theme and ran with it all the way. The game looks good, sounds good and plays well.
Symbols and wins
All of the important people in the court have joined you on the reels. King Arthur on top, followed by the Queen and so on. Every high-tier symbol also has a low-tier equivalent, which is coloured the same. There are a total of ten regular symbols and two special symbols.
The first special symbol is a crystal ball. This is one of Merlin's magical tools, which helps him see the future. If you see it on the reels, you will instantly get a random bonus from Merlin. The gift can be cash, free spins, extra spins or even a wild conversion. It all depends on where you get it.
The second special symbol is the Scatter Wild. It is both a regular wild and a scatter that can activate the Free Spin feature. Get at least three of them and the castle gates are opened for you. This is the best symbol in the game and a welcome sight.
Arthur's Fortune is a game full of wilds. Every regular symbol can be converted into a wild and you can get all ten done at the same time. There are three ways to convert a symbol: activate the random Arthur's Gold feature, get them from Merlin's Bonus or get at least three Wild Scatter symbols. It is easier to do during the free spins because there they won't reset between spins.
If a game has a large number of wilds, it is obvious that the regular wins reflect that. Most of the symbols hand out pretty weak wins, but it isn't that hard to get combinations that are four or even five symbols long. The game's medium volatility also means that you will get more wins, but they tend to be smaller.
That being said, the best wins in this game can be found in the Free Spin feature. The more symbols you can convert, the bigger wins you will get. The wilds actually have their own wins, so technically the conversion also increases their value. Two wilds have a better win than three low-tier symbols.
Features
Arthur's Gold: Convert the symbols to gold
Arthur's Gold is a random feature that can activate at the beginning of any spin during the base game. It changes a random number of symbols into golden wilds for a single spin. In rare cases, it can change every single symbol.
This way every symbol is a potential wild in Arthur's Fortune. There are a few ways of changing the symbols into golden wilds and some are limited to either the base game or free spins. Merlin's Bonus is one way and the Free Spin feature starts off with at least one converted symbol.
Free Spins: Enter the castle to earn your share
Scatter Wilds are your key to the castle. Get at least three of them and the gates are opened. Getting more of them gives you both extra spins and more golden wilds.
3 Scatter Wilds: 7 free spins and 1 converted wild
4 Scatter Wilds: 10 free spins and 2 converted wild
5 Scatter Wilds: 14 free spins and 3 converted wild
During the free spins, you can get more of both. Getting at least two Scatter Wilds will give you extra spins and convert a new symbol. Once again, the more symbols you get, the more conversions you get. The golden wilds will not reset between spins during free spins.
Merlin's Bonus: Merlin's magic gives you a gift from the future
Merlin is a trustworthy ally and a wise confidant. Merlin knows the future and can help you with gifts. If you get Merlin's crystal ball symbol on the reels, you got yourself a prize. The bonus feature is available all the time, but the gifts change depending on where you are.
During the base game, you can get a cash prize of up to 25x your bet, 7-14 free spins or 1-3 wild conversions. During the free spins, you can get a cash prize of up to 50x your bet or 1-14 extra spins.
Final Thoughts
Arthur's Fortune was exactly what I expected it to be, and that is a quality product from Yggdrasil. They sure know how to make a good, well-balanced slot.
I like the mechanic of turning your symbols into wilds. This isn't a new idea, but you don't usually have the possibility of converting every single symbol at the same time. Also, this feature has usually been limited to free spins, but here you can get it at any time.
The only thing that will bother some people is the volatility. Being a medium-volatility slot, it is hard to hit those massive wins. It's not that hard to activate the special features, but getting there isn't a guarantee of a giant win.
For me, this is a great game. I love the theme, the features and the balance.