Grab your map and gear, and join the Jackpot Raiders on a treasure hunt. Ancient treasures and legendary jackpots await you.
Yggdrasil released Jackpot Raiders in 2019. Players, myself included, quickly fell in love with it, as it was a great game with good features. As Sir Bear Buckingham himself would say it, this is a smashing slot.
Jackpot Raiders is built on the iSENSE 2.0+ platform. This game engine is a mobile-friendly framework, that is also flexible and reliable. Yggdrasil wanted to give the players a more user-friendly experience. Especially on mobile, the iSENSE games work like a charm.
Jackpot Raiders is actively trying to tell a story with its gameplay mechanics. You get to search for ancient maps, go on daring adventures, hunt for treasures, and find lost relics. You get to be the Indiana Jones of this slot.
Speaking of Indiana Jones, let's deal with the elephant in the room. This game borrows heavily from the adventures of Doctor Jones. Even the font used in the game's name bears a striking resemblance to the Indy logo. I didn't find this to be a bad thing. Sure, a more unique idea would have been nice, but leaning on a legendary adventurer quickly conveys a message. You know what you are in for.
Graphics and sound
Yggdrasil has been doing wonderful work when it comes to the external aspects of their games. Jackpot Raiders is a thematic game, with beautiful visuals and a great soundscape. The adventurous music could easily be heard in some Indiana Jones film or game.
The stylish painted graphics look amazing and suit the theme well. To me, everything during the normal gameplay looks to be consistent. The only thing that pops out a bit, is one of the bonus games. There you control one of the main characters as a 3D-model. This character model feels a bit out of place, as everything else is two-dimensional. Nothing major, but something that caught my eye.
I know this is grasping at straws, but there isn't much to complain here. Even at its worst, this game looks and sounds great.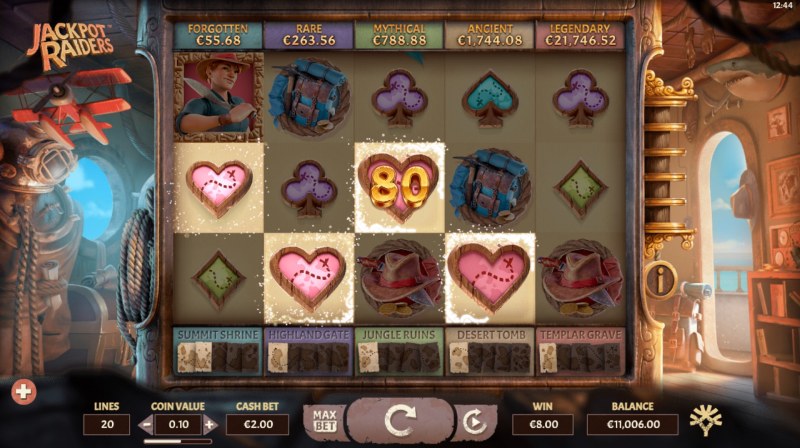 Symbols and wins
Jackpot Raiders is a five-reel slot with 20 paylines. It has an acceptable 96.3% RTP and a low volatility. These stats are to my liking, as I always like a good, low-risk jackpot game.
The game has a top-heavy prize structure, with the raiders themselves paying massively more than the adventure gear or the card suits. Surprisingly though, there are only eight standard symbols in the game plus a single scatter symbol.
Wins for getting the full five symbols:
Sam Campbell: 4,000 coins
Sir Bear Buckingham: 2,000 coins
Sam's gear: 1,000 coins
Sir Buckingham's gear: 750 coins
Heart: 200 coins
Diamond: 180 coins
Club: 150 coins
Spade: 130 coins
Even if some of the symbols are of low value, they come in handy in the free spins. There you will get a good multiplier to start with, which makes it much easier.
What makes this game especially great, is the large amount of features. Jackpot Raiders is packed to the brim with all kinds of special modes and features. There are multiple free spin modes and bonus games for you to enjoy. It took me a long time to even see all of them, and not because I wasn't getting them activated, but because there are so many of them.
Features
Map Collecting: Collect identical map pieces to find the jackpots
Jackpot Raiders are looking for four maps, which each have five pieces. Once you complete a map, you activate the Jackpot Free Spins, which in turn can lead you to the fabled treasure. Map pieces can be found on the reels, from the Pick a Chest game or the Treasure Hunt bonus game.
Pick a Chest Bonus: Get two scatters and open a treasure chest
Land two scatter symbols and you get to open up a treasure chest. You are given five options and you get to choose one chest to open. It can have either cash, a map piece or the compass.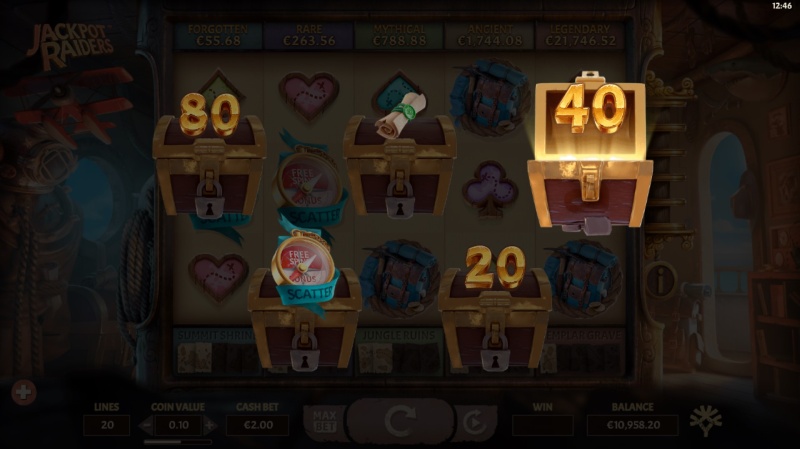 The compass: Find your way to new treasures
This compass doesn't just show you where north and south are, this one takes you on an adventure. The compass will either give 10 Jackpot Free Spins or start up the Treasure Hunt bonus game. The compass can be found from the Pick a Chest bonus game or by getting three or more scatter symbols.
Treasure Hunt bonus game: Daring adventure awaits for the Raider of your choice
If your compass needle points to Treasure Hunt, you get to start an adventure. First, you get to choose which Raider is going. Sir Bear Buckingham is a low risk, low reward type of an adventurer and Sam Campbell risks it all for higher prizes. After choosing who goes on the adventure, you have three tries to collect as many chests as you can. Which will you take, a safe route, a risky route or a very risky route? The more risks you take, the better treasures you will find. Riskier chests have more coins and a higher chance of getting map pieces or even relics. There is, of course, a drawback. You just might fall and never reach the chest at all.
Jackpot Free Spins: Find a complete map and search for the jackpot
When you find a complete map, you start the Jackpot Free Spins. You get 10 free spins with a 3x multiplier on every payline. To win a jackpot, you just need to collect five gems of that type. You get one free gem from the map you completed, so hope it was a legendary map.
Sunken City Free Spins: Find the relics and search for the lost city
Finding five relics will award you with 10 Sunken City free spins. These spins have a 10x multiplier on all lines. You will not find any map pieces or scatter symbols here, but you can find a jackpot. Unlike the normal Jackpot Free Spins, now you get a gem in each of the jackpots.
The Jackpots: A worthy reward for a great adventurer
Jackpot Raiders has five different jackpots, Forgotten, Rare, Mythical, Ancient and Legendary. Each of these is a progressive jackpot and 3.8% of all bets contribute to them. The jackpots are partially networked. This means that some casinos might use a collective pot, but not all. For example, all casinos owned by the Betsson Group share the same jackpots. The largest of them, the legendary jackpot, is seeded at $15,000.
Final Thoughts
This game is an adventure all by itself. There is so much to see and do here. Jackpot Raiders feels like a proper game, that just happens to run on a slot mechanic.
I love a good story-driven slot, where I get to build up a collection of treasures. There is something to be said about a game that rewards a player for trying. Sure, this means you need a bigger bankroll, but the reward at the end of it feels worth it. Whether you ever win what you spent is irrelevant, but at least you completed something. Luckily Jackpot Raiders is a low volatility game, so here you don't have as many dry spells as the higher ones have.
It is important to mention that a slot like this, which requires you to collect multiple items to access bonus features, can be brutal. You can easily spend more than you wanted to, just because you are so close to activating a bonus. If you understand this and be careful with your money, you can have a lot of fun.
Playing Jackpot Raiders is like having your own small adventure. My adventures will continue later on, as I am definitely not done with this slot.